Eunice Kennedy Shriver, executive producer of "Mary, Mother of Jesus," a two-hour TV movie airing this Sunday on NBC, says she wants to present a Mary "more appropriate for our time." Her Mary is "a mother, a teacher, and a revolutionary rather than the beautiful, but rather placid—but not very passionate—woman depicted in the Middle Ages." In other words, Shriver wanted to make Mary more human.
It's a nice try, but Shriver ends up presenting an even more perfect image of Mary than the medieval church did. In the film, Mary ends up being the only good person in Palestine, the only person around her who knows what is going on—and that includes her son.
Joseph is presented as a flighty, angry man who shouts "You're dead to me!" upon discovering his betrothed is pregnant. James is the crazed younger brother who just doesn't measure up. Even John is a moron who only goes to Jesus' crucifixion because Mary forces him.
Jesus, meanwhile, is a bit of a bumbler himself—though he is barely present in the film. When he is around, he just doesn't get why everyone doesn't see things as he sees them. He's lost in the world, looking for direction, which is often provided by his Mother. Their relationship is nearly perfect—despite what you read in the Gospels. It seems that Jesus was repeatedly harsh to his mom. When Mary asks Jesus to turn the water into wine at Cana, Jesus' replies, "Woman, what have I to do with thee?" At least, that's what happened according to John's gospel. In the NBC film, he gazes into his mother's eyes and sees how much she wants him to live up to his full potential. The film actually does show the famous "Who is my mother? Who are my brothers?" sermon (Matt. 12), but Mary is completely understanding. Without a moment's hesitation she calmly assures James that Jesus is just speaking in metaphor, that he's inviting everyone into his family.
Stranger still, the writers of the program opted to give Mary key lines of Jesus' dialogue. The Good Samaritan parable becomes a bedtime story Mary tells the 12-year-old messiah. And a young Mary tries to save a woman caught in adultery from being stoned.
All of this could be pass off as constructive imagination. Every historical film, let alone biblical films, has to take creative license. The Bible doesn't say, for example, that Mary was hurt by Jesus' question "Who is my mother?" or that Jesus actually made up his parables right there on the spot, so it's difficult to criticize the film for contradicting Scripture. At times, it's obvious how painstakingly careful they were not to contradict Scripture, especially when the script abruptly changes from 1999 vernacular to King James English. And until the last minute of the film, "Mary and Jesus" didn't strike me as all that different from "The Jesus Film" or any number of other movies depicting the life of Christ.
Until the last minute, that is.
As mentioned, the writers gave Mary many of Jesus' lines. (Oddly, Mary's best lines in the Bible, her Magnificat, her hymn upon hearing the good news that she would bear the Savior, aren't included until the closing credits.) The truth is they give her one of Jesus' biggest lines: The Great Commission. Or at least a pitiful version of it.
NBC should be commended for actually having a Jesus film that depicts the resurrection—and I was ready to praise the network for it. But then the next scene is the disciples walking with Mary down a Jerusalem street.
"Your work is finished," John tells Mary.
"No," she replies. "Our work has just begun."
"Then what must we do?"
Mary turns to the camera and delivers the last line of the program: "Go out into the world, knowing our own weakness. Try to teach as he taught. Live as he lived. Love as he loved."
Blech.
The movie stars Swedish actress Pernilla August as Mary. The only thing Americans will know August from is her role as Shmi Skywalker (mother of Anakin, aka Darth Vader) in Star Wars: Episode I: The Phantom Menace. Strangely, in that film, Shmi claimed Anakin was a virgin birth as well. Apparently, if Hollywood needs a virgin birth, August is the go-to actress. Christian Bale, soon to be famous for his role as a body-part-collecting murderer in American Psycho, plays Jesus. It airs at 9 p.m. on Sunday (aka "X-Files" time).
Ted Olsen is the online editor for Christianity Today.
Related Elsewhere
NBC's web site has an area on "Mary, Mother of Jesus," including video clips, chat rooms, and other related publicity materials.
Our December 8, 1997, "Let Mary Be," responded to a Roman Catholic grassroots movement to declare Mary Co-Redeemer, Mediator of All Graces, and Advocate for the People of God.
Books and Culture, our sister publication, had a two part look at "The Evolution of Mary" in May 1997 (print only).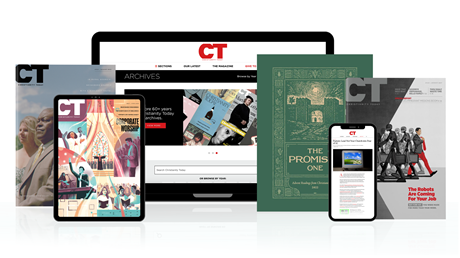 Subscribe to Christianity Today and get access to this article plus 65+ years of archives.
Home delivery of CT magazine
Complete access to articles on ChristianityToday.com
Over 120 years of magazine archives plus full access to all of CT's online archives
Subscribe Now
Mary Mother of Darth Vader
Mary Mother of Darth Vader