The first Santa Claus had his roots in the church. His name was Nicholas, bishop of Myra (an ancient city along the Mediterranean coast of what is now Turkey). Other than his living in the fourth century, very little is known about him historically, though oral tradition abounds. Some accounts have him participating in the Council of Nicea in A.D. 325, though surviving documents do not list him among the bishops in attendance.
Myra was a key port city where ships stopped on their way to and from Rome, Egypt, and Byzantium. Paul stopped there on his way to Rome (Acts 27:5-6). Nicholas is said to have saved Myra from starvation by seizing grain off a ship bound for Byzantium from Egypt. Because the stolen cargo was never missed it was counted as a miracle, and the bishop became the patron saint of sailors.
A second "miracle" associated with Nicholas set the stage for his becoming the inspiration behind Santa Claus. According to tradition, a poor family in Myra had three daughters who were being courted for marriage but who had no dowries. This doomed the girls to a life of shame and possible prostitution. The good bishop took it upon himself to supply their dowries, anonymously slipping bags of gold into their home—some say into stockings that were hanging up to dry. In securing their dowries—and so their right to marry—he rescued them from an otherwise degrading destiny. When Nicholas's identity as the benefactor came to light, so began the adulation of this gift-bearing saint. As a result, he also became the patron saint of children.
He died on December 6, A.D. 345 or 352, and was buried in a small church in Myra. But the story of what became of him after his death is almost more fantastic than the works he was said to have performed during his life.
In that day, the bodies of holy men were of immense value, for both religious and commercial reasons. So on May 9, 1087, sailors from the southern port city of Bari, Italy, raided Myra and stole Nicholas's remains. The bishop's bones remain in Bari to this day. The heist effectively transferred the mystery and magic of the oral tradition surrounding Nicholas from the East to the West. It was the first step in the transformation of the godly, provincial bishop into the omniscient superstar.
It didn't take long for the Westernized Nicholas stories to assume a place in each country's individual context and tradition. In 16th-century Germany, for example, church Reformers banned celebration of the Feast of St. Nicholas on Dec. 6. Instead, they sought to emphasize the Christ child, or Christkindlein, who, taking his cue from Nicholas, brought gifts to children on Christmas Eve. This figure evolved into "kristkingle" and eventually "Kriss Kringle," who was more or less indistinguishable from the mythical Nicholas figure.
The Dutch tradition behind Sinterklaas is the most direct link to the modern American Santa Claus. This mythical figure is supposed to have sailed from Spain with a Moorish helper named Black Peter and filled Dutch children's shoes with nuts and candies. Sinterklaas had the uncanny ability to know about children's good or bad behavior.
The Germans, the Dutch, and others brought their Nicholas traditions when they migrated to the New World. Once ensconced in the United States, the literary community embellished the myth and brought it to the levels it has assumed today. The American Santa was shaped most notably by Union Seminary professor Clement Clark Moore's 1822 children's poem "A Visit from St. Nicholas," which begins with the legendary line " 'Twas the night before Christmas … "By the early 20th century, Santa appeared in department stores and mail-order houses that vied to be his "official headquarters." Post offices were overrun with letters to Santa from children who addressed them to "the North Pole.
"The present-day Santa, in his most secular manifestation, is divorced from the spiritual moorings and motivation of the real-life Nicholas. But he still personifies goodness and a kind of justice, which might help explain the terror that arises in some children when they enter his presence. The evolution of the Nicholas story, beyond attesting to the American spirit of entrepreneurial innovation, bears out the overwhelming need people feel to believe in something and to celebrate something greater than themselves—even if it means making it up.
Related Elsewhere
Don't miss Christianity Today's related feature, ""Reclaiming Santa" | Ed Butchart's year-round mission to recover the true spirit of St. Nicholas.
Read up on Nicholas, bishop of Myra from storyteller Barry McWilliams, Britannica.com, as well as Eastern Orthodox and Roman Catholic perspectives.Christian History also offers perspective on the real St. Nick.
The Confessions of St. Nicholas, a novel by Richard Eads, tells the story of St. Nicholas, in self-imposed exile in a northern land, trying to write an account of his life as a way of putting it behind him.
Read the Dutch legend of Sinterklaas.
Christian Parenting Today tackles "The Santa Question," giving advice on how to help kids separate holiday fact from fiction.
Christianity Today's previous Christmas stories include:
CT Classic: C.S. Lewis on Christmas | Lewis summed up Christmas in one sentence: 'The Son of God became a man to enable men to become the sons of God.' (Dec. 23, 2000)
CT Classic: Bethlehem on a Budget | Planning a church budget and the Christmas story share surprising similarities (Dec. 23, 1999)
Christ Is Born, Let Us Keep the Feast and Leap Before Him | A 1,619-year-old Christmas sermon reminds us why we celebrate. (Dec. 23, 1999)
Is Christmas Pagan? | Christians found ways to redeem local cultures and salvage those elements that naturally pointed to Christ. (Dec. 6, 1999)
CT Classic: Christmas and the Modern Jew | Christians often seem to lack both good missionary strategies toward Jews and sensitivity to their situation in life. (Dec. 3, 1999)
Giftwrapping God | Our Christmas celebrations try to hide the nakedness of the Incarnation. (Dec. 8, 1997)
Christmas Unplugged | Why spending less and turning off TV should be part of the church's mission to the world. (Dec. 9, 1996)
Have something to add about this? See something we missed? Share your feedback here.
Our digital archives are a work in progress. Let us know if corrections need to be made.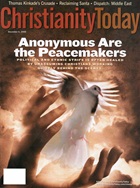 This article is from the December 4 2000 issue.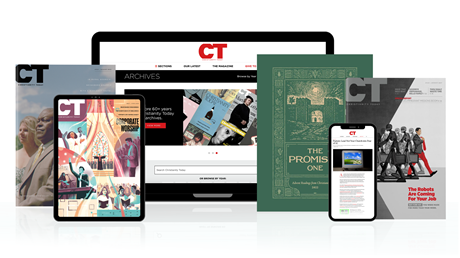 Subscribe to Christianity Today and get access to this article plus 65+ years of archives.
Home delivery of CT magazine
Complete access to articles on ChristianityToday.com
Over 120 years of magazine archives plus full access to all of CT's online archives
Subscribe Now
The Evolution of St. Nick
The Evolution of St. Nick