Recall!
Last night's squeaker of an election presented Al Gore with the chance to speak too soon. Shortly after Gore conceded to George W. Bush, it became clear that the votes from Florida were not entirely in. Read all about it in The Washington Post,The New York Times, The Los Angeles Times, and The Miami Herald. You can also stay up to date throughout the day with Yahoo.com's full coverage and with CNN.
I knew R2D2 was more than a hunk of metal
Even for those of us raised on Star Wars, it might be a huge leap from fiction to consider whether in fact robots can develop personalities (and possibly even destinies and souls, as well). But for the director of MIT's God and Computers project, Lutheran minister Anne Foerst, questions of personhood and artificial intelligence must be pursued because the technology to teach robots how to replicate human experiences—like learning and social interaction—is maybe 50 years away. Foerst says MIT realizes the need for a theologian in its Artificial Intelligence Laboratory because "when you build machines in analogy to humans, you make assumptions about humans. Theologians explore the cultural and spiritual dimensions of that very question, 'What does it mean to be human?'" Foerst wrestles daily with difficult questions like "What would be the threshold when the robots are developed to a certain point that you couldn't switch them off anymore?" and "When does a creature deserve to be treated as intrinsically valuable?"
Islam Asia
Islam is growing in numbers and aggression among the people of Southeast Asia, according to this story from The Washington Post. Not only does it mention the Muslim vigilantes who have been killing Christians in Indonesia's Maluku islands, but it also examines other places where Muslims are flexing their economic and political muscles like Malaysia and the Philippines. The story mentions how Malaysia is being transformed by strict Muslim law, and describes the rise of a group of Muslim Filipinos, Abu Sayyaf, that has begun to engage in terrorism and kidnappings in hopes of gaining an independent homeland.
Celebration or consumer fair?
It's hard to tell from this article in The Indianapolis Star whether the city's Faith Fest was a gathering where Christians exchanged church culture or T-shirts. Maybe a little of both went on, but most pastors described it as an event where the body of Christ explored its differences and celebrated its unity. Church Federation leader Angelique Walker-Smith said the event was about "helping the larger community [of Indianapolis] understand who we are as people of faith." Nabil Hanna, pastor of St. George Antiochian Orthodox Church, told the Star, "as Christians we have many more things in common than we have as differences." Hanna said, "We're not going to solve the theological differences here at the local level. But we can celebrate Jesus Christ together." The giant exposition involved preaching and choir presentations, as well as Bible-study samples and liturgical dance.
Paganism, Ivy League-style
Pagan groups are growing in popularity on college campuses. In Massachusetts, according to The Boston Globe, there are more than seven student pagan groups at schools like Amherst, Wellesley, Smith, Boston University, Northeastern, Emerson and Berklee. Pagans at MIT recently celebrated a Halloween ritual in the chapel where they knelt before an altar somberly chanting, ''Dark mother take us in. ... Let us be reborn.'' Then they walked under a dark veil that represented the underworld and ate pomegranate seeds and danced barefoot in a circle. ''It's natural for college students to be attracted to things they haven't thought or experienced before,'' said Christine Thomas, a religion professor at the University of California at Santa Barbara. ''But this movement is a reflection of a lot of things: fascination with the occult, the lack of one religion's hegemony, and the explosion of information and networking opportunities available on the Internet.''
Related Elsewhere
See our past Weblog updates:
October 27 | 26 | 25 | 24 | 23
October 20 | 19 | 18 | 17 | 16
September 29 | 28 | 27 | 26 | 25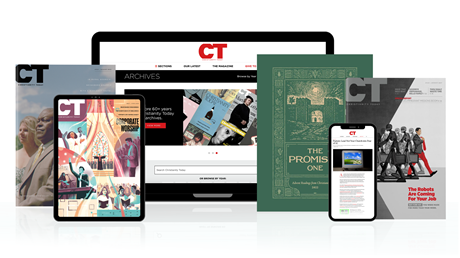 Subscribe to Christianity Today and get access to this article plus 65+ years of archives.
Home delivery of CT magazine
Complete access to articles on ChristianityToday.com
Over 120 years of magazine archives plus full access to all of CT's online archives
Subscribe Now
We May Not Know Who Is President But...
We May Not Know Who Is President But...