Billy Graham steps down as CEO from eponymous ministry
Though the evangelist—and founder of Christianity Today—will still remain chairman of the board at the 50-year-old Billy Graham Evangelistic Association, his son, Franklin, will now be chief executive officer. "I'm not retiring," Billy said in a press release, "but I now want to turn over the administrative and management burden of running the organization to my son, who has proven to be a great leader both in running the Samaritan's Purse ministry and in working closely with our organization." Franklin will continue to serve as first vice chairman of the board, as he has since 1995, when it was announced he would succeed his father as head of the ministry. (See an earlier version of the AP story here.)
Speaking of Graham ...
The most recent biographical sketch of Billy Graham comes from Salon.com, which is devoting its "People" area this week to religion in America. Writer David Rubien doesn't offer many new stories or summarize Graham's life an a particularly new way, but it's directed at an audience that probably doesn't know much about Graham's background. Sadly, the article doesn't offer much in the way of resonance. Salon has long attempted to make its "Brilliant Careers" a hallmark of the site, but there's not much here beyond "he's the best at what he does." There's the obvious note that he's "king of ecumenical evangelism," but the final words are "Whether or not you're a Christian, you have to admit, he gets results. Numbers don't lie." Weblog's guess is that Graham would be irritated. Graham gets huge numbers, yes, but so do lots of evangelists. Graham is all about commitment. Better biographical sketches are available from Christian History magazine (by Graham biographer William Martin) and Time (by Harold Bloom).
Salon: If you haven't read it elsewhere, it's groundbreaking journalism to you!
Elsewhere in Salon's religion coverage, Stephen Bender takes Black Entertainment Television (BET) to task for airing Robert Tilton's "Success-N-Life" infomercials. Not a particularly new attack. Give the article credit, though: it does mention Hanna Rosin's similar 1998 article in The Washington Post. Elsewhere, it offers entertainment-style reviews of Baptist and Unitarian church services. It's not terribly well written, the author doesn't really understand what he's seeing, and—worst of all—it's not very original. The excellent Christian satire site Ship of Fools has started service reviews years ago. Forget Salon.com. If you want good reading, head over to Ship of Fools—it's what The Door once was and wishes to be again. (See Salon's introduction to its week of religion articles and discuss its concluding paragraph, which begins: "Religion, in the best American sense, gives us a way to treat one another, to behave during our time on Earth.")
Outsiders leave Indianapolis Baptist Temple
As the U.S. Marshals Services still waits to seize the church, militia leaders and others who the pastor says have been "sowing discord" are exiting. Some voluntarily, others not.
Vaya con dios
From Hollywood comes word that the creators of the television show King of the Hill are working on a spinoff. It will center on the television show the characters of King of the Hill enjoy: Monignor Martinez. Martinez, for those who don't watch the show, is a renegade crime-fighting priest whose tagline is "Vaya con Dios." If it's anything like its parent show, expect The Catholic League to be confused whether to praise or condemn the program. (King of the Hill was named one of the best shows of 1999 by both Weblog author Ted Olsen and Christianity Today associate editor Douglas LeBlanc.)
What's the difference?
Weblog needed at least one Thanksgiving-oriented item, so here's a story explaining the difference between a Pilgrim and a pilgrim.
Related Elsewhere
See our past Weblog updates:
November 21 | 20
November 17 | 16 | 15 | 14 | 13
November 10 | 9 | 8 | 7 | 6
November | 3 | 2 | 1 October 31 | 30
October 27 | 26 | 25 | 24 | 23
October 20 | 19 | 18 | 17 | 16
October 13 | 12 | 11 | 10 | 9
October 6 | 5 | 4 | 3 | 2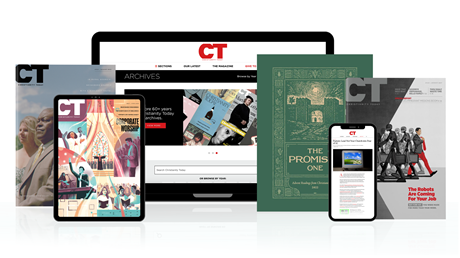 Subscribe to Christianity Today and get access to this article plus 65+ years of archives.
Home delivery of CT magazine
Complete access to articles on ChristianityToday.com
Over 120 years of magazine archives plus full access to all of CT's online archives
Subscribe Now
Billy Graham Steps Down but Isn't Retiring
Billy Graham Steps Down but Isn't Retiring