In 1984, Greg Dixon, pastor of Indianapolis Baptist Temple, ordained all of the church's employees as ministers and stopped withholding income and Social Security taxes. The IRS has slowly been building to a crescendo. On Thursday, a federal judge issued the latest volley, ordering the congregation to move out of its church building and parsonage, which would then be handed over to the IRS in payment for nearly $6 million in unpaid taxes, penalties, and interest. "It's certainly the first time anything of this magnitude has occurred, where you're dealing with millions of dollars and a basic conflict over whether churches should be required to pay these kinds of taxes," Joseph Conn of Americans United for Separation of Church and State tells the Associated Press. (And that's the full quote. Usually you'd expect an Americans United quote to be something like "It's certainly the first time anything of this magnitude has occurred, and by the way, Pat Robertson is evil." But not this time. Maybe it's because the AP talked to Conn instead of AU head Barry Lynn. Anyway, back to the story … ) Dixon is predictably standing firm. "I'm not going to pastor in a church that is controlled by the government," he tells The Indianapolis Star. "I see this as a battle the Lord has given us. If we can win it, in the long run we will help all churches." We'll see what happens November 14. The U.S. Marshals Service is now authorized to use "force as necessary" to enter the church anytime after noon on that date. ( The court order is available in Adobe Acrobat format at the court's Web site.)
The weekly magazine's coverage doesn't add much to what Christianity Today readers will already know: Weigh Down founder Gwen Shamblin doesn't believe in the Trinity. World's coverage is largely limited by Shamblin's refusal to talk to the magazine (she has talked to Christianity Today, Baptist Press, and other media outlets). The story does note that Moody Memorial Church in Chicago, College Park Baptist Church in Indianapolis, Coral Ridge Presbyterian Church in Ft. Lauderdale, and other churches have dropped their Weigh Down dieting programs over Shamblin's theological teachings. Meanwhile, Shamblin has posted a 7,160-word article on her site expounding on her earlier statements denying Trinitarian theology. In a kind of Q&A format, she responds to "Is Jesus God?" with "The answer: I believe that Jesus and God are two separate beings." To "Do you believe that Jesus is equal in power and glory?" she responds, "The answer: No." She also has interesting words for her critics: "This article is very pointed and strong—but my accusers have forced my hand. I do not visit the web-sites of other ministries and then make national negative statements about them; I expect the same courtesy." (She doesn't visit this site? Dang.) She also tries to assure her readers that she's not a cult leader: "I would never be able to get any of my readers to ever drink poison (nor would I try!) because they would not find scriptures to back that suggestion up." No poison? Well, it's good to know that her dieting advice hasn't slipped as well.
Two explosions went off in the middle of a Korean church service near the Tajik capital of Dushanbe. At least 60 were injured, and at least 7 have been confirmed dead. As many as 400 were attending the service. The Russian news agency ITAR-Tass is reporting that explosive devices, as powerful as eight pounds of dynamite, were placed in the last row of the prayer hall.
"Last year, the churches and businesses of South Carolina rose up as one to help drive the electric jangle of video poker from the state," reports The New York Times. "But now, as pastors work to rouse their congregants against a proposed state lottery on the November ballot, they are finding a bit less sympathy in the pews and the state's corporate offices." Alabama rejected a lottery last October. The Charlotte Observer reports that "church leaders' opposition is as strong, or stronger, than it was to video poker," but agrees that they're having a hard time convincing laity of the lottery's ills.
The dorms for Patrick Henry College, the first college for homeschooled students, aren't done yet. In the meantime, the students are doing what they've always done: living at home (actually, at the homes of other local homeschoolers). Bob Andringa, president of the Council for Christian Colleges and Universities, is skeptical of the school. Higher education, he says, is a search for truth. "When the administration starts advocating particular points of view, it makes it a trickier balance," he tells The Washington Post. Staff writer Amy Argetsinger also notes that Andringa "questioned why a school that is philosophically opposed to federal aid would then want to send its students 'to learn how to be effective in government.'" The article also notes that college founder and president Michael Farris is waging an uphill battle by "trying to start a college from scratch … at a time when many small private colleges—ones with millions in assets, and generations of supportive alumni—are struggling to survive. … Virtually no new private, nonprofit liberal-arts colleges have started up in the United States, let alone thrived, for years."
Senator Joseph Lieberman has been pontificating about Jewish laws on intermarriage, traditional Jewish prayers, and other issues about theology and Jewish law. "[Interviewers] should stop asking him about it, and he should stop talking about it," Mandell Ganchrow, president of the Orthodox Union, tells the Jewish Telegraphic Agency. "Given that intermarriage is probably the No. 1 problem affecting the Jews today, I don't know what went through Lieberman's mind when he said [there's no law prohibiting it]." Eric Yoffie, president of the Reform movement's Union of American Hebrew Congregations, agrees: "He's not a rabbi, he's a politician in a national campaign with the burden of explaining Judaism to millions of Americans."
Matthew Burke, the 43-year-old pastor of True Worship Temple of God in Stapleton, New York, held up nine employees of a Head Start school to pay a $4,500 debt his church owed to the American Legion post where it meets. It's not the Rev. Burke's first run-in with the law. He's on parole after serving 15 years for first-degree sodomy and first-degree robbery.
Jim Bakker will be speaking on "Integrity in Ministry" to the Southeast Religious Broadcasters conference this week. "Sometimes you can learn more from mistakes than successes," explains the former PTL televangelist who served five years for bilking $158 million from his supporters. "This is shaping up to be a case of 'Do as I say, not as I do,'" notes Ken Garfield, religion editor for The Charlotte Observer. If a semi-repentant Clinton can lecture pastors on moral leadership, surely a repentant Bakker can speak on integrity. (Thanks to Jim Romenesko's Obscure Store and Reading Room for the last two links.)
Related Elsewhere
See our past Weblog updates:
October 2
September 29 | 28 | 27 | 26 | 25
September 21 | 20 | 19 | 18
September 15 | 14 | 13 | 12 | 11
September 7 | 6 | 5
September 1 | August 31 | 30 | 29
August 25 | 24 | 23 | 22 | 21
August 18 | 17 | 16 | 15 | 14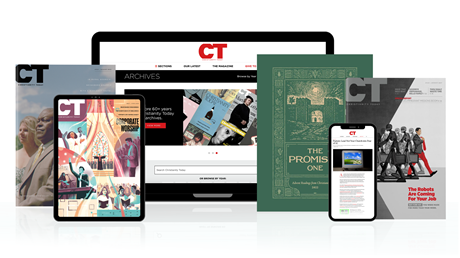 Annual & Monthly subscriptions available.
Print & Digital Issues of CT magazine
Complete access to every article on ChristianityToday.com
Unlimited access to 65+ years of CT's online archives
Member-only special issues
Subscribe
Judge Evicts Congregation from Church Okays Use of Force
Judge Evicts Congregation from Church Okays Use of Force