More than eight months of renewed conflict between armed Palestinians and Israelis have dampened not only Holy Land tourism but also this summer's archaeological excavations. Almost daily network news reports of hostilities have raised safety questions for college students, who normally do most of the digging, and for their parents. About half of the planned excavations this summer have been canceled.
Few of the areas where major dig sites exist, however, are in imminent danger. Caesarea Philippi, also known as Banias, is in the northern Golan Heights, not far from the Lebanese border. Ashkelon, on the Mediterranean coast, and Sepphoris, near Nazareth in Galilee, are miles from areas of hostility. Yet field work at all three excavations has been scrapped for the summer.
Israeli archaeologist Ze'ev Weiss, who is in charge of the Sepphoris work, canceled the 2001 dig after receiving few applications. "I hope that the situation in Israel will improve in the coming months and that we will be able to conduct a full-scale excavation in the summer of 2002," Weiss says.
Precautionary Measures
A notice on the Web site of the Harvard-sponsored Ashkelon dig notes that the U.S. Department of State has warned American citizens to avoid travel to Israel, the West Bank, and Gaza. "After consultation with other archaeologists and upon the advice of the Harvard University General Counsel, we are at this time canceling the 2001 field season for Ashkelon," organizers say on the site.
Meanwhile, excavations at Tel Rehov, a Jordan River valley mound near Beit She'an, have been scaled back from six to four weeks.
Although the number of visitors is down—off 49 percent in February from a year ago, according to the Central Bureau of Statistics—many people still travel safely in Israel. Some 3 million tourists visit Israel annually, nearly all without incident.
Under areas partially controlled by the Palestinian Authority, hostile interaction between Israeli forces and Palestinians has been limited to a relatively few areas, including Ramallah, Bethlehem, and Gaza. Suicide bombings, however, occur in scattered locations inside Israel. More than 500 people, mostly Palestinians, have been killed since the latest uprising in September.
Still, Ron Tappy, a Pittsburgh Theological Seminary professor, anticipates a fruitful summer at Zayit, just east of Ashkelon. "The political situation has certainly been an issue for us and has prompted us to take certain precautions this year. Both our site and the kibbutz where we live while in Israel are in one of the safest parts of the country, and my constant reports from there say that all is well," Tappy says.
"The political situation in Israel has affected our enrollment, but we have no plans to amend the season in any way," says Wendy Chiarbos of the University of Nebraska-Omaha, administrator of an excavation at Bethsaida.
A consortium of Israeli and American institutions usually runs each of the major archaeological excavations in Israel today. These institutions have grown heavily dependent on an annual influx of college students as workers and understandably cautious parents as financial underwriters for the often expensive operations.
Catch-up Time
It's too early to write off the summer completely. Even before the hostilities resumed, leaders of several other major excavations, such as a new project at Megiddo, had already planned to take the summer off. Archaeologists, with unexpected time on their hands, are allowing their often tardy paperwork to catch up with their digging.
This unexpected opportunity to skip a summer of field work may prove a blessing in disguise for some archaeologists, says Keith Schoville, an emeritus professor at the University of Wisconsin and immediate past president of the Near East Archaeology Society. Archaeologists are notoriously slow in publishing the findings of their excavations, so the forced hiatus may provide a welcome respite.
"For those that are canceling," Schoville says, "perhaps some progress will be made this year on moving their publications forward."
Related Elsewhere:
The site for the Harvard-sponsored Ashkelon dig includes the programs' cancellation letter. See more on Ashkelon archaeology.
The Zayit dig is on for this year and advises that "potential trouble can be easily avoided by staying away from predictably tense areas."
Other dig sites include Sepphoris, Tel Rehov, Megiddo, Caesarea Philippi, and Bethsaida. The Near East Archaeology Society focuses on lands of the Bible.
On Jan. 12, the U.S. Department of State warned against travel to Israel, the West Bank and Gaza.
For articles on the Palestinian and Israeli conflict, see Yahoo's full coverage area.
Previous Christianity Today stories about conflict in Israel and Palestine include:
Greek Orthodox Priest Falls Victim to Middle East Conflict | Monks worry they may appear as threats to each warring side. (June 21, 2001)
Pilgrimages Drop and Workers Lose Jobs as Middle East Violence Continues | Silence fills places normally crowded with pilgrims, reports British group. (April 11, 2001)
Article continues below
Holy Land Roadblocks | Christian pilgrims learn about Palestinians' everyday indignities. (Apr. 9, 2001)
Christian Zionists Rally for Jewish State | More than 600 Christians from around the world flock to Jerusalem to show solidarity with Israel as peace process collapses. (Apr. 9, 2001)
Between a Rock and a Holy Site | Muslims have stepped up their efforts to take control of places revered by Jews and Christians. (Feb. 13, 2001)
The Peace Regress | What's behind the current outbreak of hostilities in the Holy Land? (Jan. 11, 2001)
Conflict in the Holy Land | A timeline of trials for the most contested piece of real estate in the world.
Christmas in Palestine: Hunger and War | Starvation threatens Palestinian villages if U.N. aid continues to be delayed, Vatican official warns. (Dec. 13, 2000)
Between the Temple Mount and a Hard Place | Palestinian Christians want both peace in their villages and justice for their Muslim brothers. (Dec. 5, 2000)
Messianic Ethiopians Face Discrimination | Sisters appealing decision to revoke Israeli citizenship. (Dec. 4, 2000)
Christmas Plans for Bethlehem Scrapped | Escalating violence cancels millennial celebration in town of Christ's birth. (Dec. 1, 2000)
Lutheran Bishop's Appeal from Jerusalem | Religious leader's letter requests prayer for Christians, Jews, and Palestinians in troubled region. (Nov. 10, 2000)
Latin Patriarch tells Israel to Surrender Lands to Palestinians | Catholic leader says Israel will never have peace unless it "converts all of its neighbors to friends." (Nov. 1, 2000)
Fighting Engulfs a Christian Hospital in Jerusalem | Lutherans call conflict on their hospital grounds "an affront" to humanitarian purposes. (Oct. 16, 2000)
Preparing for Pilgrims | Religious rivalry complicates millennial planning. (June 14, 1999)
How Evangelicals Became Israel's Best Friend | (October 5, 1998)
Have something to add about this? See something we missed? Share your feedback here.
Our digital archives are a work in progress. Let us know if corrections need to be made.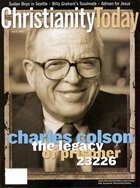 This article is from the July 9 2001 issue.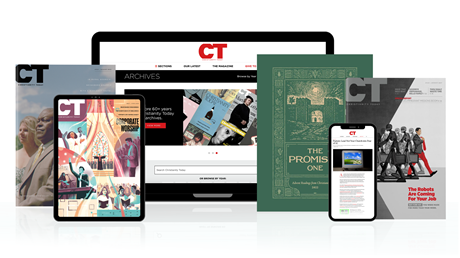 Annual & Monthly subscriptions available.
Print & Digital Issues of CT magazine
Complete access to every article on ChristianityToday.com
Unlimited access to 65+ years of CT's online archives
Member-only special issues
Subscribe
Violence Puts Archaeologists Between Rocks, Hard Places
Violence Puts Archaeologists Between Rocks, Hard Places