Church leaders, human rights groups and lawyers in Hong Kong fear that the passing of an anti-sect law in France may pave the way for the Hong Kong government to adopt similar legislation. The concerns among religious and human rights groups stem from a Hong Kong government statement in May that it is studying overseas anti-cult legislation to specifically target the Falun Gong sect.
"Even in France, a country with strong democracy and rule of law, some people still opposed the idea, fearing it would be abused. In such a politicized place as Hong Kong, there would be a great danger that the law would be abused," said Bishop Joseph Zen Ze-kuin of the Hong Kong Catholic Diocese. He said the (French) law could be used to introduce a similar one in the Special Administrative Region (SAR).
"It is very worrying that the government would have a new excuse to rationalize the introduction of such a law," said Rose Wu, the director of the Hong Kong Christian Institute.
Nine Catholic organizations are expected to launch a letter campaign to lobby against the adoption of an anti-sect law.
The director of the Hong Kong Human Rights Monitor, Law Yuk-kai, also warned that any anti-sect law could have implications not only for sects but also for mainstream religions. He said an anti-sect law could be used to ban Taoism, Buddhism or even the Catholic Church.
"Hong Kong will pay the price, not just politically but economically, because the world will see Falun Gong's treatment as an indication of freedoms here," Law said. He added that the Falun Gong is likely to oppose the government openly if it is banned, thus encouraging more followers. He also doubted if such a law would stand up in court.
A spokesman for the Security Bureau declined to comment on whether there was a need to enact such a law in the Hong Kong SAR, saying the government would continue to monitor overseas trends. The bureau said it would "keep track of developments and study the experience of other places in dealing with activities of evil cults."
Bar Association chairman Alan Leong Kah-kit said that Hong Kong already had enough laws on the books to curb and prosecute illegal activities.
Beijing has outlawed the Falun Gong in China, labeling the group as an "evil cult." The Falun Gong's Hong Kong branch has responded by staging protests at international events.
Related Elsewhere
The Hong Kong iMail had a similar article on the French law's implications for Hong Kong.
The U.S. State Department's reports on religious freedom and human rights in Hong Kong are separated from its reports on China in general.
Christianity Today's earlier coverage of the French anti-sect law includes:
Protestants Resist 'Anti-Sect' Law | French legislation could be used against legitimate religious minorities, including evangelicals. (June 19, 2001)

Christian Groups Labeled 'Cultic' | Christians in France put on same list as apocalyptic and satanic groups. (Sept. 6, 1999)
Previous Christianity Today stories about persecution in China include:
Calling Out the Name of Jesus | What you can do to help persecuted Christians in China. (Mar. 15, 2001)

House Churches May Be 'Harmful to Society' | But China's unofficial congregations resist "evil cult" label. (Jan. 25, 2001)

China's Religious Freedom Crackdown Extends to Foreigners | It is against the law for visitors to teach the Bible in China's house churches. (Nov. 13, 2000)

China's Smack Down | 53 Christian professors, students, and church-planters detained. (Sept. 11, 2000)

House Approves Divisive U.S.-China Trade Pact | But will permanent normal trade relations status help human rights? (May 25, 2000)

China Should Improve on Religion to Gain Permanent Trade Status, Commission Says | Religious liberty in Sudan and Russia also criticized. (May 8, 2000)

China's Three Self Churches, Seminaries Bursting | Younger Chinese drastically changing congregational demographics. (Dec. 29, 2000)

A Tale of China's Two Churches | Eyewitness reports of repression and revival. (July 13, 1998)
More on religious freedom worldwide is available in Christianity Today's persecution area.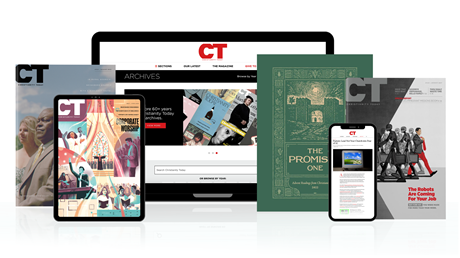 Subscribe to Christianity Today and get access to this article plus 65+ years of archives.
Home delivery of CT magazine
Complete access to articles on ChristianityToday.com
Over 120 years of magazine archives plus full access to all of CT's online archives
Subscribe Now
Hong Kong Church Leaders Fear Anti-Sect Bill
Hong Kong Church Leaders Fear Anti-Sect Bill