Last Friday, the Evangelical Theological Society drew a line in the plush carpeting of Colorado Springs' landmark Broadmoor Hotel. Drawing such lines seemed fitting given the theme of this year's meeting: Defining Evangelicalism's Boundaries.
As senior theologian Roger Nicole left the room after a crucial vote, he smiled broadly and held up his fingers in a V-for-victory sign. A charter member of the 52-year-old organization, Nicole was celebrating the passage of a simple, straightforward resolution that affirmed God's foreknowledge.
"We believe the Bible clearly teaches that God has complete, accurate, and infallible knowledge of all events past, present, and future including all future decisions and actions of free moral agents," the statement read. The resolution passed with 253 yes votes out of 360 ballots cast. Sixty-six people voted no. Forty-one abstained.
The resolution would seem unremarkable, except for the challenge mounted over the past decade by a movement known as Open Theism. The movement's most prominent representatives in the ETS are Clark Pinnock of McMaster Divinity College, John Sanders of Huntington College, and Greg Boyd of Bethel College. Open Theism has emphasized God's self-limitation in dealing with his free human creatures. Because he desires their free response, Openness theologians have said, he neither predetermines nor foreknows their moral choices. Their academic peers have been discussing their proposal for ten years. This year the debate came to a head.
The vast majority of theologians have found ways to affirm human freedom and responsibility without compromising divine omniscience. However, Openness theologians have pursued a course they say reflects the Bible more than philosophy. After all, they say, in the Bible God changes his mind in response to the things people do. He even repents. If God knew exactly what moral choices people would make, why would he later be in the position of repenting or changing his mind?
Scripture under Attack?
Despite Open Theism's reliance on biblical citations, many theologians in the ETS believe it challenges evangelical belief in the inerrancy of the Scriptures. ETS's founders chose to make Scriptural inerrancy the single point of the organization's doctrinal basis. Some current members believe that showing that Open Theism necessarily contradicts belief in inerrancy will render its advocates out of place in the society.
In a Thursday afternoon plenary address, Bruce Ware, of Southern Baptist Theological Seminary, devoted five of his paper's twenty-six points to describing Openness Theism's challenge to the accuracy and surety of the Scriptures. And in a three-hour plenary discussion session Thursday night, Calvin Beisner of Knox Theological Seminary took the roving microphone to offer a syllogistic proof that a fallible God cannot guarantee an infallible Scripture. Many others echoed his argument during the nine-to-midnight session.
Lack of Resolve
Most ETS members disagree with Open Theism, but not everyone was enthusiastic about voting for the resolution. Outgoing ETS president Darrell Bock of Dallas Theological Seminary told Thursday's late-night discussion that the resolution was merely "a snapshot of the society," a way to get a clear reading of where the organization's members stood. In his presidential address, Bock argued that the organization's energies would be better spent on addressing the spiritual needs of a lost world rather than on internal wrangles. "Legislating such beliefs and debates might turn the ETS into one big legislature, and we know how effective legislatures are," Bock said.
However, former ETS president Wayne Grudem of Phoenix Seminary told Christianity Today the resolution was "a serious encouragement to Openness theists to change their minds—an encouragement that comes from the vast majority of their peers." If they fail to change their minds, he said, the resolution would be "a gentle nudge" toward their leaving the organization. Clark Pinnock said it was more like a fatwa from the evangelical mullahs.
Was the resolution actually a prelude to future disciplinary actions toward Openness theologians? At the Thursday night session, Nicole, visiting professor of theology at Reformed Theological Seminary, called Open Theism a cancer on the Evangelical Theological Society. He suggested that the cancer had not been resolved by chemotherapy and that the only alternative may be surgery.
William Lane Craig of Talbot School of Theology called the resolution "a transparent attempt to set the table to throw these folks out later." "This is not about their denying inerrancy," he said.
Alan Johnson of Wheaton College argued that the ETS is not an ecclesiastical organization but a scholarly research society where different ideas can be entertained. "If you vote no, it does not mean you disagree with the statement," he said. "It means you don't think it is the best thing for the Society."
Edwin Yamauchi of Miami University said, "If we exclude [Pinnock, Sanders, and Boyd], we will be a more orthodox society, but we will be a poorer society."
They'll Be Back
In the end, the Open Theists did not think the vote had excluded them. "There are people who wanted to run us out," Sanders told CT. "They were quite blunt with me. I think maybe they were surprised. I think they thought they had 90% and it turns out they don't."
Pinnock was surprised at the number of no votes. "I thought it would just be the three of us," he told CT. When asked what the vote meant for his future participation in the Society, Pinnock replied, "Nothing, because I don't think its decisive."
Grudem, however, did consider the vote decisive. "It is an overwhelming rejection of Open Theism," he said.
Hallway observers offered a variety of interpretations: the number that voted was small (360 out of a potential 1,000); the number that voted was large (400 in attendance at a Friday morning business meeting is astounding); the number who stayed away were "abstaining with their feet."
But nearly all agreed that the majority would have been much larger if it had not been for the suspicion that there was a "political agenda" behind the theological statement.
"It grieves me that it was clouded by political questions of procedure," said Bruce Ware. "It was not as strong a theological vote as I wished. All of the abstains would have been in the positive; many no's would have been yes's if it was just theological."
Grant Osborne of Trinity Evangelical Divinity School told CT he voted no even though he agreed entirely with the resolution's theology. "I do not agree that Openness people need to resign," he said. "We need to keep them in, but constantly try to bring them back. Theirs is a terrible view."
What does the future hold? Will it bring a formal procedure to exclude Open Theists from membership? Will it bring a revised and expanded doctrinal basis? Grudem favors revising the organization's doctrinal basis, but he believes the ETS should take the necessary time to achieve a result "to which a vast percentage of the members could agree."
"I don't want a 55 percent vote that would leave lingering resentment," he says.
As for Pinnock and Sanders, they plan to return to next year's meeting. And if the program committee accepts their papers, they will be addressing next year's theme: "Evangelicalism and Other Religions." It is another topic on which many ETS members feel they are out of step. "At least we won't be talking about Openness," Sanders says.
David Neff is editor of Christianity Today.
Related Elsewhere:
Earlier this year, Christianity Today featured "Does God Know Your Next Move?" in which Christopher A. Hall and John Sanders debated openness theology.
opentheism.info offers, among other resources, a "frequently asked questions" page about openness theology.
See the discussion between John Sanders and classical theist Stephen Williams in our sister magazine Books & Culture.
Previous Christianity Today coverage of the openness theological debate include:
Has God Been Held Hostage by Philosophy? | A forum on free-will theism, a new paradigm for understanding God. (Jan. 9, 1995, reposted online May 11, 2001)
Truth at Risk | Six leading openness theologians say that many assumptions made about their views are simply wrong. (Apr. 23, 2001)
God at Risk | A former process theologian says a 30-percent God is not worth worshiping. (Mar. 16, 2001)
Did Open Debate Help The Openness Debate? | It's been centuries since Luther nailed his theses to a church door, but the Internet is reintroducing theological debate to the public square. (Feb. 19, 2001)
God vs. God | Two competing theologies vie for the future of evangelicalism (Feb. 7, 2000).
Do Good Fences Make Good Baptists? | The SBC's new Faith and Message brings needed clarity—but maybe at the cost of honest diversity. (Aug. 8, 2000)
The Perils of Left and Right | Evangelical theology is much bigger and richer than our two-party labels. (Aug. 10, 1998)
The Future of Evangelical Theology | Roger Olson argues that a division between traditionalists and reformists threatens to end our theological consensus. (Feb. 9, 1998)
A Pilgrim on the Way | For me, theology is like a rich feast, with many dishes to enjoy and delicacies to taste. (Feb. 9, 1998)
A Theology to Die For | Theologians are not freelance scholars of religion, but trustees of the deposit of faith. (Feb. 9, 1998)
The Real Reformers are Traditionalists | If there is no immune system to resist heresy, there will soon be nothing but the teeming infestation of heresy. (Feb. 9, 1998)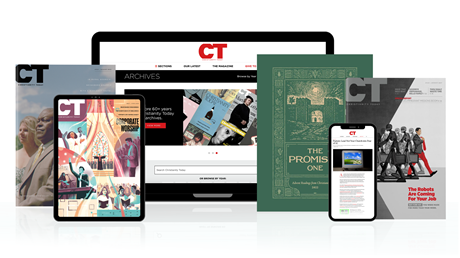 Annual & Monthly subscriptions available.
Print & Digital Issues of CT magazine
Complete access to every article on ChristianityToday.com
Unlimited access to 65+ years of CT's online archives
Member-only special issues
Subscribe
Foreknowledge Debate Clouded by Political Agenda
Foreknowledge Debate Clouded by Political Agenda