The churches near World Trade Towers in New York City were shaken but gave immediate sanctuary to victims of the terrorist explosions on Tuesday that destroyed the lower Manhattan neighborhood, an area now called by many New Yorkers "the Belly of the Beast." Communication with some churches remains cut off. The death toll in New York City alone is expected to be in the thousands.
Terry Vega-Ramiriz, a staffer at Primitive Christian Church, was walking out of the subway at 9 a.m. when she saw a plane flying extremely low. "The plane was silvery and smaller than a big jumbo liner. All of sudden there was an explosion that sounded like two big booms."
Running to the church, which is within walking distance of the trade towers, Vega-Ramiriz helped other staff members to open up their doors, set-up prayer groups and call for help. "People covered in ashes started walking in."
At the nearby Overseas Chinese Mission, the largest church in Chinatown, pastor Andrew Lee stayed over night Tuesday to provide what ever help was necessary. The church nestles right next to the court and police headquarters in downtown Manhattan. After the nine-story church building shook for several seconds, Lee ran up to the roof to see what happened. He thought that there might have been a construction accident with the huge cranes up the block. Instead, he saw "orange flames shooting several floors high out of the World Trade Center." Soon after, a church member in the U.S. Air Force Reserve came with the eyewitness news that it looked like the second plane's attack had angled precisely to cause maximum structural damage.
Lee started to prepare the church to help refugees from the attacks. "Within forty-five minutes of the first crash, church people started coming in. They were trying to find a place to stay. They didn't know where else to go. People then started coming in covered and hacking with a fine gray ash that was in the air." The church provided phones, e-mails, and a television so people could catch up with what was going on. "In the shock of everything, they wanted to find out about loved ones. Several prayer groups gathered on our different floors."
Many of church leaders who were interviewed by Christianity Today said that they were still in shock and numb. Lee says, "The shock is still lasting, but it doesn't immobilize you from thinking about the implications."
Diane Sahateo, a production specialist at the book publisher Harry Abrams Inc, joined everyone else to huddle around the television for news. Then, she turned to another Christian, saying, "We need to pray." Reports have come of impromptu prayers all over the city. Several prayer groups were witnessed right outside the trade towers before they collapsed. One federal officer said, "We need prayer in here, in the belly of the beast."
Suhateo and her group came out of their prayer convinced that God is still in charge and "wants us to be a light to those around us." Prayer services were scheduled Tuesday night by several churches, including Primitive Christian Church, Central Baptist Church, and Emmanuel Presbyterian Church.
Redeemer Presbyterian Church has many attenders who work in the World Trade Towers. Church leaders were particularly concerned about members who were working in the twelve floors that Morgan Stanley Dean Witter, the investment firm, leases in the towers. By late Tuesday afternoon, Redeemer's pastor Tim Keller reported that he had not yet heard of anyone from the church among the killed. However, Keller says, "I can't help believe that there are some."
Keller was most encouraged that within a few minutes of the blast several churches in his Presbyterian Church of America denomination had called to offer help to the church or to anyone the church was helping. "It immediately made us feel a little more confident, like we can go looking for things to do."
The church is preparing to help New Yorkers process the horrific experience. Keller says, "We have to address the fear and even the problem of hate. Right after the Sunday service, we are going to have a memorial service for everyone that died. We are going to cancel our classes, mourn our losses and thank God for the homegoing of Christians."
Keller says that churches also need to help respond to the real hatred for the terrorists. "If those towers hadn't come down, I think it would have been different. The coming down was much more horrific and will forever stand for an intrusion, a hostile attack." The pastor says that New Yorkers will viscerally feel the horror for years. "It was satanically brilliant. Now, every time you see that empty space you will not be able to put it out of your mind. I felt a hatred well up in me, so I thought, well, we are going to have to deal with that too."
Christian men and women on the front line of the terrorist war feel that justice also needs to be practiced. Kenneth Wong, a federal officer and leader at Trust In God Baptist Church near the World Trade Towers, says he worries about his fellow officers on the scene and wants something to be done. "I am wondering about my Secret Service and U.S. Customs brothers and sisters based in 7 World Trade Center." World Trade building 7 collapsed late Tuesday afternoon. Attempts by CT to reach a list of security personnel who were active leaders in their local churches were often met with a "We don't know where he or she is." Wong says, "This is an act of war as far as I am concerned." The officer also worries that it won't be easy "for the U.S. to be good guys any more."
Mitch Glaser, president of Chosen People Ministries, in New York City, says his ministry has spent the day tracking down personnel and their children to make sure that they are safe. "We understand that there is a possibility that they will be after Jewish targets, and we have a menorah engraved on the front of our building."
Chosen People, which evangelizes Jewish people, sent medical doctors and nurses to help at downtown Beth Israel Hospital and offered help to a nearby Judaic synagogue.
Glaser says that the day for the terrorist attack may have been chosen because September 11th is the anniversary of the Camp David peace accords. "The terrorists are trying to show that the U.S. or any Western nation that stands with Israel and the Jewish people will be punished."
Glen Kleinknecht, director of Here's Life Inner City of Campus Crusade for Christ, says that they set up a prayer station at the Queens end of the 59th Street (Queensborough) Bridge. Cars were banned and the bridge was filled with people fleeing NYC. They offered to pray with anyone that wanted to stop and pray. "We put up a sign saying, 'Free prayer,' Kleinknecht said. "People were respectful and many stopped. They didn't want to stay long but they prayed and took some literature." Several other groups also have put up prayer stations around the city.
Kleinknecht says that he thinks that New Yorkers seem to be handling the emotional impact of the disaster well. "New Yorkers have grown up with a certain tolerance of a level chaos. They are not as put off by chaos. We have found that people here in the city want to step out and to help out rather than focusing on their own needs."
Tony Carnes is Senior News Writer for Christianity Today.
Related Elsewhere
Christianity Today's other articles on the attacks include:
In the Belly of the Beast | Christians, calling terrorist attack "satanically brilliant," minister at epicenter of World Trade disaster. (Sept. 12, 2001)

Churches, Agencies Respond to Attacks | Leaders call for prayer, justice, and mercy. (Sept. 12, 2001)

Muslims Fear a Backlash | No matter who is responsible, observers feel a reaction will still be present. (Sept. 12, 2001)

A Wake-Up Call to Become Global Christians | The deadly attacks on America will provoke many responses, but Christians are commanded to love our neighbors. (Sept. 12, 2001)

Nation's Religious Leaders Urge Calm, Pray for Peace | Churches will maintain prayer vigils for victims and leaders. (Sept. 11, 2001)

Church Leaders Around World Deplore 'Unspeakable Horror' of Attack | Christians urged to unite in prayer as they unite in shock and denunciation. (Sept. 11, 2001)

Experts Say Spiritual Roots Will Aid in Coping With Catastrophe | Pray and connect with others, advise nation's chaplains. (Sept. 11, 2001)

Fear and Hate | In times like this, as in all other times, Christians have a responsibility to love above all else. (Sept. 11, 2001)

God's Message in the Language of Events | In the face of evil, we must focus on keeping our hearts right. (Sept. 11, 2001)
Article continues below
For in-depth and continuing coverage of the attacks, see The New York Times, The Washington Post, BBC, CNN, and Yahoo full coverage.
For more Christian perspectives and responses, see various articles posted Christianity.com, Crosswalk.com, and Beliefnet.com.
The BBC, Boston.com, The Village Voice, and USA Today have photo essays of yesterday's destruction.
For video or audio coverage, see CNN, ABC News,and Sky News. The Washington Post is running a live Web cam of the Pentagon building.
The BBC has compiled reactions from world leaders (with video).
President Bush addressed the nation on Tuesday evening (video | transcript). He also released a statement Tuesday afternoon. Bush first learned of the World Trade Center tragedy while preparing to speak to schoolchildren in Sarasota, Fla.. There, he asked Amercians for a moment of silence for the victims.
Slate.com explained who responds to crisis situations like Tuesday's.
The Pope and Billy Graham have spoke out on the tragedy and sent out prayers to the victims and their families.
An Interpol report details the 1993 bombing of the World Trade Center.
The Washington Post has a list of tenants of the World Trade Center.
The New York Blood Centers declared a blood emergency after the Sept. 11 attacks.
See the Web sites of churches in the article including: Primitive Christian Church, Redeemer Presbyterian Church, Chosen People Ministries, and Here's Life Inner City of Campus Crusade for Christ.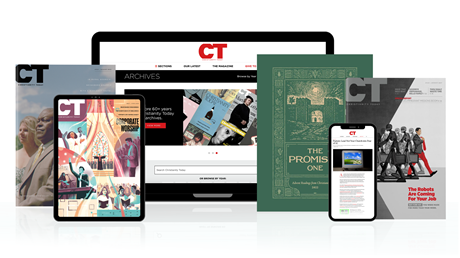 Annual & Monthly subscriptions available.
Print & Digital Issues of CT magazine
Complete access to every article on ChristianityToday.com
Unlimited access to 65+ years of CT's online archives
Member-only special issues
Subscribe
In the Belly of the Beast
In the Belly of the Beast