For Nus Reimas, general secretary of the Indonesia Evangelical Fellowship, the September 11 terrorist attacks on the World Trade Center and the Pentagon brought back horrific and painful memories. More than a year ago, hundreds of well-armed radical Muslim warriors descended on the Maluku island chain in eastern Indonesia to purge the region of its Christians. Among the thousands of Christians they massacred were 38 members of his extended family.
In interviews with Christianity Today, Reimas and evangelical leaders from Sri Lanka, Sierra Leone, and Malaysia discussed their experiences of terrorism, violent religious extremism, and wartime atrocities.
Unity Matters
In the Malukus, an estimated 8,000 people have been killed and 500,000 displaced in a prolonged series of shootings and arson since January 1999. About half of the Malukus are Christian. Radicals from Afghanistan with alleged ties to Osama bin Laden, the chief suspect in the U.S. attack, have joined with the extremist Indonesian group Laskar Jihad to purge Christians from the islands and establish an Islamic society.
Facing his family's tragic losses and trusting in God's sovereignty, Reimas said he struggled to apply the command of 1 Thessalonians 5:17 to "give thanks in all circumstances, for this is God's will for you in Christ Jesus." This determination to practice what he preaches, rather than minimize his pain, allowed him to confront his tragic losses directly.
"Only [then] could I stand up and face the situation," Reimas says. "No one expects things like this, but they happen."
Reimas's response to suffering is more than internal. He now hosts regular meetings of Protestant, Roman Catholic, and Orthodox leaders in Indonesia and says the participants have become closer. "The general chairman of the Indonesian National Council of Churches and others come to my office and meet together," he says. "It's never happened before."
Prepare to be Tested
In Sri Lanka, more than 60,000 people have died and 1 million have been displaced as Tamil rebels engage in a bloody campaign for a separate homeland. The conflict pits Tamil Hindus against Singhalese Buddhists, who represent a majority on the island nation of 19 million people. There are about 1 million Christians in Sri Lanka.
"We have been through [terrorism] many times over the past 18 years," says Godfrey Yogarajah, general secretary of the Evangelical Alliance of Sri Lanka. Evangelical Protestants, who compose less than 1 percent of the population, have suffered attacks. Extremist Buddhists accuse them of forcing individuals to convert to Christianity. Since the 1980s, many Christians have been killed or beaten, and about 40 churches have been destroyed.
The Liberation Tigers of Tamil Eelam, a Hindu extremist group, launched a suicide attack in July on the international airport that devastated the national airline and shocked the nation. But daily life in Sri Lanka had changed long before. "Here in our part of the world, we live constantly with security," Yogarajah says.
Yogarajah, an ethnic Tamil, endorses a strategy of preparing Christians for hard times. Sri Lankan churches, Bible schools, and seminaries have long been training Christians "to face even more difficult times," Yogarajah says. "We've been teaching, in the light of all that is happening, how we need to [spread] the gospel, to be sensitive to our community and culture, and then go forward. We need to prepare our people; otherwise we will be caught unaware when [trouble] comes."
Work with Youth
In Malaysia, which prides itself on being a model of multiethnic harmony, Muslim extremists have targeted not only the nation's moderate Muslim government, but also minority religious groups, including Christians, Hindus, and Sikhs.
In August 2000, authorities charged 29 members of an Islamic sect with treason after they looted two army camps of 100 assault rifles and 1,000 rounds of ammunition. Fear of terrorism is growing.
In the wake of the attacks in America, religious leaders in Malaysia formed a new coalition to educate the public, especially young people, about dangerous ideologies and their consequences, according to Wong Kim Kong, general secretary of the National Evangelical Christian Fellowship of Malaysia.
"There are many people started off from preschool age to believe that if you die for jihad you will be in heaven," Wong says. "That kind of indoctrination is so strong. We need to look at many strategies to reorient their minds and to eradicate such influence in the country." (In Malaysia, more than one-third of the population is 15 or younger.)
Parti Se-Islam Malaysia (PAS), a conservative Islamic political party that leads the country's opposition alliance, rules 2 of 13 states where Islamic law is being enacted. pas is gaining popularity among Malays, the mostly Muslim ethnic group of about half the population.
"We cannot remain complacent," Wong says. "We have to be vigilant in every situation."
Unload Anger
In the West African nation of Liberia, nearly every family lost a loved one in a seven-year civil war that began in December 1989 with civilian massacres. More than 220,000 people died and more than 1 million fled their homes in a country that now has about 3 million people.
"Initially the emotions don't even start coming out, because it's just total shock," says Bill Massaquoi of the Association of Evangelicals of Liberia, recounting the effect of attacks on families.
"Later, you see it begins to lift, and then the reality dawns on individuals, and they begin to see the loss. For some people, it was emotionally overwhelming, and they just collapsed."
When the shock subsides, anger intensifies, Massaquoi says. "[People] are angry about the fact that there is no justice for those who meted out those kinds of atrocities against them," he says. "But what can you do to avenge for the kind of destruction that took place? You can't compensate for the loss of life of pregnant women being torn apart, of human beings beheaded, treated like animals, and people's stomachs opened with knives and machetes."
Only the power of Christ can comfort people in these circumstances "in a way that probably we ourselves may never really understand," Massaquoi says. After the war, evangelical churches set up counseling booths in communities.
"We did not rush to provide answers," Massaquoi says. "Many times they just need someone who will show genuine interest in their story and allow them to unload all their anger, all their frustrations, all their hurts. And often you would actually just sit with them and look them in the face and hold their hand, cry with them, and mourn with them. And then we started to minister the Word of God about Jesus, that no matter what happens, he loves us."
Recovery takes a long time, he says, and requires more than just initial relief of physical, emotional, and spiritual needs. Massaquoi directs the association's microenterprise program that provides "life loans" to families to help them start earning money again. Massaquoi says that churches have been "springing [up] all over the place."
"In our case, the church just quickly gathered itself," Massaquoi says, "strengthened itself to minister to the people."
Related Elsewhere
The day after the attacks on America, Miriam Adeney argued that the tragedy was a wake-up call for Americans to become global Christians.
Our persecution section has articles on Sri Lanka, Indonesia, and Sierra Leone.
Article continues below
Christianity Today's previous coverage of the September 11 attacks include:
Day of Terror, Day of Grace | In the wake of fatal attacks killing thousands, Christians steer America toward prayer, service, and reconciliation. (Sept. 25, 2001)
Judgment Day | God promised that calamity would follow disobedience. So why are we quick to dismiss it as a reason for the September 11 attacks? (Sept. 25, 2001)
Where I Minister, Grace Abounds Over Sin | At Ground Zero, a New York pastor becomes a symbol that God is present and available. (Sept. 24, 2001)
Books & Culture Corner: Myths of the Taliban | Misinformation and disinformation abounds. What do we know? (Sept. 24, 2001)
Now What? | A Christian response to religious terrorism. (Sept. 21, 2001)
To Embrace the Enemy | Is reconciliation possible in the wake of such evil? (Sept. 21, 2001)
After the Grave in the Air | True reconciliation comes not by ignoring justice nor by putting justice first, but by unconditional embrace. (Sept. 21, 2001)
Film Forum: Shock Waves Tear Through a Shock-Value Industry | How can we think of movies at a time like this? (Sept. 20, 2001)
Was September 11 the Beginning of the End? | Observers say geography and gravity of attacks have led to little prophecy speculation. (Sept. 19, 2001)
The End of the World (Trade Center) | Dispatches from out of the dust. (Sept. 19, 2001)
Active Christian on Flight 93 Hailed as a Hero | Wheaton College graduate and others "figured out how to do extraordinary things" aboard United plane. (Sept. 19, 2001)
With Grief and Anger, the U.S. Mourns Its Losses | A week of official services and impromtu demonstrations follows shocking attacks. (Sept. 18, 2001)
Orthodox Church Near Ground Zero Hopes to Rise Again | Members hope to rebuild 169-year-old structure, which stood only 500 feet from the World Trade Center. (Sept. 18, 2001)
Churches Meet Needs at Ground Zero | Brooklyn pastors and parishioners thank God for survival, but help victims and families cope. (Sept. 17, 2001)
Church Mourns 'Father Frank' | Fond memories comfort those who knew retired priest killed in World Trade Center attack. ? (Sept. 17, 2001)
Books & Culture Corner: The Imagination of Disaster | "We thought we were invulnerable." Really? (Sept. 17, 2001)
Taking It Personally | What do we do with all this anger? (Sept. 14, 2001)
'Is That Thunder?' | With metal cracking at the World Trade Center, New York pastors cry out to God. (Sept. 14, 2001)
Shaken Christians Turn to Prayer | Impromptu services usher in the bereaved by word of mouth, road signs, and e-mail. (Sept. 13, 2001)
Article continues below
Christians Provide Comfort in the Shadow of Calamity | Still "stunned and reeling," New Yorkers seek support at prayer service. (Sept. 13, 2001)
Illinois Pastor on Fatal Flight | Jeffrey Mladenik, 43, was involved in workplace ministry, international adoption. (Sept. 13, 2001)
Communication Troubles Challenge U.S. Church Relief Agencies | Aid work continues amid atmosphere of shock, fear, and sporatic harrassment. (Sept. 13, 2001)
Reflections on Suffering | Classic and contemporary quotations for dark times. (Sept. 13, 2001)
When Sin Reigns | An event like this shows us what humans are capable of becoming—both as children of darkness and of light. (Sept. 13, 2001)
In the Belly of the Beast | Christians, calling terrorist attack "satanically brilliant," minister at epicenter of World Trade disaster. (Sept. 12, 2001)
Churches, Agencies Respond to Attacks | Leaders call for prayer, justice, and mercy. (Sept. 12, 2001)
Muslims Fear a Backlash | No matter who is responsible, observers feel a reaction will still be present. (Sept. 12, 2001)
Nation's Religious Leaders Urge Calm, Pray for Peace | Churches will maintain prayer vigils for victims and leaders. (Sept. 11, 2001)
Church Leaders Around World Deplore 'Unspeakable Horror' of Attack | Christians urged to unite in prayer as they unite in shock and denunciation. (Sept. 11, 2001)
Experts Say Spiritual Roots Will Aid in Coping With Catastrophe | Pray and connect with others, advise nation's chaplains. (Sept. 11, 2001)
Fear and Hate | In times like this, as in all other times, Christians have a responsibility to love above all else. (Sept. 11, 2001)
God's Message in the Language of Events | In the face of evil, we must focus on keeping our hearts right. (Sept. 11, 2001)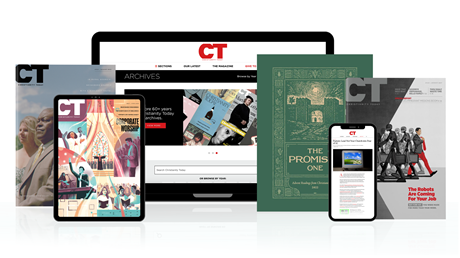 Annual & Monthly subscriptions available.
Print & Digital Issues of CT magazine
Complete access to every article on ChristianityToday.com
Unlimited access to 65+ years of CT's online archives
Member-only special issues
Subscribe
The Hard-Won Lessons of Terror and Persecution
The Hard-Won Lessons of Terror and Persecution