Jean Zaru, 61, is a Quaker whose passion for peace and justice is rooted in her family's close ties with the struggle for Palestinian independence. Her relatives fled their homes during the 1948 War, and her husband was almost killed when Ramallah was bombed during the Six-Day War in 1967. Zaru believes a brother who joined the Palestinian struggle and disappeared in Lebanon in 1976 is dead.
Zaru has spent much of her life addressing the Middle East crisis and the concerns of Palestinians. She is a founding member of Sabeel Ecumenical Liberation Theology Center in Jerusalem, and presiding clerk of the Ramallah Friends Meeting in Palestine, the regional Quaker denomination.
Zaru, who is traveling in the United States with two other women from Jerusalem, has spoken to groups throughout the world. The tour, called "Jerusalem Women Speak — Three Women, Three Faiths, One Shared City," is sponsored by Partners for Peace, a United Nations-registered nongovernmental organization that educates people about the Middle East conflict. Organizing such speaking tours is one of the group's major projects.
While many Americans say they now "understand what Israelis go through" after the terrorist attacks of September 11, Zaru says Americans should also sympathize with Palestinians, who have been uprooted from their homes and face violence.
Zaru also criticizes reporters who fail to present what she considers a nuanced assessment of the Israeli-Palestinian conflict.
"They question the terror, but they do not speak of the political, economic, social, religious, and cultural factors, and so forth," she told CT before a Chicago speech. "We must bring peace by looking at the root cause of suffering. The root causes of violence need to be addressed."
Zaru challenges the United States on providing aid and military equipment to Israel and, in her view, failing to hold Israel accountable to international law, United Nations resolutions, and the Geneva Convention.
"People ask about [enforcing] U.N. resolutions in Iraq, but not in Israel," she says. "Violation of human rights is okay in Israel but not in other countries. We have to uphold a common standard of morality for all people."
While the women's talks in major cities such as Philadelphia, Raleigh, Chicago, Indianapolis, and Boston were planned several months earlier, the September 11 terrorist attacks have given them a special relevance for some audience members, who ask how to cope with their fears.
Michal Shohat, 48, a Jewish Israeli, agrees that many Americans now "know what it means to be afraid of terrorism at any moment." She adds: "We have lived like that for the last 50 years."
Shohat, who served as an officer in the Israeli army during the invasion of Lebanon in 1978, was born on a kibbutz. Her father escaped from a Romanian concentration camp, served in the Underground during World War II and rescued Jews before going to Israel in 1948. She is general secretary of the Meretz Party, composed of Jews and Arabs committed to equality, social justice, and "humanistic Zionism."
Shohat encourages Americans not to alter their lives because of the attacks. "We live our own life," she told CT.
Peace is possible if people are willing, Shohat says. "We can have a lasting peace," she says, but "there is a cycle of violence, [and people say] 'I don't want to be the first to stop the cycle of violence.'"
Still, Shohat says, both sides will need to make significant compromises to achieve a lasting peace.
"I believe we'll have to leave the settlements," she says. "Israel will have to come back to [its] borders before the '67 war. I think we'll have to make compromises on Jerusalem—to find some way to share. I think the Palestinians must understand we cannot accept [their] right of return to Israel."
Rawan Damen, who is also part of the speaking tour, agrees that occupation is among several issues blocking peaceful relations between Israelis and Palestinians in the region.
Damen, a 22-year-old Muslim Palestinian who has coauthored three books and several articles about Palestinian children, told CT she placed very little faith in the peace process, even before its interruption.
"We knew it wasn't treating the problem of occupation," she says. "The Palestinians see the Israeli politicians and government not dealing with the idea of occupation and settlements. The Palestinians are skeptical of Israelis' intentions."
Damen's family history in Palestine goes back to the 14th century on her mother's side and 350 years on her father's.
Damen says that economic issues—including a high percentage of Palestinians living below the poverty line—and Israeli control over water and electricity are sources of hostility between the groups.
She would like for people to move more freely between the 64 zones that divide the West Bank, an area about half the size of the Chicago metropolitan area. Damen, a recent graduate of Birzeit University in Palestine, says her walks to the university campus—about a 15-minute journey by car—often took her more than two hours because of security checkpoints. "No one wants to live that way," she says.
Interest in a peace agreement between the two groups has intensified as the Bush administration attempts to build an anti-terrorism coalition that includes countries in the region. Truce talks were jeopardized four times in the last week by resumed violence, but Israeli Foreign Minister Shimon Peres and Palestinian Liberation Organization Chairman Yasser Arafat agreed to maintain a ceasefire, establish a committee to help implement the Mitchell peace plan, and cooperate on security. The leaders plan to meet again within a week.
Damen, who witnessed the bombing of Ramallah last year, says she hopes the situation will improve. "I believe there is an opportunity for peace between Palestinians and Israelis," she says. "We have no other option."
Related Elsewhere
The Partners for Peace Web site has plenty of information on the organization.
CNN's in-depth report, "Struggle for Peace,"explains the decades of mistrust and animosity between the Israelis and Palestinians.
Rawan Damen attended Birzeit University in Palestine.
Sabeel Ecumenical Liberation Theology Center is an ecumenical grassroots liberation theology movement among Palestinian Christians.
For current articles on the Palestinian and Israeli conflict, see Yahoo's full coverage area.
Recent Christianity Today articles on violence in the Holy Land include:
Amid Fears for Future, Jerusalem's Churches Embark On Prayers for Peace | Week of prayer launched with services held in various congregations. (Aug. 22, 2001)
Strengthen Christian Presence In The Holy Land, Carey Pleads | Middle-East leaders asked to help tone down violence that has killed 650 in 10 months. (August 2, 2001)
Violence Puts Archaeologists Between Rocks, Hard Places | About half of the planned excavations in the Holy Land this summer have been canceled. (June 27, 2001)
Christian Zionists Rally for Jewish State | More than 600 Christians from around the world flock to Jerusalem to show solidarity with Israel as peace process collapses. (Apr. 9, 2001)
Between a Rock and a Holy Site | Muslims have stepped up their efforts to take control of places revered by Jews and Christians. (Feb. 13, 2001)
Conflict in the Holy Land | A timeline of trials for the most contested piece of real estate in the world.
Christmas in Palestine: Hunger and War | Starvation threatens Palestinian villages if U.N. aid continues to be delayed, Vatican official warns. (Dec. 13, 2000)
Article continues below
Between the Temple Mount and a Hard Place | Palestinian Christians want both peace in their villages and justice for their Muslim brothers. (Dec. 5, 2000)
Lutheran Bishop's Appeal from Jerusalem | Religious leader's letter requests prayer for Christians, Jews, and Palestinians in troubled region. (Nov. 10, 2000)
For in-depth and continuing coverage of the September 11 attacks on America, see The New York Times, The Washington Post, BBC, CNN, and Yahoo full coverage.
Christianity Today's previous coverage of the September 11 attacks include:
The Hard-Won Lessons of Terror and Persecution | Overseas Christians reflect on painful experiences. (Sept. 26, 2001)
Day of Terror, Day of Grace | In the wake of fatal attacks killing thousands, Christians steer America toward prayer, service, and reconciliation. (Sept. 25, 2001)
Judgment Day | God promised that calamity would follow disobedience. So why are we quick to dismiss it as a reason for the September 11 attacks? (Sept. 25, 2001)
Now What? | A Christian response to religious terrorism. (Sept. 21, 2001)
To Embrace the Enemy | Is reconciliation possible in the wake of such evil? (Sept. 21, 2001)
After the Grave in the Air | True reconciliation comes not by ignoring justice nor by putting justice first, but by unconditional embrace. (Sept. 21, 2001)
With Grief and Anger, the U.S. Mourns Its Losses | A week of official services and impromtu demonstrations follows shocking attacks. (Sept. 18, 2001)
Taking It Personally | What do we do with all this anger? (Sept. 14, 2001)
Shaken Christians Turn to Prayer | Impromptu services usher in the bereaved by word of mouth, road signs, and e-mail. (Sept. 13, 2001)
Christians Provide Comfort in the Shadow of Calamity | Still "stunned and reeling," New Yorkers seek support at prayer service. (Sept. 13, 2001)
Reflections on Suffering | Classic and contemporary quotations for dark times. (Sept. 13, 2001)
When Sin Reigns | An event like this shows us what humans are capable of becoming—both as children of darkness and of light. (Sept. 13, 2001)
A Wake-Up Call to Become Global Christians | The deadly attacks on America will provoke many responses, but Christians are commanded to love our neighbors. (Sept. 12, 2001)
Nation's Religious Leaders Urge Calm, Pray for Peace | Churches will maintain prayer vigils for victims and leaders. (Sept. 11, 2001)
Church Leaders Around World Deplore 'Unspeakable Horror' of Attack | Christians urged to unite in prayer as they unite in shock and denunciation. (Sept. 11, 2001)
Fear and Hate | In times like this, as in all other times, Christians have a responsibility to love above all else. (Sept. 11, 2001)
God's Message in the Language of Events | In the face of evil, we must focus on keeping our hearts right. (Sept. 11, 2001)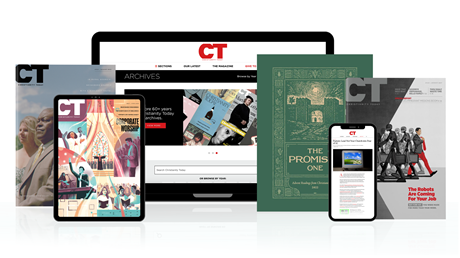 Subscribe to Christianity Today and get access to this article plus 65+ years of archives.
Home delivery of CT magazine
Complete access to articles on ChristianityToday.com
Over 120 years of magazine archives plus full access to all of CT's online archives
Subscribe Now
Activists well acquainted with terror
Activists well acquainted with terror