We've been looking back at books from 2001; now it's time to look ahead. Publishers' catalogues are arriving every day. What follows is a highly selective report from the materials at hand (some publishers have yet to be heard from).
The publishing event of the season is the announcement that Vintage has acquired reprint rights to 17 novels by the sci-fi writer Philip K. Dick, who died in 1982 at the age of fifty-three. Dick's fellow writer and friend, Roger Zelazny, wondered how to go about creating a story "at once puzzling, poignant, grotesque, philosophical, satirical, and fun. There is a very special way of doing this," Zelazny concluded, "and the first step in its mastery involves being Philip K. Dick."
Many readers have become acquainted with Dick through movies based on his fiction, including Blade Runner, based on the novel Do Androids Dream of Electric Sheep?, and Total Recall, very loosely based on a Dick short story. Last week saw the release of Impostor (from a Dick short story), and a Dick-inspired Steven Spielberg film, Minority Report, starring Tom Cruise, is scheduled for May of this year. (Pantheon will publish Dick's story of the same title as a small hardcover.)
Vintage will release the first four of the 17 reissues in May, to coincide with the Spielberg film. Dick's best novels—books like Ubik, The Man in the High Castle, and The Three Stigmata of Palmer Eldritch—were reissued in an earlier batch that Vintage began releasing in 1991. But that first batch of 16 novels also included some stinkers—most notably the VALIS trilogy—and (presumably because the rights weren't then available) omitted some good ones, such asTime Out of Joint, which is one of the four titles coming in May, and The Simulacrum, long out of print and very hard to find, also due in May.
Some of the 17 novels that Vintage will be reissuing are exceptionally bad—Vulcan's Hammer, for instance, and The Crack in Space. But even Dick's worst novels are worth reading at least once, and the good ones are unforgettable.
Like Philip K. Dick, Fyodor Dostoevsky often wrote hastily—to meet deadlines, keep creditors at bay, and fuel gambling sprees (an addiction that Dick didn't share; he had plenty of other troubles). And like Dick he was gifted with an imperfect but nonetheless penetrating prescience. In 1976, the scholar Joseph Frank published the first volume of an ambitious biography of the Russian novelist. In May, Princeton University Press will publish Frank's fifth and final volume, Dostoevsky: The Mantle of the Prophet, 1871-1881. Reading Frank on Dostoevsky is to plunge deep into the tangled particulars of late-nineteenth-century Russian culture, yet from this unfamiliar vantage point we gain a new perception on our own time.
One wonders what Dostoevsky, who had a messianic conception of the role of Russia in world history, would make of Philip Jenkins's new book, The Next Christendom: The Coming of Global Christianity, due from Oxford University Press in March. We've heard a good deal in recent years about the shift in the center of Christian influence from the Northern to the Southern hemisphere. But no book to date has so powerfully and provocatively considered the implications of that change as Jenkins's does. Along the way he repeatedly jolts comfortable assumptions right, left, and center. Look for a review by Mark Noll in the March/April issue of Books & Culture.
The trends that Jenkins analyzes point toward increasing conflict between Christians and Muslims. At a minimum, post-September 11, the need for greater knowledge of the Islamic world is glaringly apparent. Publishers are promoting backlist titles in this area and commissioning new ones. Among the most promising of the many forthcoming books on Islam are two that share the same rather predictable title. From Yale University Press comes Ahmed Rashid's Jihad: The Rise of Militant Islam in Central Asia,due next month. Rashid is the journalist whose book Taliban was discussed in an earlier Corner. And from Harvard University Press, scheduled for April, Gilles Kepel's Jihad: The Trail of Political Islam. Kepel's earlier books include The Revenge of God, on the resurgence of religion in the face of secularism, and Muslim Extremism in Egypt, a book from the 1980s that is very helpful in understanding the ideological roots of September 11.
If Philip Jenkins challenges all sorts of received ideas about Christianity in the contemporary world, Corwin Smidt and James M. Penning bring critical scrutiny to bear on certain widely held notions about the state of American evangelicalism. In Evangelicalism: The Next Generation, coming in July from Baker, Smidt and Penning replicate the influential study conducted by James Davison Hunter and dissent from Hunter's pessimistic conclusions.
With books such as The Culture of Disbelief, Civility, and God's Name in Vain, Stephen Carter has established a reputation as a wide-ranging scholar who isn't afraid to take on big issues and academic orthodoxies. Now Carter, who is William Nelson Cromwell Professor of Law at Yale University and a columnist for Christianity Today magazine, has taken an even bolder step: his first novel, The Emperor of Ocean Park, is due in June from Knopf. The story is set "in the privileged world of New York-Washington-Martha's Vineyard upper-crust African-American society and the inner circle of an Ivy League law school." Expect sparks to fly.
Clearly Sam and Bethany Torode aren't afraid of controversy, either. Eerdmans will publish their book, Open Embrace: A Protestant Couple Rethinks Contraception, in February. Judging by the heap of letters, pro and con, in response to the Torodes' piece on the subject in the November issue of Christianity Today, this book will generate a good deal of passionate conversation.
In December the writer W.G. Sebald was killed in a car accident. Sebald, who was born in Germany and continued to write in German even though he had lived and taught in England for many years, created an odd form, a cross between novel, essay, and memoir, with an occasional photograph or document of some sort. His book Austerlitz, the fourth to appear in English translation, was published last fall to considerable acclaim. One more book, his last, awaits translation. In the meantime, for readers who have fallen under Sebald's spell, an early work has been translated for the first time: After Nature, due in August from Random House.
Another book about C.S. Lewis? Surely we don't need that! But two books scheduled for publication in April suggest otherwise. In The Most Reluctant Convert: C.S Lewis's Journey to Faith, coming from InterVarsity Press, Lewis scholar David Downing shows how Lewis's extraordinary effectiveness as a witness to the Christian faith derived in no small part from his firsthand experience of unbelief. And in The Question of God: C.S. Lewis and Sigmund Freud Debate God, Love, Sex, and the Meaning of Life, from the Free Press, psychiatrist and Harvard professor Armand Nicholi, Jr., brings Freud and Lewis into dialogue, yielding some unexpected insights into both men and their beliefs.
There's a shelf to start with. Let us know if you come across a book likely to be of particular interest to B&C readers.
John Wilson is editor of Books & Culture and editor-at-large for Christianity Today.
Related Elsewhere:
Visit Books & Culture online at BooksandCulture.com or subscribe here.
Article continues below
Books & Culture Corner's review of 2001's best books included:
Books of the Year | Part 1: The Top Ten (Dec. 17, 2001)
Books of the Year, Part 2 | After the top ten, here's the best of the rest. (Jan. 4, 2001)
Books & Culture Corner appears Mondays at ChristianityToday.com. Earlier Books & Culture Corners include:
"Daddy, What Is the Soul?" | Does the church have an answer? (Dec. 10, 2001)
'We Now Know' | The boast of imperial science. (Dec. 3, 2001)
"24 Cow Clones, All Normal" … | Oh yes, and a few cloned human embryos that died. (Nov. 26, 2001)
"Discovering" Islam: The Intellectual Challenge | There's good reason to believe that there will be staying power to the West's belated "discovery" of Islam. (Nov. 19, 2001)
Disturbing the Peace | Is art always subversive when it's doing its job? (Nov. 12, 2001)
Play Ball | Baseball, leisure, and worship. (Nov. 2, 2001)
Is God a Body-Snatcher? | The restless intelligence of philosopher Peter van Inwagen. (Oct. 30, 2001)
"Science and the Spiritual Quest" | A place at the table for Christians, but at a price. (Oct. 22, 2001)
Beyond Belief? | Nobel Prize-winner V.S. Naipaul's accounts of Islam presuppose the superiority of modern skepticism. (Oct. 15, 2001)
Covering Islam | Getting beyond the feel-good bromides. (Oct. 8, 2001)
Christian Scholarship … For What? | Academic speakers affirm the value of beholding God's creation. (Oct. 1, 2001)
Myths of the Taliban | Misinformation and disinformation abounds. What do we know? (Sept. 24, 2001)
The Imagination of Disaster | "We thought we were invulnerable." Really? (Sept. 17, 2001)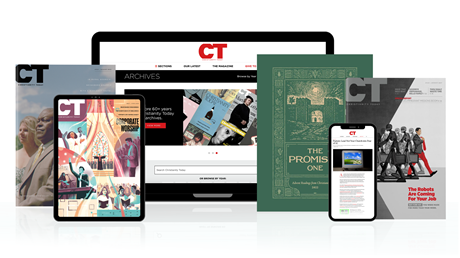 Annual & Monthly subscriptions available.
Print & Digital Issues of CT magazine
Complete access to every article on ChristianityToday.com
Unlimited access to 65+ years of CT's online archives
Member-only special issues
Subscribe
Coming Attractions
Coming Attractions