Attleboro case dropped
A grand jury inquiry into the whereabouts of a religious sect member's child quietly ended last month with the finding that Rebecca A. Corneau's 2001 pregnancy ended in stillbirth.
Corneau and her husband David, members of The Body, a small sect in Attleboro, Massachusetts, were jailed since February but never charged when they refused to give information on their child reportedly born late last year. Authorities claimed the child could be alive and hidden.
Prosecutors revealed this week that the investigation was dropped in June based on sworn statements from witnesses who saw David aid his wife in the birth of a stillborn boy. A medical expert reviewed the accounts and concluded they were consistent with a stillbirth. The couple was released from jail on June 18.
The Body has been under investigation and careful watch since 1999 when a former member took entries from the sect's journals to authorities. A lengthy probe began into the mysterious deaths of newborn Jeremiah Corneau and 11-month-old Samuel Robidoux.
The Corneaus' son Jeremiah died during childbirth in 1999. His parents said Jeremiah was stillborn, but authorities believed he would have lived if born in a hospital. The sect believes in home birth. No charges were made against the Corneaus. The father received immunity for revealing the graves of Jeremiah and Samuel.
Authorities placed 13 children from the sect into protective custody, including four of the Corneaus'. When Rebecca Corneau became pregnant in 2000, she was jailed for refusing medical care. The baby, a daughter, was put into state custody.
Samuel Robidoux's father was convicted of first-degree murder and sentenced to life in prison. Samuel's mother, Karen, will stand trial in September for his murder.
American Family Association pushes Pledge amendment
The American Family Association (AFA) is leading an effort to acquire ten million signatures for a petition supporting a Constitutional Amendment to protect the Pledge of Allegiance and the national motto.
"You may be thinking that the Supreme Court will overturn this ruling by the 9th Circuit Court," Donald E. Wildmon, AFA Chairman writes on the petition site. "Don't count on it! The atheists and liberal judges are committed to their agenda. They will continue until they succeed, unless we act now to stop them."
Since the June 26 Ninth District Court ruling on the pledge, there have been several bills submitted into Congress to protect the phrase 'Under God.' In addition to the Pledge Protection Act of 2002, there have been three amendment proposals submitted into the house and one into the Senate.
Other related articles include:
Mom: Girl not harmed by pledging 'under God' | Sandy Banning has hired an attorney to intervene in the 9th U.S. Circuit Court of Appeals. (CNN)
The Pledge's God Looks Suspiciously Patriotic | I applaud the Ninth Circuit's decision precisely because I am a Christian who happens to be a Lutheran pastor (Donald S. Larsen, The Hartford [Conn.] Courant)
Godless Americans | Come November, six dozen organizations will descend on Washington, D.C. for the "Godless Americans March." (National Post)
Man who filed Pledge lawsuit appealing case against president | Newdow now appealing the dismissal of another religious lawsuit he filed seeking to bar references to God at presidential inaugurations. (The Associated Press)
The Atheist Civil-Liberty Union? | Facing the silent artillery of time (Michael Novak, National Review Online)
More articles
Protests:
Minister to serve sentence at Milan for trespassing | Pastor among 19 activists who protested at institute at Fort Benning (

The Ann Arbor

[Mich.]

News

)


Activists recite gay Christ poem | In a face-off Thursday over Britain's 17th-century blasphemy laws, sidewalk preachers bellowing biblical verses drowned out a group of free-speech activists who read a homoerotic poem about Jesus Christ on the steps of a central London church (Associated Press)
Interfaith relations:
Baptists and Islam | Franklin Graham and Jerry Vines are anything but religious bigots (R. Albert Mohler Jr,

The New York Times

)


Rising threat of Hindu extremism | While the Western World worries about Islam, the specter of Hindu nationalism carries the potential of threatening the stability of the Indian subcontinent and the world beyond (H.D.S. Greenway,

The Boston Globe

)
Church Life:
Science and Health:
Attending religious services may help heart health | Diabetics who attend religious services at least once a year are found to have lower levels of a marker of inflammation linked to heart disease than those who never attended religious services. (Reuters)


Faith questioned at recent International AIDS Conference | Roman Catholic Church — and to a lesser extent other world faiths and denominations — were criticized for failing to talk about the disease openly and preaching social mores that conference participants considered unrealistic or to be impeding efforts to stop the disease's rampant spread in poor regions, especially Africa (Associated Press)
Assault plans on Iraq:
Catholicism:
Other stories of interest:
Related Elsewhere
See our past Weblog updates:
July 17 | 16 | 15
July 12 | 11 | 10 | 9 | 8
July 5 | 3 | 2 | 1
June 28 | 27 | 26 | 25 | 24
June 21 | 20 | 19 | 18 | 17
June 14 | 13 | 12 | 11 | 10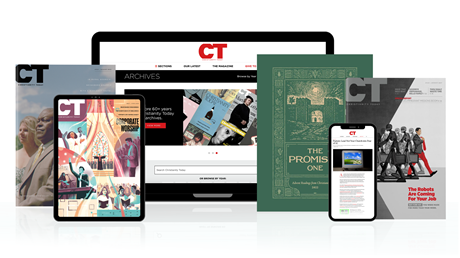 Subscribe to Christianity Today and get access to this article plus 65+ years of archives.
Home delivery of CT magazine
Complete access to articles on ChristianityToday.com
Over 120 years of magazine archives plus full access to all of CT's online archives
Subscribe Now
Investigation of Sect Parents Ends with Determination of Stillbirth
Investigation of Sect Parents Ends with ...