Shrekdirector Andrew Adamson will direct The Lion, the Witch and the Wardrobe film
"As we've seen with Lord of the Rings and Harry Potter, bringing to the screen a literary fantasy classic, beloved by millions of readers, requires both a reverence for the original material and a rich imagination to create a realistic fictional world," Walden Media CEO Cary Granat said in a press release Wednesday. "Andrew Adamson knows better than anyone how to create magic on-screen and tell a story which touches the heart of an audience. His expertise in visual effects, animation, and live action will be critical to a fantasy work of this magnitude."
So far, there's been little buzz about the appointment at the Mere Lewis e-mail list (which is on hiatus this week) or on the alt.books.cs-lewis newsgroup. Note, however, that though Shrek was extremely well received by both mainstream and Christian critics and filmgoers (one negative review in Books & Culture got absolutely pilloried by readers and other critics), Adamson also worked as visual effects supervisor on the terrible Batman Forever and Batman and Robin—films that did anything but show "reverence for the original material." Of course, he wasn't director of those films, either—but he did win Academy Award nominations for both.
"Narnia was such a vivid and real world to me as a child, as it is to millions of other fans," Adamson says in the press release. "I share Walden's excitement in giving those fans an epic theatrical experience worthy of their imaginations, and driving a new generation toward the works of C.S. Lewis. Making a film that crosses generations is a far easier task when the source material resonates such themes as truth, loyalty and belief in something greater than yourself."
Walden also named South African Ann Peacock, who won an Emmy for the HBO film A Lesson Before Dying, as the screenwriter.
All well and good, and Weblog hates to be a total wet blanket years before the project comes out. But here's something to worry about. Walden Media is a wholly owned subsidiary of The Anschutz Company, which is, according to its website, "the largest shareholder of the outstanding common stock of Qwest." (Philip Anschutz, who funds Walden Media, started Qwest Communications.) For those of you following the news, Qwest is in trouble, and under investigation from the Securities and Exchange Commission for its accounting practices. Anschutz himself is under fire for selling $1.5 billion in shares while Qwest was inflating its revenues. Might these woes affect the budget of Walden Media—and thus the Narnia series?
Bringing the head of John the Baptist
Richard Freund, an archaeologist at the University of Hartford (Conn.), says he might have found the skeleton of John the Baptist. Even he admits it's a circumstantial case: while excavating caves in Qumran, near where the Dead Sea Scrolls were found, Freund's team discovered a male skeleton dating from the first century. "Freund reported that the orientation of the body and its accompanying grave goods suggest that the remains may be that of the 'Teacher of Righteousness,' the founder of an ancient Jewish sect called the Essenes," a university press release explained. "Scholars have long thought that this teacher may have been the prophet John the Baptist."
"I don't know if this is John the Baptist," Freund told The Hartford Courant, "but it certainly is possible."
But even members of the excavating team say such a theory is preposterous. "No person in the world believes there is a connection between the two. There is nothing to it," Magen Broshi, one of the heads of the expedition, tells the Associated Press. "What we have unearthed is most probably a skeleton of a Bedouin man from about two or three hundred years ago."
More articles
Persecution and crime:
Pennsylvania miner rescue:
Gracia Burnham:
Bible:
First Amendment:
Church and state:
Politics and law:
Pledge of Allegiance:
Life ethics:
Missions and ministry:
Church life:
Theology:
Other religions:
North Dakota mascot debate:
Education:
Business:
Pop culture:
Books:
Sexuality and gender:
Sex abuse scandals:
Pope John Paul II and Catholicism:
Other stories of interest:
Related Elsewhere
See our past Weblog updates: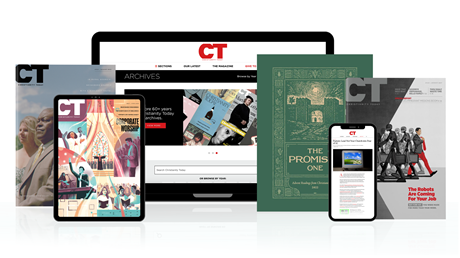 Subscribe to Christianity Today and get access to this article plus 65+ years of archives.
Home delivery of CT magazine
Complete access to articles on ChristianityToday.com
Over 120 years of magazine archives plus full access to all of CT's online archives
Subscribe Now
Shrek Director Picked for The Lion, the Witch, and the Wardrobe
Shrek Director Picked for The Lion, the Witch, and the Wardrobe