British author G.K. Chesterton, who happens to be the subject of the next issue of Christian History magazine and also happens to have died 66 years ago this week, had an interesting brush with the American embassy in 1920. He described the peculiar process of gaining access to this country in What I Saw in America (1922). The story illustrates how much has changed regarding America's approach to foreigners, how much has stayed the same, and why Chesterton's work remains both delightful and relevant:
The officials I interviewed [at the American consulate] were very American, especially in being very polite; for whatever may have been the mood or meaning of Martin Chuzzlewit [a Charles Dickens novel with an unflattering portrait of the U.S.], I have always found Americans by far the politest people in the world. They put in my hands a form to be filled up, to all appearances like other forms I had filled up in other passport offices. But in reality it was very different from any form I had ever filled up in my life. …
One of the questions on the paper was, "Are you an anarchist?" To which a detached philosopher would naturally feel inclined to answer, "What the devil has that to do with you? Are you an atheist" along with some playful efforts to cross-examine the official about what constitutes atheist.
Then there was the question, "Are you in favor of subverting the government of the United States by force?" Against this I should write, "I prefer to answer that question at the end of my tour and not the beginning."
The inquisitor, in his more than morbid curiosity, had then written down, "Are you a polygamist?" The answer to this is, "No such luck" or "Not such a fool," according to our experience of the other sex. But perhaps a better answer would be that given to W.T. Stead when he circulated the rhetorical question, "Shall I slay my brother Boer"—the answer that ran, "Never interfere in family matters."
But among many things that amused me almost to the point of treating the form thus disrespectfully, the most amusing was the thought of the ruthless outlaw who should feel compelled to treat it respectfully. I like to think of the foreign desperado, seeking to slip into America with official papers under official protection, and sitting down to write with a beautiful gravity, "I am an anarchist. I hate you all and wish to destroy you." Or, "I intend to subvert by force the government of the United States as soon as possible, sticking the long sheath-knife in my left trouser-pocket into your President at the earliest opportunity." Or again, "Yes, I am a polygamist all right, and my forty-seven wives are accompanying me on the voyage disguised as secretaries." There seems to be a certain simplicity of mind about these answers; and it is reassuring to know that anarchists and polygamists are so pure and good that the police have only to ask them questions and they are certain to tell no lies. …
Superficially this is rather a queer business. It would be easy enough to suggest that in this America has introduced a quite abnormal spirit of inquisition; an interference with liberty unknown among all the ancient despotisms and aristocracies. About that there will be something to be said later; but superficially it is true that this degree of officialism is comparatively unique.
In a journey which I took only the year before I had occasion to have my papers passed by governments which many worthy people in the West would vaguely identify with corsairs and assassins; I have stood on the other side of Jordan, in the land ruled by a rude Arab chief, where the police looked so like brigands that one wondered what the brigands looked like. But they did not ask me whether I had come to subvert the power of the Shereef; and they did not exhibit the faintest curiosity about my personal views on the ethical basis of civil authority. These ministers of ancient Moslem despotism did not care about whether I was an anarchist; and naturally would not have minded if I had been a polygamist. The Arab chief was probably a polygamist himself.
These slaves of Asiatic autocracy were content, in the old liberal fashion, to judge me by my actions; they did not inquire into my thoughts. They held their power as limited to the limitation of practice; they did not forbid me to hold a theory. It would be easy to argue here that Western democracy persecutes where even Eastern despotism tolerates or emancipates. It would be easy to develop the fancy that, as compared with the sultans of Turkey or Egypt, the American Constitution is a thing like the Spanish Inquisition. Only the traveler who stops at that point is totally wrong; and the traveler only too often does stop at that point. …
It is not to deny that American officialism is rather peculiar on this point, but to inquire what it really is which makes America peculiar, or which is peculiar to America. In short, it is to get some ultimate idea of what America is; and the answer to that question will reveal something much deeper and grander and more worthy of our intelligent interest.
It may have seemed something less than a compliment to compare the American Constitution to the Spanish Inquisition. But oddly enough, it does involve a truth, and still more oddly perhaps, it does involve a compliment. The American Constitution does resemble the Spanish Inquisition in this: that it is founded on a creed.
America is the only nation in the world that is founded on creed. That creed is set forth with dogmatic and even theological lucidity in the Declaration of Independence; perhaps the only piece of practical politics that is also theoretical politics and also great literature. It enunciates that all men are equal in their claim to justice, that governments exist to give them that justice, and that their authority is for that reason just. It certainly does condemn anarchism, and it does also by inference condemn atheism, since it clearly names the Creator as the ultimate authority from whom these equal rights are derived.
Nobody expects a modern political system to proceed logically in the application of such dogmas, and in the matter of God and Government it is naturally God whose claim is taken more lightly. The point is that there is a creed, if not about divine, at least about human things.
Now a creed is at once the broadest and the narrowest thing in the world. In its nature it is as broad as its scheme for a brotherhood of all men. In its nature it is limited by its definition of the nature of all men.
This was true of the Christian Church, which was truly said to exclude neither Jew nor Greek, but which did definitely substitute something else for Jewish religion or Greek philosophy. It was truly said to be a net drawing in of all kinds; but a net of a certain pattern, the pattern of Peter the Fisherman. And this is true even of the most disastrous distortions or degradations of that creed; and true among others of the Spanish Inquisition. It may have been narrow about theology, it could not confess to being narrow about nationality or ethnology. …
Now in a much vaguer and more evolutionary fashion, there is something of the same idea at the back of the great American experiment; the experiment of a democracy of diverse races which has been compared to a melting-pot. But even that metaphor implies that the pot itself is of a certain shape and a certain substance; a pretty solid substance. The melting-pot must not melt. The original shape was traced on the lines of Jeffersonian democracy; and it will remain in that shape until it becomes shapeless.
America invites all men to become citizens; but it implies the dogma that there is such a thing as citizenship. Only, so far as its primary ideal is concerned, its exclusiveness is religious because it is not racial. The missionary can condemn a cannibal, precisely because he cannot condemn a Sandwich Islander. And in something of the same spirit the American may exclude a polygamist, precisely because he cannot exclude a Turk.
Related Elsewhere
A longer excerpt from What I Saw in America, is available from Martin Ward's Chesterton site.
Christianity Today's earlier articles on Chesterton include:
G.K. Chesterton, the Eccentric Prince of Paradox | With a reputation for mild eccentricity, Chesterton laughed most at himself. (May 24, 1974)
The 'Ample' Man Who Saved My Faith | G.K. Chesterton propounded the Christian faith with great wit—and sheer intellectual force. An exclusive excerpt from Philip Yancey's new book, Soul Survivor: How My Faith Survived the Church. (Aug. 31, 2001)
Paradoxical Orthodoxy | Great sayings from Christianity's master of irony. (Sept. 1, 2000)
The American Chesterton Society gives a good introduction to Chesterton and a "basic course" on his works.
Earlier Christianity Today articles on immigration include:
Books & Culture Corner: Give Me Your Muslims, Your Hindus, Your Eastern Orthodox, Yearning to Breathe Free | Immigration's long-ignored effect on American religion is garnering much attention from scholars. (July 9, 2001)
European Churches Declare Immigrants Are Not 'Potential Criminals' | Petitions submitted to the European Union for more protection, aid. (June 13, 2001)
Separation Anxiety | Haitian immigrants are less welcome than Cubans, but Florida churches are filling the hospitality gap.(April 24, 2000)
Saving Bodies, Rescuing Souls | Chechen Muslims find Salvationist care has compassionate accent. (April 24, 2000)
In Sri Lanka's No Man's Land, Churches Provide Some Hope for Refugees | Christians mobilize to help nearly a million left homeless by Tamil conflict (April 18, 2000)
The Torture Victim Next Door | Hidden victims of religious persecution find refuge in America (Mar. 6, 2000)
Church Aids Refugees Despite Violence | The Catholic church has been a place of refuge and reform for those opposing the Indonesian government. (October 25, 1999)
Churches Reach Out to Refugees | In many cases, the groups are relying on churches to help provide temporary housing, furniture, clothing, language training, and money for rent. (June 14, 1999)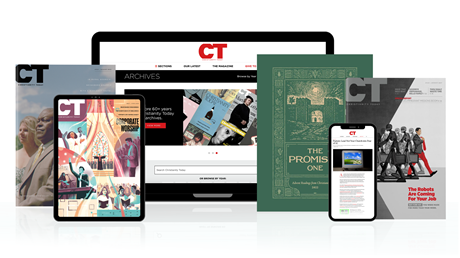 Subscribe to Christianity Today and get access to this article plus 65+ years of archives.
Home delivery of CT magazine
Complete access to articles on ChristianityToday.com
Over 120 years of magazine archives plus full access to all of CT's online archives
Subscribe Now
Read These Next
Trending

Christian and Missionary Alliance Will Ordain Women

Ministers may now use the title "pastor" regardless of gender.

From the Magazine

When Politics Saved 25 Million Lives

Twenty years ago, Republicans, Democrats, evangelicals, gay activists, and African leaders joined forces to combat AIDS. Will their legacy survive today's partisanship?

Editor's Pick

Died: Pat Robertson, Broadcast Pioneer Who Brought Christian TV to the Mainstream

With CBN, "The 700 Club," Regent, the Christian Coalition, and a run for president, he changed evangelicals' place in public life.

Indonesian
Coming to America
Coming to America