The blight of HIV/AIDS is worse than ever. Fresh estimates reveal that 1.2 percent of the world's population (age 15-49) is infected with HIV/AIDS. That's 74 million people. But in southern Africa, the rate is 18 times higher at 21.6 percent, giving the region the dreadful distinction of being the world's most infected area with nearly 11 million people with HIV/AIDS.
This deadly virus takes the strong and leaves the weak. In African families, when both parents have died, millions of orphaned brothers and sisters rely on grandparents or other blood relatives, or they fend for themselves. But tragically, the motivations of some relatives are not pure. "We get a lot of cases of property grabbing where family members … leave the children with nothing," a Botswana social worker said recently in comments to the Johannesburg news media.
HIV/AIDS is growing rapidly in many nations that have had a low rate of infection. The CIA's National Intelligence Council reported that the "next wave" will occur in Nigeria, Ethiopia, India, Russia, and China, which collectively represent 40 percent of the global population. More startling was the council's frank admission: "Avoidance of high-risk behavior is the only proven way to prevent the disease." This conclusion goes counter to 20 years of failed attempts to fight HIV/AIDS, mostly with billions upon billions of low-cost condoms (rarely used consistently) and costly drug cocktails (hard to administer and distribute fairly).
Abstinence and fidelity
Christians in North America should note the sea change that is taking place in the public health community about HIV/AIDS prevention, opening a historic opportunity for outreach. New field research in Uganda, Senegal, and Jamaica shows that the spread of HIV/AIDS can be sharply reduced by:
Delaying the age of "sexual debut" (when an individual first becomes sexually active).


Reducing the number of sexual partners people have. In Christian terms, that means saving sex until you are married, and then remaining faithful to your spouse. "Zero grazing" is how church leaders in Uganda colorfully describe these standards at village-level workshops.


Edward C. Green, associated with the Harvard School of Public Health, has written a paper ("What Happened in Uganda?") based on his field research. Green notes that public health agencies have mostly paid lip service to the so-called A-B-C (Abstain, Be Faithful, or use a Condom) strategy. Globally, public-health officials have put far too much emphasis on condoms and drugs. Green says those two methods do not motivate "primary behavior change," in the same way as abstinence before marriage and marital fidelity.
Commenting on HIV/AIDS, Samaritan's Purse president Franklin Graham told Christianity Today, "The number one obstacle is the world's concept: Just give me a billion condoms and we can solve this issue."
But Graham went on to suggest another problem, this one with the church: "What the world wants to do is to continue in their sinful lifestyle. The church is sitting back, saying, 'I told you so. If you all would keep your pants zipped up, then there wouldn't be any of these problems' " (See "Jesus Freak," p. 58).
Prevention and practical care
Fortunately, more Christians and their churches have stepped forward to care for the sick, the dying, and their children. Now that HIV/AIDS is out of control across the world, churches—especially in North America—have much more to do beyond caring for those already infected.
"Faith-based organizations are best positioned of any group to promote fidelity and abstinence," says Green. "There are insufficient programs directed at partner reduction and delay of sexual debut among youth. [Faith-based organizations] remain an untapped potential."
In a world desperate for a solution to HIV/AIDS, Christians and their congregations needn't be shy in publicly proclaiming the biblical message that abstinence and fidelity work to save lives. There are legitimate needs for orphan care and for people who are hiv-positive. Christians worldwide are unrivaled in their potential to be model communities, coherently teaching sound sexual ethics to young and old.
Ray Martin, a retired official with the federal agency usaid, works with Christian professionals in public health. Martin recalled that during a recent meeting with Africans, "The first thing they were asking for wasn't money for drugs or money to expand programs; it was a plea to us, in this rich country where we're not faced with all this mortality, to care."
Martin suggests two ways to demonstrate care: Travel and partnership. "When you really see firsthand what people are dealing with, it makes a difference," he says. "Treasury Secretary [Paul] O'Neill visited Africa with [rock star] Bono and what he saw in Africa got through."
More churches should refocus mission visits on areas hit hard by HIV/AIDS. Second, Martin believes congregations that "twin" with churches on the frontline are a powerfully positive force. Christ Presbyterian Church in Edina, Minnesota, and the Balm in Gilead movement are setting the pace for compassionate, practical care in partnership.
In addition, the global fight against HIV/AIDS needs to find a place in the budget priorities of American congregations. "How much money do you have in your budget for HIV/AIDS?" Franklin Graham asks. "Make it a line item so that the elders and the deacons and the pastor, everybody, sees it."
As faithful Christians break the stigma surrounding HIV/AIDS, attitudes will change. In Zambia, Princess Kasune Zulu found out she was hiv-positive at age 22. She was kicked out of her church and Moffat, her hiv-positive husband, lost his job. But she began caring for families hit by aids, working through the Hope Initiative, and hosting the Positive Living radio program. Zulu's activism demonstrates how hiv-positive Christians are one of the church's most potent resources in this fight.
The "safe sex" message has largely been a miserable failure in preventing increased infection worldwide. The church's message urgently needs stronger backing. Getting the word out about abstinence and fidelity will take more than the right message. It will take credible persuasion and global proclamation.
Related Elsewhere
A case study of "What Happened in Uganda?" is available as a pdf document.
Previous Christianity Today articles on the AIDS epidemic include:
AIDS 'Apathy' Campaign Debuts (August 28, 2001)
Bono Tells Christians: Don't Neglect AfricaHe urges evangelicals to take a lead in fighting AIDS and poverty. (April 19, 2001)
U.S. Blacks Preach Abstinence GospelMission workers testify that Christ helps control sexual urges. (March 27, 2002)
Health Workers Urge Indian Churches to Join Campaign Against AIDSThe Christian Medical Association of India fights the social stigma that accompanies the disease. (Nov. 21, 2001)
Mercy ImpairedLet's shock the world by reversing our apathy toward African sufferers. (September 27, 2001)
Indian Church Steps Up Education Programs To Deal With Threat Of AIDSTen percent of those living with AIDS live in India. (August 17, 2001)
Kenyan President Suggests Hanging for 'Knowingly' Infecting Others with AIDSChurch organizations criticize use of capital punishment as solution to epidemic. (July 19, 2001)
Dying AloneBaptist women seek out and care for ashamed, abandoned AIDS patients. (June 15, 2001)
Few to Receive Generic AIDS MedicinesPharmaceutical companies drop suit against South Africa, but problems remain. (May 18, 2001)
Article continues below
Zambia's Churches Win Fight Against Anti-AIDS AdsChurch leaders are concerned that condom promotion encourages promiscuity. (Jan. 12, 2001)
Mandela, De Klerk, and Tutu Join to Fight AIDSSouth Africa's men of peace call for end of silence and stigmatization. (Dec. 14, 2000)
Pastors as Grave DiggersChristians hope to break the silence and overcome Asia's prejudice against people with AIDS. (July 28, 2000)
Speaking with Action Against AIDSA report from the Thirteenth International AIDS Conference. (July 19, 2000)
'Have We Become Too Busy With Death?'As 4,900 people die each day from AIDS, African Christians are faced with the question. (Feb. 4, 2000)
'Sexual Revolution' Speeds Spread of HIV Among AfricansAn interview with World Relief's Debbie Dortzbach. (Feb. 4, 2000)
Books & Culture Corner: An Open Letter to the U. S. Black Religious, Intellectual, and Political Leadership Regarding AIDS and the Sexual Holocaust in Africa (Jan. 24, 2000)
Africa: Fidelity Urged to Fight AIDS (July 12, 1999)
Global Death Rates May Skyrocket (May 24, 1999)
I Am the Father of an AIDS Orphan (Nov. 17, 1997)
Have something to add about this? See something we missed? Share your feedback here.
Our digital archives are a work in progress. Let us know if corrections need to be made.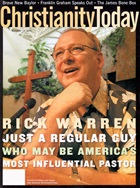 This article is from the November 18 2002 issue.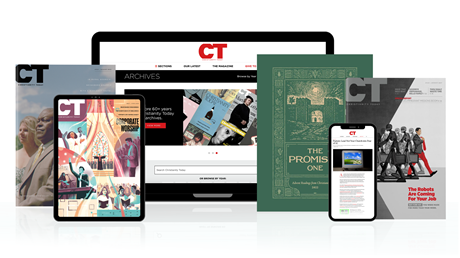 Subscribe to Christianity Today and get access to this article plus 65+ years of archives.
Home delivery of CT magazine
Complete access to articles on ChristianityToday.com
Over 120 years of magazine archives plus full access to all of CT's online archives
Subscribe Now
Killing a Pandemic
Killing a Pandemic