Tarot cards, calls to priests, and Muhammed — what's the sniper suspect's religion, anyway?
It's a terribly predictable headline: "Muslims Fear Sniper Backlash." "The arrest of a Muslim man on charges connected to the deadly Washington-area sniper shootings has the Islamic community bracing for another round of threats and attacks like those that followed the Sept. 11 terrorism," reports the Associated Press.
"It's like a ball in your stomach: 'Oh God here we go again,'" Ibrahim Hooper, spokesman for the Council on American-Islamic Relations, told the AP. "Every time we seem to make some advancements, it's like we take one step forward and two steps back." (Other papers have similar reports of backlash fears.)
But though the suspect changed his name from John Allen Williams to John Allen Muhammad and worked as a security officer for Nation of Islam Minister Louis Farrakhan's Million Man March, calling him a Muslim seems like a stretch.
After all, this is the guy who allegedly left a tarot card inscribed with "I am God" at a crime scene. A lot of Muslim nations will kill you for something like that.
But Mark Oppenheimer writes in The Wall Street Journal that the sniper wasn't a good neopagan, either. "When serial killers Charles Manson and David Berkowitz made crypto-religious references, Americans complied with the killers' childish hopes to be taken as interesting, complex, somehow spiritual. This time around, we suspect the sniper of being derivative—not of being another Manson or Berkowitz but of having read books about them," he writes. "The occult is now domesticated, and we can treat it with the levity it deserves, fun for children or questing adults. If Tarot divination gives meaning to some people looking for answers in an unkind world, that's fine, though we may still scorn the charlatans bilking them of their money. It is safe to say that cards didn't make the sniper shoot people. He has access to no secret wisdom. He is not deep or spiritual. He is a criminal."
There's a Christian connection, too. Last Friday night, the sniper apparently called at least two priests, hoping to find a mediator (or at least messenger) to establish credibility with police.
"They used the term 'I am God' and mentioned Montgomery, Alabama, several times," another priest told The Washington Post, passing on word of the call made to William Sullivan of St. Ann's Roman Catholic Church in Ashland, Virginia. The two men on the other end of the line were "frustrated and upset," the Post says. "It was a garbled conversation," says the priest.
Apuzzo said Sullivan did not believe he had spoken to the snipers. Rather, he thought the callers were just overly obsessed with the case. "We have reason to believe the sniper is someone from your parish," they told him.
In World magazine, John Piper writes that it doesn't matter what the sniper currently believes — he needs to turn to Jesus and accept the consequences of his actions, including the death penalty. "Jesus Christ came to save snipers," Piper writes. "Trusting Christ is your only hope. … If you trust Christ as the Savior of your soul and the Treasure of your life, the root of sin will be severed. … You will slay no more. You will weep for your victims. You will accept, if necessary, the sentence of death. And you will hear Jesus say, 'Today you will be with Me in paradise.'"
Whatever John Allen Muhammad actually believes, Christians are responding with calls for forgiveness.
"We have been talking about being able to respond to the arrests with a sense of forgiveness in order to heal personally," said Jeff Jones, pastor of Ashton United Methodist Church, where first victim James D. Martin was a lay leader. "If we're going to be authentic in our Christian faith, we have to do as Jesus did on the cross when he said, 'Father, forgive them.' Because [Smith's widow's] faith is genuine, she figured that is the best way."
Bob Meyers says the death of his brother, seventh victim Dean Myers, "has been a challenge. But a long time ago, we chose to trust God rather than question him. There was two inches between my brother being hit and not being hit. Who am I to question something like this?"
Back in Montgomery, Alabama, the pastor of Claudine Parker, who may have been one of the sniper's victims, is calling for special healing services on Sunday. "We are going to be encouraging our families and our churches to devote a time of prayer for the families, prayer for the victims, for those who are working the cases and prayers for the deranged mind of the perpetrators," he tells the Montgomery Advertiser.
Meanwhile, there will also be many prayers of thanksgiving this weekend.
More articles
Ten Commandments:
Politics and law:
Church and state:
Christianity, Islam, and the Middle East:
War with Iraq:
Faith-based initiative:
Catholicism:
Anglicans:
Education:
Prayer and spirituality:
Books:
Bible:
Missions and ministry:
Church life:
Money and business:
Other stories of interest:
Related Elsewhere
Suggest links and stories by sending e-mail to weblog@christianitytoday.com
See our past Weblog updates:
October 24 | 23 | 22 | 21
October 18 | 17 | 16 | 15 | 14
October 11 | 10 | 9 | 8 | 7
October 4 | 3 | 2 | 1 | September 30
September 27 | 26 | 25 | 24 | 23
September 19 | 18 | 17 | 16
September 13 | 12 | 11 | 10 | 9
September 6 | 5 | 4 | 3
August 30 | 29 | 28 | 27 | 26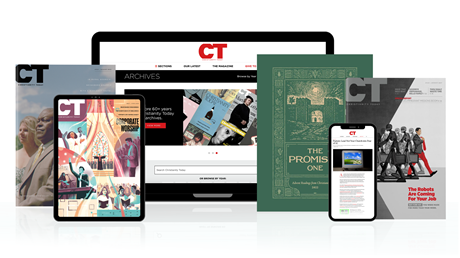 Subscribe to Christianity Today and get access to this article plus 65+ years of archives.
Home delivery of CT magazine
Complete access to articles on ChristianityToday.com
Over 120 years of magazine archives plus full access to all of CT's online archives
Subscribe Now
Is the Sniper a New Age Muslim Catholic?
Is the Sniper a New Age Muslim Catholic?