true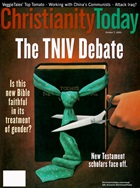 This article is from the October 7 2002 issue. Subscribers can read all of CT's digital archives.
Festival con Dios is Christian music's traveling circus. Unique in the Christian contemporary music world, it combines a festival mentality with a rock tour's mobility. A 12-band bill, motorcycle stunt shows, games, and bungee jumping attracted 108,000 people in 33 cities during last year's debut tour.
The second round of the for-profit road show began last month. Founders say the goal for 2001 was perfecting the model and building an audience. Now they hope to step up its evangelistic outreach through a partnership with the Luis Palau Evangelistic Association (LPEA).
"We hope people realize that this should be taken out of the category of strictly an entertainment ministry to believers, and viewed as an outreach to unchurched kids," said Kevin Palau, LPEA executive vice president. "We are confident this is another way to reach people."
David Olmsted, associate director of the Billy Graham Center's Institute of Strategic Evangelism, says this approach is a potent wave developing within American evangelism.
"We are in a time where we have an audience that is changing and needs exciting action events, like eye-popping stunts, to be drawn to a message," Olmsted told Christianity Today. Though this trend of "using intriguing events to set the plate for the evangelist to give the message" is not new, he believes for the next couple of decades it will "set a framework. … on how to go about the work of the proclamation."
Spreading out the Cost
In the mainstream market, mega-festival tours such as Ozzy Osbourne's Ozzfest and Van's Warped Tour receive money from corporate sponsors. With corporate backing less common in Christian tours, a festival is typically too costly for most local concert promoters.
"Everyone wants to have a festival, ...
1
Evangelistic Circus in a Box
Evangelistic Circus in a Box