true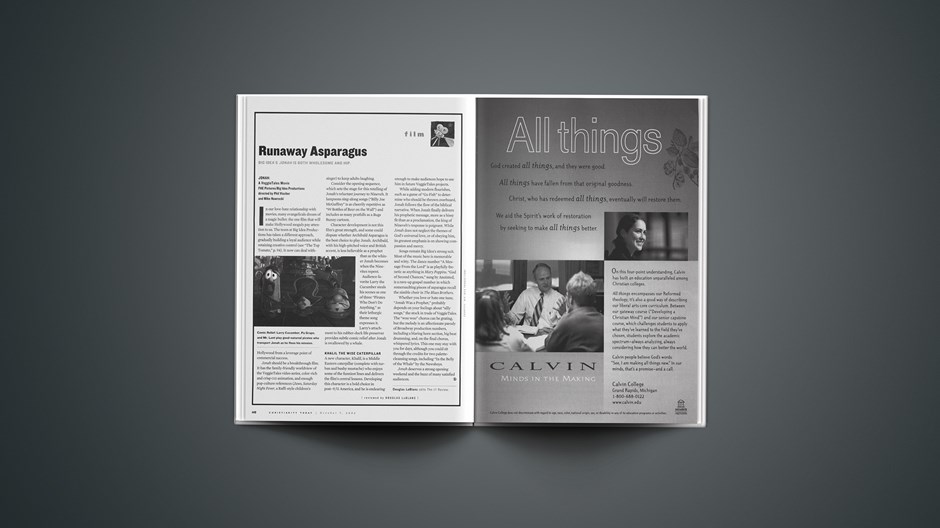 In our love-hate relationship with movies, many evangelicals dream of a magic bullet: the one film that will make Hollywood moguls pay attention to us. The team at Big Idea Productions has taken a different approach, gradually building a loyal audience while retaining creative control (see "The Top Tomato," p. 94). It now can deal with Hollywood from a leverage point of commercial success.
Jonah should be a breakthrough film. It has the family-friendly worldview of the VeggieTales video series, color-rich and crisp cgi animation, and enough pop-culture references (Jaws, Saturday Night Fever, a Raffi-style children's singer) to keep adults laughing.
Consider the opening sequence, which sets the stage for this retelling of Jonah's reluctant journey to Nineveh. It lampoons sing-along songs ("Billy Joe McGuffrey" is as cheerily repetitive as "99 Bottles of Beer on the Wall") and includes as many pratfalls as a Bugs Bunny cartoon.
Character development is not this film's great strength, and some could dispute whether Archibald Asparagus is the best choice to play Jonah. Archibald, with his high-pitched voice and British accent, is less believable as a prophet than as the whiner Jonah becomes when the Ninevites repent.
Audience favorite Larry the Cucumber steals his scenes as one of three "Pirates Who Don't Do Anything," as their lethargic theme song expresses it. Larry's attachment to his rubber-duck life preserver provides subtle comic relief after Jonah is swallowed by a whale.
Khalil the Wise Caterpillar
A new character, Khalil, is a Middle Eastern caterpillar (complete with turban and bushy mustache) who enjoys some of the funniest lines and delivers the film's central lessons. Developing this character is a bold choice in post-9/11 America, and he is endearing enough to make audiences hope to see him in future VeggieTales projects.
While adding modern flourishes, such as a game of "Go Fish" to determine who should be thrown overboard, Jonah follows the flow of the biblical narrative. When Jonah finally delivers his prophetic message, more as a hissy fit than as a proclamation, the king of Nineveh's response is poignant. While Jonah does not neglect the themes of God's universal love, or of obeying him, its greatest emphasis is on showing compassion and mercy.
Songs remain Big Idea's strong suit. Most of the music here is memorable and witty. The dance number "A Message From the Lord" is as playfully frenetic as anything in Mary Poppins. "God of Second Chances," sung by Anointed, is a rave-up gospel number in which somersaulting pieces of asparagus recall the nimble choir in The Blues Brothers.
Whether you love or hate one tune, "Jonah Was a Prophet," probably depends on your feelings about "silly songs," the stock in trade of VeggieTales. The "woo woo" chorus can be grating, but the melody is an affectionate parody of Broadway production numbers, including a blaring horn section, big beat drumming, and, on the final chorus, whispered lyrics. This one may stay with you for days, although you could sit through the credits for two palette-cleansing songs, including "In the Belly of the Whale" by the Newsboys.
Jonah deserves a strong opening weekend and the buzz of many satisfied audiences.
Douglas LeBlanc edits The CT Review.
Related Elsewhere
Also appearing on our site today:
The Top TomatoPhil Vischer's tenacious campaign to dominate family entertainment.
(The Voice of) Larry the Cucumber Speaks"Nobody thinks growing up that they're going to be a cucumber."
The Serious Business of Silly SongsThe director of music for the VeggieTales talks about bringing musical depth to the score.
The official site for Jonah: A VeggieTales Movie has activities and offerings for kids plus movie information, pictures, and trailers.
RottenTomatoes.com has a collection of review snippets on Jonah.
For more CT movie reviews, see our Film archive and also our Film Forum area, a weekly roundup of what Christian critics are saying about new and noteworthy movies.
Have something to add about this? See something we missed? Share your feedback here.
Browse All Movie Reviews By: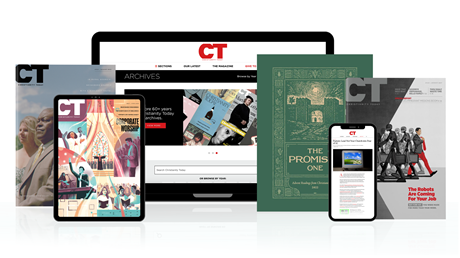 Annual & Monthly subscriptions available.
Print & Digital Issues of CT magazine
Complete access to every article on ChristianityToday.com
Unlimited access to 65+ years of CT's online archives
Member-only special issues
Subscribe
Jonah: A VeggieTales Movie
Jonah: A VeggieTales Movie