Radical Hindus with the Rashtriya Swayamsevak Sangh (RSS)—wielding machetes, swords, knives, iron bars, and sticks—attacked Joseph W. Cooper, 67, and five other Christians as they walked along a rice paddy embankment on January 13.
They were leaving a Friends of Bible Church convention outside the capital city of Trivandrum in the southwestern state of Kerala. Cooper, from New Castle, Pennsylvania, required hospital treatment for machete cuts in his right palm, arm, and torso.
The assailants also attacked pastor Benson K. Sam, his wife, Annie, and their children Joy, Jeff, and Judith. At one point, Sam covered Cooper's body with his own to shield him from the blows.
Attackers struck Sam in the head and beat his wife and one daughter until they were unconscious. Villagers finally came to their aid, and the assailants fled. The police have arrested 11 members of the rss so far in connection with the attack.
The assault, though, was just the beginning of problems for Cooper, bishop of India for the New Jerusalem Universal Church, a small Pentecostal denomination headquartered in Marietta, Ohio. Hindu activists accused Cooper of violating the terms of his tourist visa by preaching at a church meeting. Since 1995 the government has banned foreigners on student or tourist visas from speaking at religious events. Hindu militants sought to bring criminal charges.
A lower court adjourned the case, but the local police department served Cooper with orders to leave the country.
Discharged from the Kerala Institute of Medical Science, he left on a January 22 Delta Airlines flight.
Indian Christian leaders say the attack on a visiting Christian represents a dangerous escalation in interreligious tensions.
Campaign of terror
The Vishwa Hindu Parishad (VHP), a militant Hindu organization, claims to have a list of 50 foreigners in Kerala who are "similarly engaged in forced religious conversions or are attending religious functions in blatant violation of their visa provisions."
The VHP and related organizations are planning a countrywide rally against visiting evangelists. "If the government fails to act, then it will have to face … agitations," a VHP official warned. It is not an idle threat. Militants have been cracking down on Christians who have been working with outcaste and low-caste peoples (CT, Dec. 9, 2002, p. 22). On the night of January 22 unknown persons burned a Full Gospel Church in Wayanad district to the ground. More than 500 independent churches operate in Kerala. Though Kerala is generally a peaceful state, where Christians constitute 19 percent of the population of 33 million, rss assailants attacked two Kerala pastors in 1999.
The core problem may be the increasing number of Dalits who are becoming Christians (ct, February, p. 30). "The assault on Cooper and others is a part of a conspiracy to terrorize the Dalits, more of whom are now coming to the path of Jesus," John Dayal, secretary general of the All India Christian Council, told Christianity Today. "Cooper and the missionaries with him would certainly have been killed but for their luck. Instead of pursuing the conspiracy of the rss cadres, the police evoked a vicious visa regulation to expel Cooper. This is an act of condoning the killers and punishing the victim."
Cooper, who has traveled to India four times annually for the past 10 years, was in Kerala to present his Christian testimony at the convention. He said he did not denigrate Hinduism.
"Around 45 people attended our rally," Cooper told Christianity Today. "Those people wouldn't have called themselves Hindu. Under the aegis of Pastor Benson, they were trying to rally around Jesus. Our rally was to reaffirm their faith in Jesus."
Cooper said the attack on him was a signal meant to put the lower caste and outcaste peoples in their place. "This proves that the Christian church has enemies," Cooper said. "I [ask] the leaders of churches worldwide not to sit and watch this. [They have] to act positively against such threats."
Related Elsewhere
Coverage of the Cooper attack and the aftermath include:
Chief Minister urged to protect missionaries in Kerala—Kerala Next, India (Feb. 5, 2003)
Christian group warns about RSS inroads into Kerala—Kerala Next, India (Feb. 5, 2003)
Christian body slams govt in Cooper case—Kerala Next, India (Feb. 5, 2003)
Kerala: Cooper leaves for US—Kerala Next, India (Jan. 23, 2003)
Kerala: BJP Kerala chief flays UDF in missionary case—Kerala Next, India (Jan. 23, 2003)
Kerala: Missionary case adjourned to Jan 24—Kerala Next, India (Jan. 23, 2003)
Kerala: Criminal case filed against US missionary—Kerala Next, India (Jan. 22, 2003)
India orders American missionary to leave—UPI (Jan. 21, 2003)
Cooper on his way out, VHP compiles list of 50 to follow—Press Trust of India (Jan. 21. 2003)
Keral Police asks US missionary to leave India—Press Trust of India (Jan. 20. 2003)
Suspected Hindu nationalists injure American missionary, others in southern India—Associated Press (Jan. 15, 2003)
Article continues below
US missionary attacked in India—BBC (Jan. 15, 2003)
Kerala: Missionarries attacked by RSS—Kerala Next, India (Jan. 15, 2003)
Previous Christianity Today articles on religious tensions in India include:
Indian Christians 'Living in Terror,' Rights Groups Report  | Accusations against priest lead to intense conversion pressure in Rajasthan. (Nov. 6, 2002)
Indian State Bans Conversion | Christians say Tamil Nadu ordinance threatens relief work. (October 11, 2002)
Hounded, Beaten, Shot | What you can do to help persecuted Christians in India. (June 11, 2002)
Critics Assail Dialogue with Hindu Radicals | But some Christians see talks as an opportunity to build bridges in times of persecution. Critics Assail Dialogue with Hindu Radicals. (May 14, 2002)
New Curriculum 'Tampering' with History, Indian Churches Protest | Christian leaders allege that a current education proposal promotes Hindu nationalism. (Dec. 12, 2001)
Law Could Curb Foreign Donations To Churches, Indian Christians | Worry Stringent legislation is aimed at cutting off terrorist funding, but could hurt non-government organizations. (Nov. 9, 2001)
Christians Encouraged as 50,000 Dalits Leave Hinduism | Low-caste Hindus see conversion as their only escape from oppression. (October 11, 2001)
India's First Dalit Archbishop Holds 'No Grudge' Over Predecessor's Attack | Once "untouchable" Dalits make up bulk of country's Christians. (May, 11, 2001)
Plans to Resolve India's Interfaith Tensions Face Delays and Accusations | Did India's National Commission for Minorities plan a meeting to discredit Christians? (July 20, 2000)
Foes Claim BJP is Using Arms Training to Win Crucial Election in India | Fears mount that reason for camps is to galvanize support for temple construction. (June 29, 2001)
Bomb Explosion During Mass Stirs Fear, Public Outcry in Bangladesh | Suspects linked to rash of attacks. (June 25, 2001)
India Election Results Rattle Ruling Nationalists | Hindu BJP "getting irrelevant day by day" say rivals. (June 13, 2001)
Despite Tensions, Indian Churches Agree to Talks With Hindu Groups | Mainline churches will join talks, but other Christians say "partisan" meeting is dangerous. (Apr. 11, 2001)
India Relief Abuses Rampant | Radical Hindus hijack supplies in quake intervention. (Mar. 20, 2001)
In Orissa, You Must Ask the Government If You Want to Change Religion | Christian church leaders say they're trying to ignore the controversial law, but police aren't doing the same. (Mar. 12, 2001)
Article continues below
Churches Angry that Indian Census Ignores 14 Million Christian Dalits | Only Hindu, Sikh, and Buddhist members of "untouchable" caste being counted. (Mar. 2, 2001)
India's Christians Face Continued Threats | We must preach what we believe in spite of Hindu pressure, says Operation Mobilization India leader. (Feb. 15, 2001)
Christianity Today's persecution archive has more articles on religious discrimination and violence from around the world. The World Report section allows readers to search for past articles by country (see articles on India).
For more articles, see Yahoo's full coverage on India.
Have something to add about this? See something we missed? Share your feedback here.
Our digital archives are a work in progress. Let us know if corrections need to be made.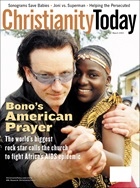 This article is from the March 2003 issue.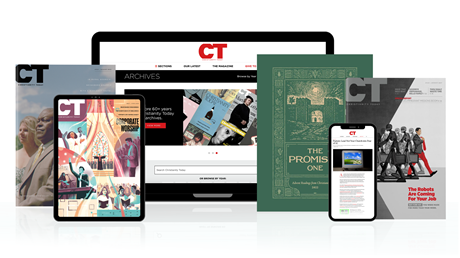 Annual & Monthly subscriptions available.
Print & Digital Issues of CT magazine
Complete access to every article on ChristianityToday.com
Unlimited access to 65+ years of CT's online archives
Member-only special issues
Subscribe
India: Machete attack on American alarms local Christians
India: Machete attack on American alarms local Christians