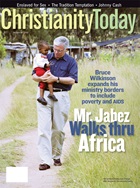 This article is from the November 2003 issue. Subscribers can read all of CT's digital archives.
CHRISTOPHER HALL BELIEVES in the Reformation principle of Scripture Alone. But he doesn't think we should read the Bible alone—that is, in isolation from those who have gone before us.
Hall, one of the key evangelical theologians calling us to pay attention to the leaders of the early church, has written Reading Scripture with the Church Fathers (IVP, 1998) and Learning Theology with the Church Fathers (IVP, 2002). He is currently writing Praying with the Church Fathers, the third volume in that series. He is the associate editor of the Ancient Christian Commentary on Scripture (IVP), which gathers the church fathers' observations on Scripture passages from sermons, commentaries, and letters into a verse-by-verse commentary. Hall, who is professor of biblical and theological studies at Eastern University, will present a paper titled "The Role of Tradition in Evangelical Theology" during the American Academy of Religion's annual meeting in late November.
Because this is unfamiliar territory to many CT readers, editor David Neff recently asked Hall to explain how he actually puts the Fathers to use.
There is a traditional Protestant skepticism of tradition. Did you personally have to overcome that?
My introduction to the faith was as a Jesus freak in the early '70s. And so I was never taught anything concerning the broader tradition of the church. There was, however, a negative atmosphere toward things Catholic or Orthodox. My first teachers and I went directly to the text of Scripture. The idea of taking a good look at the church's reflection as a community over the centuries regarding a text was really never brought up.
1
Don't Read the Bible 'Alone'
Don't Read the Bible 'Alone'