This article originally ran in the February 3, 1984, issue of Christianity Today
'As one of the five founders of the Evangelical Theological Society, with a heavy heart I officially request that Dr. Robert Gundry submit his resignation, unless he retracts his position on the historical trustworthiness of Matthew's Gospel."
Thus Roger Nicole, professor of theology at Gordon-Conwell Theological Seminary, brought to a decisive climax a controversy that has been brewing for several years in the 35-year-old society of evangelical scholars.
Standing at a microphone in the packed dining room on the ninth floor of the Spurgeon Harris Building on the campus of the Criswell Center for Biblical Studies in Dallas, Nicole was asking for the resignation of the bald, bespectacled, erudite professor of New Testament and Greek at Santa Barbara's Westmont College.
Robert Gundry is the author of Matthew: A Commentary on His Literary and Theological Art (Eerdmans,1982), a mammoth 652-page study of the first Gospel that has stirred the opposition of conservatives everywhere because of the enthusiastic use it makes of the scholarly technique in biblical studies known as "redaction criticism." This discipline presupposes that the four Evangelists, especially Matthew and Luke, have adapted the deeds and words of Jesus to fit the life and experiences of their readers. For example, redaction critics would argue that Matthew adapted his prose to the rocky topography of Palestine and quoted Jesus as saying the wise man "built his house upon the rock" (Matt. 7:24). Luke, writing perhaps for readers in Greece, with its thick soil, felt it necessary to have Jesus specify that the man "dug deep, and laid the foundation upon rock" (Luke 6;48).
Even more controversial has been Gundry's suggestion that in the "infancy narratives" (Matt. 1, 2) and elsewhere Matthew uses a Jewish literary genre called midrash. Like many preachers today, the writer of a midrash embroidered historical events with nonhistorical additions. When, for example, a preacher in a sermon quotes the conversation between Adam and Eve in the garden, he is embroidering a biblical text to help his hearers understand a point, but his hearers do not reject what he says simply because the conversation is not historical.
Similarly, Gundry argues, Matthew has freely changed stories that are related more historically in Luke. Gundry says, for example, Matthew changed the shepherds in the fields into the wise men from the East because he wants to foreshadow and emphasize the mission of Jesus to the Gentiles. Gundry does not believe wise men visited Jesus.
Writing in the current issue of the Journal of the Evangelical Theological Society, Norman Geisler, professor of systematic theology at Dallas Theological Seminary and the chief organizer of the effort to expel Gundry from ETS membership, rejects midrash in the Bible. "Any hermeneutical or theological method the logically necessary consequences of which are contrary to or undermine confidence in the complete truthfulness of all of Scripture is unorthodox," Geisler argues.
In a rejoinder, Gundry writes, "I deny in some texts what would be the literal, normal meaning for a reader who assumes a modern standard of history, but not what I believe to be the literal, normal meaning for the original audience, or even for a modern audience that is homiletically oriented."
At the very hub of the controversy is the doctrine of biblical inerrancy. All 1,698 members of the from ETS, who must have at least a master's degree in theology for full membership, annually sign a creedal statement that distinguishes them from members of such more inclusive scholarly bodies as the American Academy of Religion and the Society of Biblical Literature, both of which met in Dallas the following week. That statement says, "The Bible alone, and the Bible in its entirety, is the Word of God written, and is therefore inerrant in the autographs."
Can a person sign such a statement honestly and use redaction criticism as Gundry has used it in his commentary? Can he believe that a biblical writer can blend history and nonhistory in the way the writers of midrash would do? Gundry and some of his supporters in the ETS say yes. Geisler and the more conservative members of the ETS say no.
Nicole's motion to request Gundry's resignation was the final stage in a controversy that has been developing ever since Gundry's earlier commentary on Matthew for the Expositor's Bible Commentary was rejected by its New Testament coeditors, Merrill C. Tenney and James M. Boice, despite years of revision. When his views became known, Gundry was asked to deliver a paper on Matthew's theology at a regional ETS meeting. A copy of that paper was sent to Harold Lindsell, conservative defender of biblical inerrancy, who raised the question of Gundry's ETS membership. At the urging of Richard Longenecker of Wycliffe College, Toronto, the ETS decided to take no action until the publication of Gundry's commentary.
In 1982, after publication of the commentary, the executive committee of the ETS under the leadership of .Alan F. Johnson, professor of biblical studies at Wheaton College, reported that because Gundry affirmed the ETS doctrinal statement on inerrancy, no action was necessary. Applause followed, which seemed to some to end debate.
But Geisler, for example, was deeply upset by this action of the ETS executive board. Early in 1983 he circulated a letter requesting ETS action on Gundry's membership, and gathered some 59 signatures from faculty members at several theological seminaries. Louis Goldberg, professor of theology and Jewish studies at Moody Bible Institute and 1983 ETS president, responded to Geisler's petition by appointing an ad hoc committee to handle the matter. Under the chairmanship of William F. Luck of Moody Bible Institute, the six New Testament members presented a list of three proposals to the ETS meeting in Dallas: (1) to appoint a special committee to consider an amendment to the ETS constitution specifying the relationship between biblical inerrancy and "critical methodologies" such as redaction criticism, (2) to adopt in the interim the Chicago statements of the International Council on Biblical Inerrancy as the official interpretation of the ETS doctrinal statement, and (3) to adopt rules for the trial of members.
The Saturday morning plenary business session that met to vote on the ad hoc committee's proposals was considerably better attended than any of the society's plenary or sectional sessions. Geisler had clearly done his homework carefully. The evening before, he circulated a document, "Why We Must Vote Now on Gundry's Membership, and Why We Must Vote No on Gundry's Membership." He hinted that if the ETS did not remove Gundry, a new "International Theological Society" would be formed to "take the doctrine of inerrancy seriously."
Every major step of the business meeting reflected the preparation of the Geisler forces. The three proposals of the ETS ad hoc committee were soundly defeated. George Knight III of Convenant Theological Seminary then promptly moved that "the ETS go on record as rejecting any position that states that Matthew or any other biblical writer materially altered and embellished historical tradition or departed from the actuality of events." Despite the efforts of Ward Gasque of Regent College to table Knight's motion, it passed 119 to 36, with many abstentions.
Nicole's motion to request Gundry's resignation followed and passed 116 to 41, despite the plea of J. Julius Scott of the Wheaton Graduate School of Theology that the ETS would, by its action, be implicitly calling Gundry a liar when he says he believes in inerrancy.
Gundry, in his resignation speech, said, "I shall miss the fellowship in the ETS. I'm interested in seeing how you handle Knight's motion in practice. I congratulate the society on its concern for doctrinal purity and its opposition to a tolerance that leads to syncretism. And I urge those who have supported me to stay in the society."
Echoes from the ETS action have reverberated throughout the corridors of evangelical academia, especially where those who support Gundry's methodology are teaching. There is some fear among Gundry's supporters that Geisler may try to "pick on others." The members of the evangelical Institute for Biblical Research, founded over a decade ago, expressed considerable sympathy for Gundry's position at their Dallas meeting the same weekend. Some scholars are talking of forming a parallel Institute for Theological Research as an alternative to ETS, which they feel is becoming too "fundamentalistic." Though some ETS members have indicated they plan to resign in protest, most of those sympathetic to the Gundry position (though they may not support his conclusions) will stay in the organization. Their strategy will be to recruit evangelical scholars who are more likely to support their viewpoint.
Whatever the long-range implications of Gundry's forced resignation, few who attended ETS this year will forget that dramatic business meeting in Dallas on December 17.
Related Elsewhere
Also posted today is CT editor David Neff's dispatch from the ETS annual meeting.
CT earlier covered the ETS leadership's recommendations.
Robert Gundry is now scholar-in-residence at Westmont.
Norman Geisler has also weighed in on the more recent membership controversy.
The ETS web site has an area devoted to the executive committee's recommendations, along with many other documents about the challenge to the two theologians' membership.
Article continues below
Christianity Today earlier featured "Does God Know Your Next Move?" in which Christopher A. Hall and John Sanders debated openness theology. That discussion was been expanded into a book, Does God Have a Future?: A Debate on Divine Providence, which was recently reviewed in CT.
See the discussion between John Sanders and classical theist Stephen Williams in our sister magazine Books & Culture.
Christus Victor Ministries, run by open theist Greg Boyd, promotes the doctrine. One of the main opponents of the theory is Bruce Ware.
Earlier Christianity Today coverage of the openness theological debate include:
Closing the Door on Open Theists? | ETS to examine whether Clark Pinnock and John Sanders can remain members (Dec. 23, 2002)
Evangelical Theological Society Moves Against Open Theists | Membership of Pinnock and Sanders challenged by due process (Nov. 22, 2002)
Theologians Decry 'Narrow' Boundaries | 110 evangelical leaders sign joint statement (June 4, 2002)
Only God Is Free | Many discussions about openness theology assume that human freedom and divine freedom are pretty much the same thing. They're not, says Geoffrey Bromiley (Feb. 12, 2002)
Foreknowledge Debate Clouded by "Political Agenda" | Evangelical Theologians differ over excluding Open Theists. (November 19, 2001)
Has God Been Held Hostage by Philosophy? | A forum on free-will theism, a new paradigm for understanding God. (Jan. 9, 1995, reposted online May 11, 2001)
Truth at Risk | Six leading openness theologians say that many assumptions made about their views are simply wrong. (Apr. 23, 2001)
God at Risk | A former process theologian says a 30-percent God is not worth worshiping. (Mar. 16, 2001)
Did Open Debate Help The Openness Debate? | It's been centuries since Luther nailed his theses to a church door, but the Internet is reintroducing theological debate to the public square. (Feb. 19, 2001)
God vs. God | Two competing theologies vie for the future of evangelicalism (Feb. 7, 2000).
Do Good Fences Make Good Baptists? | The SBC's new Faith and Message brings needed clarity—but maybe at the cost of honest diversity. (Aug. 8, 2000)
The Perils of Left and Right | Evangelical theology is much bigger and richer than our two-party labels. (Aug. 10, 1998)
The Future of Evangelical Theology | Roger Olson argues that a division between traditionalists and reformists threatens to end our theological consensus. (Feb. 9, 1998)
A Pilgrim on the Way | For me, theology is like a rich feast, with many dishes to enjoy and delicacies to taste. (Feb. 9, 1998)
A Theology to Die For | Theologians are not freelance scholars of religion, but trustees of the deposit of faith. (Feb. 9, 1998)
The Real Reformers are Traditionalists | If there is no immune system to resist heresy, there will soon be nothing but the teeming infestation of heresy. (Feb. 9, 1998)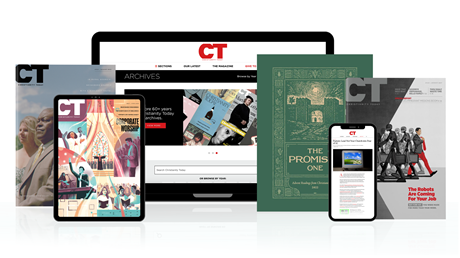 Subscribe to Christianity Today and get access to this article plus 65+ years of archives.
Home delivery of CT magazine
Complete access to articles on ChristianityToday.com
Over 120 years of magazine archives plus full access to all of CT's online archives
Subscribe Now
Evangelical Scholars Remove Robert Gundry for His Views on Matthew
Evangelical Scholars Remove Robert Gundry for His ...