Kenneth Hagin, controversial Pentecostal preacher, dies
Kenneth Hagin, one of the most influential and controversial leaders of charismatic Christianity over the last half-century, died Friday at age 86.
But according to his biography and often-told life story, it wasn't his first time.
Diagnosed with "a deformed heart and an incurable blood disease" from birth, Hagin was partially paralyzed by age 15, confined to bed, and told he had little time to live.
In April 1933, Hagin said, his heart stopped beating, and his other vital signs failed three times. In each of these instances, Hagin said he felt himself being dragged to hell. In the third instance, he prayed for Christ's help and forgiveness—and came back to life.
The miracle would define the rest of his life, and he took as one of his life verses Mark 11:24: "What things soever ye desire, when ye pray, believe that ye receive them, and ye shall have them." By 1934, Hagin said, he had believed that he would be fully healed, and he was. At age 17, after his high school graduation, Hagin began preaching in a predominantly Southern Baptist interdenominational church in Roland, Texas. But Hagin's emphasis on miracles and divine healing soon led him to the Pentecostals. He became an Assemblies of God minister in 1937, pastoring six churches until deciding in 1950 (after what he said was an appearance by Jesus) to become an itinerant healing evangelist.
Hagin claimed the gift not only of healing, but also of prophecy. "When the word of knowledge began to operate in my life after I was filled with the Holy Ghost, I would know things supernaturally about people, places, and things," he wrote in 1972. "Sometimes I would know through a vision. Sometimes while I was preaching, a cloud would appear and my eyes would be opened so that I would see a vision concerning someone in the congregation."
Through the Kenneth E. Hagin Evangelistic Association (now Kenneth Hagin Ministries, Inc.), he launched a radio ministry, school, and magazine (now with 250,000 subscribers) to promote his teachings. According to his official obituary, Hagin's Faith Library Publications has circulated more than 65 million books, mostly written by him.
Such teachings have been very controversial, both in charismatic/Pentecostal circles and in the wider evangelical community. He is considered by many to be (after E.W. Kenyon) a father of the "Word of Faith" and "Positive Confession" movements, which critics summarize as "name it and claim it." Hagin put it differently: "Say it, Do it, Receive it, and Tell it."
"Often you create your own negative situations yourself with wrong thinking, wrong believing, and wrong speaking," Hagin wrote. "So start believing according to God's Word. Then begin making positive confessions of faith and victory over your life. … If you don't like what you have in life, then begin to change the way you are thinking, believing, and speaking. Instead of speaking according to natural circumstances out of your head, learn to speak God's Word from your spirit. Begin to confess God's promises of life and health and victory into your situation. Then you can begin to enjoy God's abundant life as you have what you say!"
Such teachings, critics said, subordinate God's will to man's, and lead to a prosperity theology that puts an emphasis on temporal wealth.
Critics also assailed Hagin for his comment that "The believer is as much an incarnation as was Jesus of Nazareth."
Hagin denied that his teachings were unbiblical, and said Christians should be careful to pray only as the Bible teaches. "I do not understand how some people can go around spouting off things, endeavoring to believe, and calling it faith, when it is only presumption and folly," he said.
Kenneth Hagin Jr. will take over duties at Rhema Bible Church, which now has 8,000 members, and Kenneth Hagin Ministries.
(Weblog usually sticks to online sources in compiling the news, but few solid biographical sketches of Hagin are available online. Sources consulted for this obituary include The Dictionary of Charismatic and Pentecostal Movements, IVP's new Biographical Dictionary of Evangelicals, and Randall Balmer's Encyclopedia of Evangelicalism.)
Must be all that gory death imagery
The next time you go to hear Handel's Messiah, be warned: Apple's iTunes, which sells music online, considers a London Philharmonic Orchestra recording of it "explicit."
"The warning, which appeared when the album's tracks were made available Tuesday but disappeared late Tuesday, was most likely a technical mix-up, though The Messiah does touch on love, violence and death — in a more profound way than, say, most music produced 260 years later," the Associated Press reported.
Related Elsewhere
Suggest links and stories by sending e-mail to weblog@christianitytoday.com
Check out Books & Culture's weblog, Content & Context.
See our past Weblog updates:
September 19 | 18 | 17 | 16 | 15
September 12 | 11 | 10 | 9 | 8
September 5 | 4 | 3 | 2
August 29 | 28 | 27 | 26 | 25
August 22 | 21 | 20 | 19 | 18
August 15 | 14 | 13 | 12 | 11
August 8 | 7b | 7a | 6 | 5 | 4
and more, back to November 1999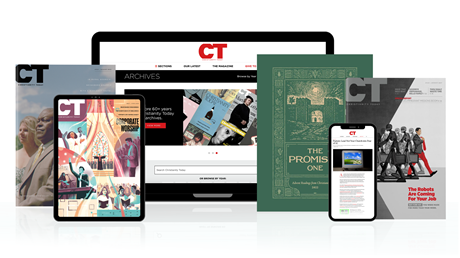 Annual & Monthly subscriptions available.
Print & Digital Issues of CT magazine
Complete access to every article on ChristianityToday.com
Unlimited access to 65+ years of CT's online archives
Member-only special issues
Subscribe
"Weblog: Kenneth Hagin, 'Word of Faith' Preacher, Dies at 86"
"Weblog: Kenneth Hagin, 'Word of Faith' Preacher, Dies at 86"