National Catholic Reporter article on Crisis editor Deal Hudson lands quietly
"Why is the resignation of the Bush's chief Catholic advisor—a position of much greater power than the governorship of New Jersey—getting so little attention?" asks The Revealer's Jeff Sharlet. The Washington Post today runs a 700-word summary on page A-6. Yesterday's The New York Times also treated it as a minor blip on the campaign trail. Sharlet says the story should be bigger, since no one can counter The National Catholic Reporter's point that Deal Hudson controlled Catholic access to the White House. "Even leaving aside the undisputed charges of profound sexual misconduct," his resignation should warrant more attention than the resignation of the Democratic Party's religious-outreach director, who had yet done little for the Kerry campaign.
The story made a splash on some Catholic blogs—discussion is still going strong on Amy Welborn's Open Book, and Amy is doing her best to keep the conversation healthy and on-topic—but other conservative Catholic blogs you'd expect to hear from are silent. Carl Olson is ostensibly on vacation but still posting on other matters. Nothing on the Envoy site, either. RatzingerFanClub has a bit, but almost all of St. Blog's is quiet. And it's not just the Catholics. So far, nothing on Andrew Sullivan, GetReligion, WorldMagBlog, or most other religion & politics blogs. National Review Online's The Corner hasn't said anything, and that publication ran Hudson's pre-emptive strike! (Catholics for a Free Choice, on the other hand, has a call for "the Republican National Committee and the White House [to additionally] distance themselves from Hudson and other conservative Catholics who have been disrespectful of women and have engaged in a politics of personal destruction for some time." Whatever. If the group wants want to change the conversation from Hudson's alleged sexual misconduct to abortion, Hudson probably wouldn't mind.)
Over at Open Book, Dallas Morning News columnist Rod Dreher says it's a troubling story:
Powerful and charismatic older male violates his vows by taking sexual advantage of troubled, emotionally unstable young person, using alcohol. This is a familiar Catholic narrative of late, isn't it? … I used to write for

Crisis

about a decade ago, and know Deal Hudson a little bit, so I'm not going to kick him while he's down. This is an ugly and sad situation for his wife and children. I only want to say that it's important for those of us who consider ourselves conservative Catholics remember not to be hypocrites when one of our own, so to speak, is revealed to have had feet of clay. Attacking the alleged motives of NCR and its reporter does not make the facts go away, or any easier to take.
But that doesn't mean that the story wouldn't have quietly gone away on its own, he suggested shortly before the NCR article was published. "Deal Hudson made this a national story by writing about it in his National Review Online column! If he hadn't done that, and hadn't point-blank revealed that there was sexual indiscretion of some indeterminate sort in his past, the Times probably wouldn't have noticed."
More articles
Religion & politics:
Some friendly advice | Attention, Kerry/Edwards Campaign People: Stop ignoring the phone calls and emails of every single reporter writing a story about religion and the campaign (Amy Sullivan, Political Aims)
First-time voters for life | What a Pace Poll suggests about new registrants and abortion rights (Duncan Currie, The Weekly Standard)
Kefalas no longer employed | Unclear whether House candidate quit or was fired from Catholic Charities (Fort Collins Coloradoan)
Gospel, crosses, and boos on cue | Religious conviction was a big part of the program at a Bush rally (Nick Coleman, Minneapolis Star-Tribune)
General's speeches broke Pentagon rules | A Defense Department report says he violated three regulations when he cast the war on terrorism as a religious battle, sources say (Los Angeles Times)
Also: General cleared in church speeches case | The Pentagon's top investigator has cleared a general of the most serious accusations concerning his addresses to church groups in which he invoked Christianity in the war against Islamist terrorists, but did find the officer committed minor infractions of military regulations (The Washington Times)
Catholicism:
Church says girl's Communion not valid | An 8-year-old girl who suffers from a rare digestive disorder and cannot eat wheat has had her first Holy Communion declared invalid because the wafer contained no wheat, violating Roman Catholic doctrine (Associated Press)
Vatican views on women annoys Indians too | A Vatican directive blaming feminism for apparently undermining the concept of family is fuelling protests in India too (IANS)
Killing bugs with God | With the help of the church, the National Catholic Rural Life Conference has begun offering pesticide training to farmworkers in Washington's Yakima Valley, the only region of the country where the nonprofit provides such instruction (Associated Press)
Abuse:
Priest who denied sex abuse faces charges in a new case | A Roman Catholic priest who denied sexual abuse accusations two years ago was indicted on Thursday on charges of abusing an 11-year-old altar boy the same year (The New York Times)
Also: N.Y. priest, cleared in past case, charged with sex abuse (The Boston Globe)
Church seeks abuse-claims deadline | The Portland Archdiocese says a cutoff date is a vital bankruptcy step; plaintiffs' lawyers call it insensitive (The Oregonian)
Ore. archdiocese seeks claims deadline | The archdiocese said it needs to have a firm estimate of the number of potential lawsuits to help settle creditor claims (Associated Press)
Former pastor under fire | Abuse survivors protest outside retirement community, home to two former priests who have been accused of sexual abuse (Daily Pilot, Newport Beach, Ca.)
War & terrorism:
Witness to abuse trying to be heard | Interrogators responsible, ex-soldier/ex-minister says (The Washington Post)
Visa rules hit church groups | 37 foreign students were denied U.S. entry to attend a recent Presbyterian meeting (The Press-Enterprise, Riverside, Ca.)
Crime:
Firm took money for house that was never built, suit states | With a Web site that carries the tag line "enabling Christians to become homeowners and become inheritance builders," First Latino promised investors not only a home, but up to a 20 percent return on their investments, Cotten and others familiar with the company said (San Diego Union-Tribune)
Two Christian camp counselors found slain in Calif. | Lindsay Cutshall, 23, of Ohio, and Jason Allen, 26, of Michigan, were soon to be married (Associated Press)
Man fights with officers, strips in church | Police say he was looking for a place to sleep (The Fayetteville Observer, N.C.)
Bible monuments:
Commandments heading down a dangerous path | The Ten Commandments are on the move — again (Steve Gushee, Palm Beach Post)
New evidence claimed in Bible display lawsuit | In its effort to enter the case, mission offers to post disclaimers on the monument (Houston Chronicle)
Ten Commandments @ school:
Humansville school chief out of a job | Commandments dispute ends with Greg Thompson turning in his keys (News-Leader, Springfield, Mo.)
Humansville School Board had one tough choice to make | It's a bad example for kids when a school leader says he will follow only the laws he agrees with (Editorial, News-Leader, Springfield, Mo.)
Yesterday: School leader put on leave | Humansville district will give a final decision on superintendent (News-Leader, Springfield, Mo.)
Official on leave over Ten Commandments | A school superintendent who posted the Ten Commandments in a student cafeteria was put on leave without pay after saying he would not follow federal law on religious expression (Associated Press)
Education:
Old party pad at U. of I. is now focused on faith | Former frat house has become the nation's first residence for Orthodox Christian students (Chicago Tribune)
Gay teacher questions dismissal | No contract renewal for Catholic high school religion teacher who married in S.F. (San Francisco Chronicle)
'Ghost' course - safe or sinister? | Plans have been announced for a course on clairvoyance and contacting the spirit world (Gloucestershire Echo, England)
Also: Bishop critical of ghostbuster course | A bishop has criticized plans by a further education college to run a course on how to predict the future and talk to the dead (The Times, London)
Church life:
ACLU steps up for Church Of The Awesome God | Congregation could be evicted (StatePaper, Nebraska)
No shelter for Jensen in company of peers | The Anglican Dean of Sydney, Phillip Jensen, has snubbed the rest of the Anglican Church of Australia by curtly rejecting an invitation to join a national conference of deans in Newcastle (The Sydney Morning Herald)
Mission of Brazilian church: opening hearts and minds | The 2-month-old Metropolitan Community Church reaches out to Brazil's gay, lesbian, bisexual and transgender communities (The Miami Herald)
Missions & ministry:
Church in bid to halt human trafficking | The United States Conference of Catholic Bishops with support from the Justice Department, is enlisting individuals to help in its effort to stop human trafficking, a problem so fierce it has been labeled a growth industry with thousands of immigrants forced or coerced into bondage as prostitutes or laborers (Chicago Tribune)
Christians to meet at business expo | Fremont man makes vision from God happen for second year (The Argus, Fremont, Ca.)
Stem cells:
His stem-cell moderation hurts Bush | Bush's failure to take a tougher position on destroying embryos allegedly shows that his policy is not morally serious, but rather a gesture to his base — and one that comes at the expense of all the sick people who could some day benefit from more research (Ramesh Ponnuru, Los Angeles Times)
Researchers turn to adult stem cells | Biotech firms see potential for medical use (The Washington Post)
Pop culture:
UnFriendly environment | If bawdy jokes are kept out of writers' meetings, Hollywood will become mighty flat, mighty fast (David E. Bernstein, National Review Online)
By David E. Bernstein
The Manchurian multinational | Church leaders and Hollywood unite against corporate America (Editorial, The Wall Street Journal)
Playwright brings a devilish comic touch to 'Satan' | In "Say You Love Satan," a Johns Hopkins graduate student meets a handsome, charismatic stranger who (he discovers when they start dating) has a 666 on his forehead. Who is this guy? The devil's son? Or something worse? (The Boston Globe)
More articles:
Wash. woman thrust into gay marriage fight | Kandu can't do "I do" (Associated Press)
WCAL didn't go to high bidder | One of the country's largest noncommercial religious broadcasters offered to buy St. Olaf College's classical-music station WCAL (89.3 FM) for "a lot more money" than the $10.5 million winning bid made by Minnesota Public Radio (MPR), its president said (Minneapolis Star-Tribune)
China cracks down on inner Mongolia temple | Authorities arrest a Buddhist leader after allowing his U.S.-based followers to arrange a $3-million renovation of the 800-year-old shrine (Los Angeles Times)
Exploring a cave | Archaeologists speculate that John the Baptist was there (Charlotte Allen, The Wall Street Journal)
A glimpse at life on the commune | D'Arcy Fallon vs the "Jesus-y robots" (The Oregonian)
Earlier: Author chronicles brief relationship with sect | On a glorious day in 1972, D'Arcy Fallon wandered onto a windswept Northern California bluff and bumped into Jesus (Contra Costa Times, Ca.)
Related Elsewhere:
Suggest links and stories by sending e-mail to weblog@christianitytoday.com
Check out Books & Culture's weekly weblog, Content & Context.
See our past Weblog updates:
August 19 | 18 | 17 | 16
August 13 | 12 | 11 | 10 | 9
August 6 | 5 | 3 | 2
July 30 | 29 | 28 | 27
July 23 | 22 | 21 | 20 | 19
July 16 | 15 | 14 | 13 | 12
and more, back to November 1999
Weblog
Launched in 1999, Christianity Today's Weblog was not just one of the first religion-oriented weblogs, but one of the first published by a media organization. (Hence its rather bland title.) Mostly compiled by then-online editor Ted Olsen, Weblog rounded up religion news and opinion pieces from publications around the world. As Christianity Today's website grew, it launched other blogs. Olsen took on management responsibilities, and the Weblog feature as such was mothballed. But CT's efforts to round up important news and opinion from around the web continues, especially on our Gleanings feature.
Ted Olsen is Christianity Today's executive editor. He wrote the magazine's Weblog—a collection of news and opinion articles from mainstream news sources around the world—from 1999 to 2006. In 2004, the magazine launched Weblog in Print, which looks for unexpected connections and trends in articles appearing in the mainstream press. The column was later renamed "Tidings" and ran until 2007.
Previous Weblog Columns: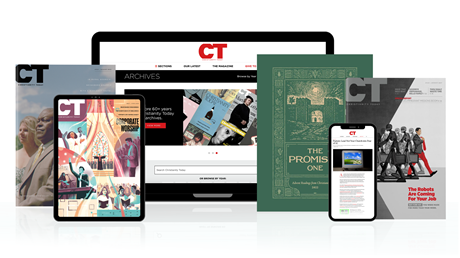 Subscribe to Christianity Today and get access to this article plus 65+ years of archives.
Home delivery of CT magazine
Complete access to articles on ChristianityToday.com
Over 120 years of magazine archives plus full access to all of CT's online archives
Subscribe Now
Is The National Catholic Reporter's Hudson Exposé a Big Deal?
Is The National Catholic Reporter's Hudson Exposé ...