|

12/17/2004 9:00 a.m.
The greatest irony in the fraud perpetration business is that those of us who perpetrate fraud are far more gullible than the victims of our schemes. In my experience, no one who has ever perpetrated a material fraud has not first factored a core principle into their thinking. In fact, only those exclusive members of the fraud perpetration club know this principle, and it is a four-letter word: cure. We, while in the midst of our criminal activity, do not like to view ourselves as crooks. We also are not naïve enough to believe that we can continue lying and defrauding investors ad infinitum and not get caught.
So we convince ourselves of an even bigger fraud than the one we are perpetrating. The lies we are telling investors, bankers, auditors, or stockholders are justified because they are a means to an end and not an end in themselves. We have a cure that only we know about that will rescue us from our misdeeds by creating enough income to pay back everyone who has invested with us.
For example, the cure for dishonest brokers or traders who have carefully concealed their losses is "that one good trading day" that will result in enough profits to cover the losses they have been hiding. The cure for me at ZZZZ Best was slightly different. My goal was to keep lying to Wall Street, the auditors, the bankers, and the stockholders until my six million shares of ZZZZ Best stock became free-trading. Once they became free-trading, I planned on selling one or two million shares, raising eighteen to thirty million dollars, paying off the mob and all the other investors, and going legit.
Thus the cure accomplishes two critical purposes. First, it helps rationalize illegal behavior based on the fact that it is only temporary. Second, it convinces us that there is redemption, a light at the end of the fraud tunnel, and we simply need to hold on until we can reach that day when all will be made right. That we believe this lie is evidence enough of our gullibility. No case better illustrates perpetrators' gullibility and the principle of the cure than the one involving Ernest F. Cossey and James Garro. Cossey owned a company called TLC Investments and Trade Company. According to SEC documents he raised $156 million from over twenty-six hundred investors to allegedly purchase distressed real estate, fix it up, and sell it at a profit. However, the SEC alleged that TLC Investments and Trade Company was nothing more than a Ponzi scheme where new investor money was used to pay back old investors.
Cossey realized that time, the enemy of all Ponzi schemes, was his fraud's mortal enemy. He had offered investors in his real estate venture large returns that he was having trouble continuing to pay. Enter James Garro, who himself was running a prime bank scheme offering people an international government bond program that, according to the court-appointed receiver in the TLC Investments and Trade Company case, "would pay returns significantly in excess of those available to other investors in similar instruments."
Cossey needed a cure, something that would rescue him from the cash he needed to pay back his investors in TLC Investments and Trade Company. James Garro told Cossey that if he gave him twenty million dollars, he would receive back forty million dollars in a matter of weeks. Cossey should have known better, but when people are desperate …
Cossey knew that these kinds of returns (100%) were not possible as evidenced by the fact that the returns he was offering investors in his deal were not real. No one knew that fact better than he did. Yet because Cossey wanted to believe that a quick cure would rescue him, he gave Garro twenty million dollars in hopes of getting forty million dollars back to pay off his investors in TLC Investments and Trade Company. It is no surprise that Cossey never received the forty million and the court-appointed receiver who took over TLC Investments and Trade Company sued Garro for the twenty million dollars.
The above example proves two points. First, perpetrators are gullible by definition because we believe that our deceit is temporary, and a sure-fire cure will somehow rescue us. Second, this mindset leaves us vulnerable to other frauds as evidenced by Cossey's actually handing over twenty million dollars in hopes of receiving double in return. There is an odd strain of justice woven throughout that irony. The criminals are the ones who believe the bigger lie.
Reprinted by permission of Nelson Current, a division of a wholly-owned subsidiary (Nelson Communications, Inc.) of Thomas Nelson, Inc., Nashville, TN., from the book entitled Cleaning Up copyright date 2004 by Barry Minkow. All rights reserved. Copying or using this material without written permission from the publisher is strictly prohibited and in direct violation of copyright law.
Related Elsewhere:
The Fraudbuster | The faithful are being defrauded of billions. But this Ponzi-busting ex-con knows how to stop it.
Article continues below

Success in Failure | Barry Minkow builds his ministry on what's gone wrong.

Stop Fraud Before It Starts | Barry Minkow says every investor should get the answer to four questions before investing.

Bilking the Brethren
It may be one of the biggest untold stories on the religion beat.
More information about Cleaning Up is available from the publisher.
More about the Fraud Discovery Institute, including their training and investigative work, is available from their website.
More about Minkow's ministry is available from San Diego Community Bible Church.
Minkow's most recent bust, totaling $26 million, hit the news last month.
Alleged Ponzi scheme aimed at blacks took in $26 million | An alleged Southern California investment scheme targeting African Americans took more than $25.7 million from at least 1,273 people, a court-appointed receiver said Tuesday. That's triple the number first alleged by federal regulators who shut down two Riverside-based companies that used black celebrities to woo investors. (Associated Press, Nov. 23, 2004)
Fraud allegations detailed in report | Records unearthed at Riverside's Financial Solutions, the latest Inland Empire firm shut down by fraud allegations, reveal ambitious fund-raising goals pushing into the billions. (The Press-Enterprise, Nov. 9, 2004)
News articles on frauds discovered by Minkow include:
Thoroughbred investment firm skips hearing, denies it's a scam | Despite being shut down in July by California fraud regulators accusing it of bilking investors out of $15 million, a Tennessee company claiming to invest in thoroughbred racehorses is continuing to operate under a different name while its lawyers say company did nothing wrong. (Associated Press, Oct. 7, 2004)
Calif. Firm Accused of Pyramid Scheme; Marines, Churches Invested | A federal judge has frozen the assets of a California-based real estate company after authorities accused it of running a securities scam that counts at least 30 active-duty Marines and several churches as investors. (Associated Press, May 11, 2004)
Calif investment firm lacks licenses, records show | Financial Advisory Consultants, an Orange County-based investment firm, claims to have generated extraordinary profits for its clients over 20 years, but records indicate it has not registered with state and federal agencies that regulate financial advisers and investment funds. (Associated Press, Dec. 10, 2003)
U.S. probe shuts down Inland investment firm | A Riverside company promising fat returns was shut down this week after raising money at lavish events authorities say were aimed at bringing in $150 million. (The Press-Enterprise, November 5, 2004)
Article continues below
Other Christianity Today fraud articles include:
Fools' Gold | Christians lured into buying 'rare' coins. (June 30, 2004)
The 419 Fraud | New twist on an old scam tempts Christians to accept millions from a Muslim convert. (Nov. 20, 2002)
Swindle Taints Nigerian Church | Church growth and credibility in danger because of scam. (Nov. 20, 2002)
Greater Ministries Leaders Get Lengthy Prison Terms | After taking in 18,000 Christians with "gifting" program, five leaders convicted. (Oct. 2, 2001)
Indictments Handed Down | Five former Baptist Foundation of Arizona officials plead not guilty to theft, fraud, and racketeering. (May 17, 2001)
Jury Convicts Greater Ministries of Fraud | Five leaders face jail time for one of the largest Ponzi operations ever. (March 28, 2001)
Health Ministry Fraud Alleged | Ohio seeks $16 million in damages against Christian Brotherhood Newsletter. (March 9, 2001)
Elderly Investors Target Accountant | But Baptist Foundation of Arizona victims will have to wait in line. (May 17, 2001)
Defrauding the Faithful | If convicted, Greater Ministries defendants face massive fines, prison terms. (Feb. 8, 2001)
Baptist Foundation Faces Investment Fraud Charges | Freeze on redemptions leaves pensioners in a pinch. (Oct. 25, 1999)
Federal Authorities Collar Greater Ministry Leaders | Accusations include fraud, money laundering. (April 26, 1999)
$100 Million Missing in Greater Ministries Scandal | The financial scandal engulfing Greater Ministries International Church is expected to reach a climax soon in a Tampa federal court. (Oct. 4, 1999)
12 Million Fraud Scheme Parallels Greater Ministries | Jonathan Strawder's arrest in Orlando on December 15 on charges of grand theft and securities fraud involved more than just another religious scam with Christian contributors. Authorities hope he can provide crucial information about the workings of an even larger operation, Greater Ministries International Church (GMIC), which has headquarters in Tampa (Feb. 8, 1999)
Unsuspecting Christians Bilked of Millions | This month, Philip Harmon, 61, entered a federal prison to begin serving an eight-year sentence for conspiracy and tax fraud. His businesses have crumbled, and in their place Harmon faces, besides a penitentiary, a court order to repay $16 million dollars to his investors, a debt he is unlikely to repay. (July 13, 1998)
New Era's Bennett to Prison | How could a little-known Christian business executive defraud charities of $354 million while claiming to do God's work? (Oct. 27, 1997)
Cleaning Up is available from Christianbook.com and other book retailers.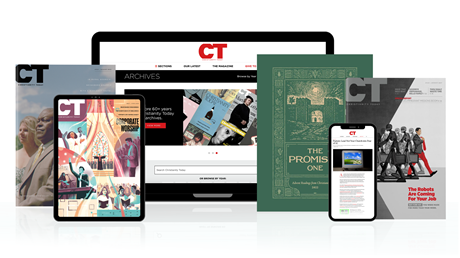 Annual & Monthly subscriptions available.
Print & Digital Issues of CT magazine
Complete access to every article on ChristianityToday.com
Unlimited access to 65+ years of CT's online archives
Member-only special issues
Subscribe
Every Fraud Needs a Cure
Every Fraud Needs a Cure