Complaint filed against judge who banned religious references from court
Back in March, District Court Judge James M. Honeycutt said he would remove all religious references from his courtroom, from swearing on the Bible to oaths that end "so help me God," and the traditional invocation, "God save the state and this honorable court."
"I believe that the burden should not be on those individuals to speak up and request an oath that does not mention God or use the Christian Bible," said the judge, a lifelong Southern Baptist and former deacon.
He retreated from those plans for a while, but now they're back.
And back with force. Local sheriffs are the ones to give the invocation, and they say they'll keep giving it. One sheriff was told that if he did so, he'd be found in contempt of court, and, one supposes, forced to arrest himself.
Today, the sheriff and two county clerks of court will file a complaint against Honeycutt, asking the Judicial Standards Commission to investigate and either censure or remove the judge "until such time as he comes into compliance with the Constitution, laws and public policy of the State of North Carolina."
"For now, Davidson County clerks are not swearing in witnesses … leaving the task to Honeycutt," reports the Winston-Salem Journal. "County bailiffs are adhering to the judge's policy because they are in his courtroom, but if they object, another bailiff will open court, said Capt. Steve Hedrick, who oversees the county bailiffs."
But the Journal suggests that today could be the end of this story: "Last year, 275 complaints were filed [with the Judicial Standards Commission], and 258 were dismissed without inquiry."
Focus on the Family reruns
Sometimes pack journalism makes absolutely no sense. One of the big news stories of the day is Focus on the Family "offering recordings of David Berkowitz." As Weblog writes, Google News counts "about 101" press outlets covering some version of the story.
Eh? What Focus is offering are recordings of three broadcasts of the Focus on the Family radio program "David Berkowitz: Son of Hope," where the "son of Sam" killer gives his testimony. The radio broadcasts aired nationwide in early March without a peep from the mainstream media.
Now, according to the New York Daily News, the New York Department of Correctional Services is launching an investigation into "whether Berkowitz or the religious group is profiting from the recordings."
"If Berkowitz is in any way profiting, we will take the money," department spokesman James Flateau said. In an interview with the Associated Press, Flateau said, " I'm just incredulous that a church group would try to make a buck on a serial killer. … If Berkowitz is in any way involved, he would be violating the prohibition on inmates running a business out of prison. The Son of Sam law affects him. Heck, the Son of Sam law was named after him."
The Rocky Mountain News of Denver says family members of Berkowitz's victims are outraged.
Focus producer Scott Welch explained that the interview isn't what some seem to be alleging.
"We're not charging anything, so it's actually not a purchase," he told the News. "We'll send it to people whether they send us a donation or not." As for the content, he says, "It is a fascinating story about a man's life that has been changed. We wanted to relay a message of hope to our listeners, that God can change anyone's life."
Let's make it simple: Focus isn't "cashing in" on Berkowitz any more than the 100+ news outlets running this story.
More articles
Church & state:
Court to rehear white separatist case | Inmate is suing under RLUIPA to hold group worship with other separatists in prison (Associated Press)
Battle urged to save cross | A Christian group said it has lawyers and a strategy, and is raising money for the fight (The Press-Enterprise, Riverside, Ca.)
Schools bar anti-drug program | L.A. district warns against the use of presentations by a group linked to the Church of Scientology. The state plans an investigation (Los Angeles Times)
Nagin, clergy bridge gap over breakfast | Mayor vows city will aid pastors (The Times-Picayune, New Orleans)
U.S. judge issues a mixed ruling in Quaker tax case | A federal judge ruled yesterday that the IRS may not impose a 50 percent tax penalty against Philadelphia's Quakers for refusing to pay a levy on the wages of an employee who is a "war-tax protester" (The Philadelphia Inquirer)
Local man says Army refusing military medals over religious reference | Although Bob Parker has been working with all the branches of the U.S. military to send the medals to surviving family members, he recently received a letter from the Army informing him that because the medals contain a religious reference, the Army can no longer facilitate their distribution (WBIR, Knoxville, Tenn.)
City to open parades to all | Parades and other events sponsored or co-sponsored by the city would be open to virtually anyone who wants to participate under a new set of rules being drafted by the city (Honolulu Star-Bulletin)
Religious freedom:
Vatican accuses China of human rights violations | The Vatican accused China Wednesday of violating human rights, stepping up its criticism of the communist government for what it sees as the repression of religion (Reuters)
Vatican condemns China's arrest of bishop | "The Holy See feels deep pain for these actions, for which no explanation has been given" said a statement by Vatican spokesman Joaquin Navarro-Valls (Associated Press)
Fired Muslim trucker sues company | A Muslim truck driver is suing his former employer for religious discrimination, claiming he was fired for refusing to haul beer because doing so would violate his beliefs (Associated Press)
Under God & in God:
Councilman to try again to get 'In God' in chambers | City Councilman Jack Feller is reviving his request to place the motto "In God We Trust" behind the dais in the council chambers (San Diego Union-Tribune)
"Under God" and meaning it | The Supreme Court should fix past precedent (Peter Augustine Lawler, National Review Online)
Still "under God"? | The Pledge of Allegiance is still in danger (Vincent Phillip Muñoz, National Review Online)
Moon receives capital crowning:
A crowning at the capital creates a stir | The Rev. Sun Myung Moon donned a crown in a Senate office building and declared himself the Messiah while members of Congress watched (The New York Times)
Moonie leader 'crowned' in Senate | Republicans and Democrats attend cult blessing ceremony (The Guardian, London)
Religion & politics:
Religious groups campaign against poverty | Religious groups have this morning united to form an alliance to make poverty a priority in the upcoming election (The World Today, ABC, Australia)
Religious right could be strong pillar for Bush | Gay marriage, abortion issues energize voters (Chicago Tribune)
Christians need to exercise voting rights, send a message | This failure to exercise our most fundamental citizenship duty cannot continue, lest we allow the secular minority to destroy the Christian foundations upon which our nation was established (David Crowe, The Oregonian)
It's a matter of faith | By not allowing themselves to be the tool of any particular political party, the American bishops and the evangelical Christian leaders are asking their followers to base their decisions on conscience, not on the recommendations of their religious leaders (Editorial, Contra Costa Times, Ca.)
Catholicism & politics:
Cardinal says denying Communion may hurt | The head of a U.S. bishops' task force studying Roman Catholics in public life told fellow bishops that withholding Holy Communion from politicians or others could hurt the church in its efforts to stop abortion and euthanasia, according to documents released Wednesday (Associated Press)
Catholic lawmaker debate ensnares colleges | An election-year dispute over Roman Catholic politicians and their obedience to church teaching has extended to Catholic colleges, as U.S. bishops collectively warn schools against honoring dissenting lawmakers (Associated Press)
S.D. bishop won't ban politicians from sacrament | In the ongoing debate over Holy Communion and politics, San Diego Roman Catholic Bishop Robert Brom said in a statement released yesterday that Catholic politicians who support abortion should not be banned from receiving the sacrament (San Diego Union-Tribune)
Catholic cafeteria coming to a close | The Catholic Church is like a club. The club has rules. If you want to be a member of the club, you abide by the rules. Otherwise, leave (Thomas Keane Jr., Boston Herald)
The bishops and the pols | When acting on legislation, if Kerry doesn't vote his "personal belief," whose beliefs does he vote? (George J. Marlin, New York Post)
Same-sex marriage:
Test vote likely on gay 'marriage' | House leaders are likely to hold a test vote on issues related to homosexual "marriage" to show where House members stand before they push ahead with an actual constitutional amendment (The Washington Times)
Public divided on marriage amendment | More than one-third of all adults are not even aware of the amendment (The Barna Group)
MTV puts gay marriage in rotation | It is conceivable, if not likely, that two or three decades hence, the fuss over same-sex marriage will be as hard to fathom as Jim Crow laws are in the minds of college students today (The Boston Globe)
Perspectives on same-sex marriage | Can you oppose same-sex marriage without being a homophobic troglodyte? Well, of course, but the important question is: Why shouldn't we expand the definition of marriage to include same-sex couples? (Washington Post)
N.Y. legal case tests reach of out-of-state civil union | An appeals court is weighing whether New York should recognize a gay civil union from Vermont and allow a Long Island man to sue a Manhattan hospital for malpractice in the death of his longtime partner (Associated Press)
Defending marriage | As discussions about Iraq are easily at the forefront of foreign-policy priorities in this election year, so has the highly contentious issue of homosexual "marriage" moved to the forefront of policy concerns here at home (Editorial, The Washington Times)
Marriage & family:
Male marital outlook linked to upbringing | While most single young men aspire to marriage, about one-fifth are deeply skeptical of the institution and their prospects of making it work, according to a new national survey which closely links men's marital outlook to their upbringing (Associated Press)
Welfare reform hasn't led to more marriage—yet | Policy changes didn't produce more two-parent families, latest data show. Should US do more to push for vows? (The Christian Science Monitor)
Vt. Episcopal Church's gay blessing:
Gay blessing by US bishop defies advice from church | The Archbishop of Canterbury's office has described as "extraordinary" a decision by the Bishop of Washington to carry out a "blessing" service involving a gay priest and his partner of 12 years (The Independent, London)
Gay blessing stuns Anglican Church | The blessing of a same-sex couple by a bishop in the United States has been described as an "extraordinary" development by the Archbishop of Canterbury's office (The Times, London)
Bush, AIDS, & condoms:
Bush backs condom use to prevent spread of AIDS | President Bush said for the first time that the U.S. should "learn from the experience" of countries like Uganda in fighting AIDS (The New York Times)
Bush seeks more control over AIDS act | President Bush proposed Wednesday that the executive branch assume significant control over the program that has been the backbone of federal assistance for Americans infected with AIDS (The Washington Post)
Bush expands AIDS initiative | President Bush yesterday announced that Vietnam will become the 15th nation to participate in a $15 billion program to battle the AIDS pandemic as he urged Congress to step up the release of funds to battle the deadly disease (The Washington Times)
Bush stresses desire to combat AIDS | He calls the disease a 'great tragedy.' Critics say he hasn't done enough to fund the global prevention and treatment programs (Los Angeles Times)
Transcript: President Bush discusses HIV/AIDS initiatives in Philadelphia (White House)
Sexual ethics:
Ulster teens being asked to take no-sex pledge | Northern Ireland has one of the highest rates of teenage pregnancy in Europe (The Belfast Telegraph)
Abortion, substance abuse linked | Women who abort their first accidental pregnancy are likely to abuse substances, a new study says (The Washington Times)
Also: Substance use associated with unintended pregnancy outcomes in the national longitudinal survey of youth (American Journal of Drug and Alcohol Abuse, abstract)
Life ethics:
Stem cell triumph opens door for cures | Human stem cells have for the first time been obtained from an Australian embryo (The Sydney Morning Herald)
Also: Australian stem cell breakthrough draws fire from right-to-lifers (AFP)
Kerry's science buddies and the silly sanctity of life | Some people have a strange, amusing hang-up about the sanctity of human life, and they don't like vivisecting human embryos for any reason. Not even if the experiment brought Ronald Reagan back to life and restored his brain (James Lileks, Newhouse News Service)
I'm with my dad on stem cell research | I'm getting a little tired of the media's insistence on reporting that the Reagan "family" is in favor of stem cell research, when the truth is that two members of the family have been long time foes of this process of manufacturing human beings--my dad, Ronald Reagan during his lifetime, and me (Michael Reagan, Human Events)
Embryonic stem cell research is wrong | President Bush is not any scientist from conducting stem cell research (Joseph Perkins, San Diego Union-Tribune)
Church life:
Presbyterians mull Messianic Jewish congregation | Denomination to "re-examine" relations with Jews, may cut off funding for Messianic congregations (Religion News Service)
Rev. Stephen Szabo, 101, religious leader | He was elected president of the Hungarian Synod of the Evangelical and Reformed Church and was named the synod's first president emeritus after it merged into the United Church of Christ (The Plain Dealer, Cleveland)
SBC & BWA:
US Southern Baptists split world alliance | The Baptist church is engaged in an extraordinary internecine row, incorporating accusations of slander and deceit, after the US Southern Baptists split from the rest of the worldwide church (The Guardian, London)
BWA affirms Baptist's beliefs | The Baptist World Alliance has affirmed the faith of their religion, declaring that it strongly affirmed the fundamental doctrines of the Christian faith as proclaimed in the Word of God (The Nassau Guardian, Bahamas)
Hip young evangelicals:
A new generation spreads the word | Cameron Strang is a well-disguised evangelist (USA Today)
The Christian market aims for the young and happenin' | Marketers are eyeing the 18-to-34 Christian crowd (USA Today)
Icon returns to Russia:
Hundreds of people in Latvia meet Orthodox icon of the Virgin Mary of Tikhvin returned from US (Itar-Tass, Russia)
Earlier: Russian icon finally on way home | Sergei Garklavs, 76, a retired Orthodox priest in Chicago, has helped keep watch over the sacred portrait of the Virgin Mary and Christ child since he and his adoptive father smuggled the icon out of the former Soviet Union under the cloud of World War II (Chicago Tribune, June 18)
Ancient icon going home to Russia (Chicago Sun-Times)
Revered icon going home | The Gospel writer and early apostle Luke is believed to have painted it. For centuries, it was considered the source of miracles, protecting Russia from foreign invaders. It survived looting by the Soviets and the Nazis (The Plain Dealer, Cleveland)
Closing Catholic parishes:
Catholics lament churches becoming condos | Boston Catholics grieving the loss off 65 diocesan churches are even more downhearted to learn that their former places of worship are being sold as luxury condominiums (Fox News)
300 gather in church to vent over parish closures | About 300 Catholics crowded into the basement of a Newton church last night to express anger and frustration over the expected closings of their parishes and to share strategies on how to prevent the closings (The Boston Globe)
Pastor sets early closing date | Parishioners pursue appeal (The Boston Globe)
Missions & ministry:
Church policy hurts charities | The controversy over gay marriage is forcing some Catholic families to choose between their loved ones and their church. The choice -- sons and daughters over church -- is one reason why Catholic Charities, the social service arm of the Archdiocese of Boston, is finding it harder to raise money (Joan Vennochi, The Boston Globe)
Evangelical miracle as pub turns into church | A Scottish pub is offering a different kind of service - after being turned into a church (The Scotsman)
Girls lobby for ice cream shops in W. Va. | It was bad enough when Bruster's ice cream shop became a gambling parlor. But when both Dairy Queens closed to make way for mini-casinos, two 11-year-old girls had to act (Associated Press)
Chaplain corps assists those in need | The Platte County Sheriff's Department has begun a new program called the Chaplain Corps, which is aimed at providing spiritual counseling and assistance to residents affected by emergency situations (The Kansas City Star)
Television, film, & music:
Thou-shalt-see TV | Inspired by the success of religion-themed novels, broadcasters are devoting their prime-time schedules to shows dealing with God, faith and the afterlife (Rob Kutner, The New York Times)
For Mel Gibson, 'The Passion' seems mostly a blessing | The director and movie star Mel Gibson is well positioned in Hollywood to make career choices after the success of "The Passion of the Christ" (The New York Times)
Pedro the Lion: A different brand of God-rock | David Bazan hardly fits the part of the lead singer of the most controversial band in modern Christian rock (Pulse, Minneapolis, Minn.)
Education:
Why religious education can be hazardous material | Children deserve to be protected from abuse of fanatic religious socialization just as much as they deserve to be protected from sexual abuse or child labor (Ghassan Rubeiz, Christian Science Monitor)
Father ends Bibles in school | Why would a practicing Christian who knows the Bible oppose his children's public school helping to distribute Bibles on school grounds? (J.C. 'Miles' Ventimiglia, Sun-News of the Northland, Kansas City, Mo.)
Abuse investigation spurs deportation:
Samoa takes steps to deport fugitive cleric | News' report on molestation conviction spurs investigations (The Dallas Morning News)
State prepares plea to extradite priest | The Federal Government had not acted to extradite a convicted pedophile priest from Samoa, where he was posted by a Catholic order after being charged with sexual abuse, because it had not received a formal request from Victoria, federal Justice Minister Chris Ellison said yesterday (The Age, Melbourne, Australia)
More articles:
Electricity goes wild. Did the devil make it do it? | Villagers in Sicily say that a series of puzzling electrical problems are the Devil's work (The New York Times)
Howard bolstered by faith | No matter what you hear or read about Dwight Howard, know this: He's not looking to convert everyone into Christians (Palm Beach Post, Fla.)
Related Elsewhere:
Suggest links and stories by sending e-mail to weblog@christianitytoday.com
Check out Books & Culture's weekly weblog, Content & Context.
See our past Weblog updates:
June 23 | 22 | 21
June 18 | 17 | 16 | 15 | 14
June 10 | 9 | 8 | 7
June 4 | 3 | 2 | 1
May 28 | 26 | 25 | 24
May 21 | 20 | 19 | 18 | 17
and more, back to November 1999
Weblog
Launched in 1999, Christianity Today's Weblog was not just one of the first religion-oriented weblogs, but one of the first published by a media organization. (Hence its rather bland title.) Mostly compiled by then-online editor Ted Olsen, Weblog rounded up religion news and opinion pieces from publications around the world. As Christianity Today's website grew, it launched other blogs. Olsen took on management responsibilities, and the Weblog feature as such was mothballed. But CT's efforts to round up important news and opinion from around the web continues, especially on our Gleanings feature.
Ted Olsen is Christianity Today's executive editor. He wrote the magazine's Weblog—a collection of news and opinion articles from mainstream news sources around the world—from 1999 to 2006. In 2004, the magazine launched Weblog in Print, which looks for unexpected connections and trends in articles appearing in the mainstream press. The column was later renamed "Tidings" and ran until 2007.
Previous Weblog Columns: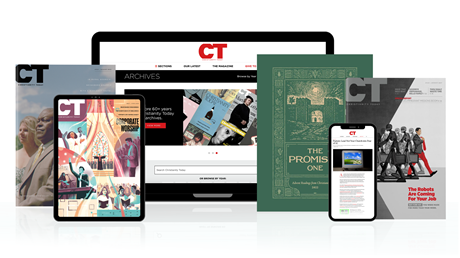 Annual & Monthly subscriptions available.
Print & Digital Issues of CT magazine
Complete access to every article on ChristianityToday.com
Unlimited access to 65+ years of CT's online archives
Member-only special issues
Subscribe
Judge's Bible Ban Backfires
Judge's Bible Ban Backfires