It was the bloodiest prison violence in Rio de Janeiro's history, and the worst in Brazil in more than a decade. After 62 hours of terror, in a gang war inside the Benfica detention center, at least 30 inmates and one guard were dead. By Monday morning, June 1, police were ready to storm the facility. At the behest of prisoners however, Rio State secretary of security Anthony Garotinho called in a controversial Pentecostal pastor who has made a name for himself as a prison minister and negotiator. Pastor Marcos Pereira da Silva, 47—leader of the Assembly of God of the Last Days, a church located in São João de Meriti, outside Rio de Janeiro—arrived in a helicopter to end the standoff.
"I managed to avoid a massacre," said the pastor, after the standoff had ended, only a few hours after his arrival. In interviews on radio and television, da Silva described how he managed the situation.
"Coming in, I saw prisoners dangling by the feet, ready to be decapitated," he said. "Others were tied to gas cylinders. There were many with wounds and burns."
Despite the chaos, da Silva said he gathered 700 prisoners in a block. His story, which is difficult to confirm, was reportedly witnessed by 15 assistants accompanying him.
"I said a prayer and many fell possessed by demons," he said. "I prayed and sung praise hymns. Then we took the guns from them before they got back to their cells."
When police entered the building, they found no resistance. While details of da Silva's work inside the prison have not been widely confirmed, several witnesses have reported that the prisoners ended the riot singing Christian praise songs.
"If I did not arrive, a hundred people would have died," the pastor emphasized.
Da Silva said he persuaded inmates to release 21 hostages in exchange for a promise from prison authorities to separate detainees belonging to rival gangs and to improve food at the prison.
The pastor's participation in the episode divided opinions among authorities negotiating the prisoners' surrender. Giving the order to bring him in was Garotinho, an evangelical Presbyterian who regularly invoked the Bible during his campaign for the Brazilian presidency in 2002.
Da Silva said he wanted to take the control of the negotiations, a request unconfirmed by police staff. However, the secretary of penitentiary administration itself, Astério Pereira dos Santos admitted that the pastor's presence was fundamental.
"If the pastor didn't resolve this, the police would have stormed the place and we would certainly have had another Carandiru on our hands, and the tragedy would have been much greater," dos Santos told GloboNews television.
In 1992, police killed more than 100 inmates at São Paulo's notorious Carandiru prison, which has since been closed. Rebellions are common in Brazil's prison system.
Da Silva's church was founded in the early 1990s and has no links with the General Convention of the Assemblies of God of Brazil, which is by far the largest Protestant denomination in the country.His church, which teaches that women should wear veils and worship separately from men, is popular among gang members and has become known for mediating prison riots. "I am very respected by the prisoners," he explains. He has taken part in ending 10 similar riots, including one at Bangu's penitentiary complex, a maximum security prison that holds the most dangerous convicts in Rio.
During the Benfica rebellion, the participants of the mutiny hung signs outside the building saying, "Call Pastor Marcos Silva." Among the 10,000 worshipers at da Silva's church are prisoners' relatives, and several members linked to organized crime.
Such proximity to criminals has caused police distrust, and da Silva was investigated after police learned that two brothers of the drug dealer Marcos Nepomuceno, one of the most notorious in Brazil, attended the church. Da Silva's church has also been suspected of receiving money from drug trafficking, but nothing has been proven against either the church or its leader.
Da Silva emphasizes that he has a "calling from God" to evangelize and to spiritually free criminals. "When I go up to the slums," said the pastor, "I look in the traffickers' armed eyes and order the demons to leave in the name of Jesus. They fall to the ground and are free at that moment."
Now he hopes that the sudden fame as a penitentiary negotiator will open the door for a spiritual goal: preaching to the most influential drug dealer in Brazil, Fernandinho Beira-Mar. The pastor, who said he has already visited the criminal, needs a special authorization to see him at the Presidente Bernardes Jail in Sao Paulo State, where no visitors are allowed.
George Guilherme is a senior reporter for Globo TV, a major television network in Latin America, and a correspondent for Eclesia magazine.
Related Elsewhere:
Other news coverage of the prison rebellion includes:
Brazil officials try to ID riot victims | Officials lowered the death toll to 31 from 38 as they identified bodies, that also included a prison guard — Associated Press (June 2, 2004)
Article continues below
Rights agency to sue Rio State after jail massacre | Government says police barred human rights observers from the prison for their own safety—Reuters (June 2, 2004)
30 inmates and guard die in jail revolt in Brazil | Astirio Pereira dos Santos, the head of Rio's prison authority, said the death toll would probably have been much higher if the Rev. Marcos Pereira da Silva, a pastor who is popular among gang members and has become known for mediating prison riots, had not intervened — The New York Times (June 2, 2004)
Brazil's 'medieval' prisons | Both the government and rights groups agree that poor conditions in Brazilian jails are a critical factor in the country's notorious record of regular uprisings - which all too often end in blood and death — BBC (June 2, 2004)
Thirty dead in worst Brazil jail riot in 12 years | Inmates at a Rio de Janeiro prison killed at least 30 people, beheading half of them, in three days of gang war anarchy that marked the worst jail violence in Brazil in more than 10 years — Reuters (June 1, 2004)
Slide show: Brazil Prison Riots — Yahoo
Earlier Christianity Today articles on Brazil include:
River Deep Mercy Wide | A medical journey on the Rio Negro in Brazil's Amazon Basin. Photos and essay by Gary Gnidovic (Feb. 6, 2004)
Inheriting the Cracked Earth | In remote Northeast Brazil, evangelicals are extending their outreach despite extreme poverty (Apr. 2, 2003)
Brazil's Christian Roots | Since the 1600s, the number of Protestants has risen to more than 27 million (Apr. 2, 2003)
Evangelicals Grow as Political Force in Brazil | New interest in public policy fuels election wins (Nov. 15, 2002)
Jesus for President | A Brazilian election judge sues Jesus for early campaigning (July 22, 2002)
Brazil's Surging Spirituality | Churches of all stripes have been growing for decades, as have the controversies and challenges facing evangelicals (Dec. 21, 2000)
Pie-in-the-Sky Now | Two scholars argue that Pentecostalism, especially in Brazil, is not so otherworldly as many think (Nov. 27, 2000)
Other Christianity Today articles on prison violence include:
Breaking into Prison | A gospel invasion helps bring peace to one of the nation's most violent penitentiaries (May 07, 2004)
Controversial Cain | Warden Burl Cain has had a few tangles in the courts himself (May 07, 2004)
Article continues below
New Life in a Culture of Death | Hope for Colombia dwells inside its most lethal killing field—Bellavista Prison. (Feb. 2, 2004)
Violated Felons | Christians help lead federal campaign against prison rape (Sept. 10, 2003)
Weblog: Criminal Justice and Injustice | On issues from Timothy McVeigh's execution to prison rape, Christians are making their voices heard (April 30, 2001)
Setting Captives Free | It takes more than getting a woman inmate out of jail to turn her life around (Jan. 10, 2000)
Prison Ministry in Mozambique | Missionary says women suffer grave injustices (Aug. 4, 2000
Articles from our sister publications include:
Brutality Behind Bars | Women's prisons were hellish places before Elizabeth Fry started working there. By Danny Day, Christian History, Winter 1997
Doing Time | Do correctional facilities correct anything? By Nathan Bierma, Books & Culture, January/February 2004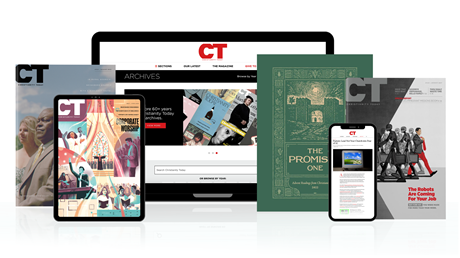 Subscribe to Christianity Today and get access to this article plus 65+ years of archives.
Home delivery of CT magazine
Complete access to articles on ChristianityToday.com
Over 120 years of magazine archives plus full access to all of CT's online archives
Subscribe Now
Controversial Pastor Mediates End to Three-day Prison Riot in Brazil
Controversial Pastor Mediates End to Three-day ...