true
If you see Napoleon Dynamite, you'll understand why the tagline reads, "He's out to prove he's got nothing to prove." Director Jared Hess co-wrote the script with his wife, Jerusha, and the Hesses don't give you a film with a coherent plotline; rather, they show us a series of random vignettes in the life of the film's main character, Napoleon Dynamite (played superbly by Jon Heder). Yet, Napoleon is such a compelling character that any story seems less important than getting to hear his take on the various issues in his life. For any independent film lovers and for any comedy buffs, Napoleon Dynamite presents 90 minutes of cultish one-liners and memorable character quirks—which probably explains why the film, after almost two months in theaters, continues to move up the box office charts week after week.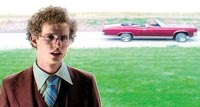 Napoleon first won over crowds as a nomination for the Grand Jury Prize at the Sundance Film Festival (2004) and as a winner for the Film Discovery Jury Award at the U.S. Comedy Arts Festival (2004). At both festivals, audiences screened a slightly shorter version of the film, which means the theatrical release offers a few more minutes of Napoleon ("Yesss!" as Napoleon would say). Since its time on the festival circuit, Napoleon has gained word-of-mouth praise that has pushed a fairly new and fairly young group of filmmakers into big-time Hollywood territory. Director Hess is already at work on a new feature film and has a TV series in development.
When I noticed that the film was produced, in part, by MTV, I winced as I remembered some of the company's previous attempts at filmmaking: the raunchy Varsity Blues, the unnecessary Beavis & Butthead Do America, and the forgettable Joe's Apartment. But Napoleon is surprisingly tame and lighthearted. The movie relies on the extraordinary spectacle that is Napoleon Dynamite and the ordinary weirdness of everyday human interaction for humor—face it, we've all known or seen someone who tries a get-rich-quick scheme, finds a soulmate online, or contends that he has nunchuck skills. Well, maybe we don't all know that last kind of person. But you will, if you see this film.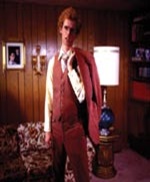 The movie opens with a shot of Napoleon waiting for his school bus. He's wearing Moon Boots and flipping through his Trapper Keeper, fidgeting with one of his many drawings and preparing an adventure for an action figure tied to fishing line. As Napoleon boards the bus and makes his way to the back, a fellow rider asks, "What are you going to do today, Napoleon?" to which Napoleon replies, "Whatever I feel like I wanna do … gosh!" And, within two minutes, the director has taken us from spectator to player; we're in the film with Napoleon and, together, we watch the action figure bounce along the road behind the bus. We end up looking forward to each and every moment of Napoleon's day, since he strikes us as the kind of person who can, and will, come across all sorts of "situations."
First situation: Napoleon isn't the most popular person at school. His awkward mannerisms tend to thwart any sort of friendships until he meets Pedro (Efren Ramirez), a new kid from Mexico who wants to run for class president. Second situation: Napoleon's grandmother has had a dune buggy accident, and Napoleon's Uncle Rico (The Rundown's Jon Gries), a time-traveling obsessed wannabe jock, shows up to care for Napoleon and his brother, Kip (Aaron Ruell). Third situation: Kip. Kip may be the scrawniest and laziest person alive. At one point, he says, "Napoleon, don't be jealous that I've been chatting online with babes all day. Besides, we both know that I'm training to be a cage fighter." Final situation: Napoleon needs to find a date to the school's upcoming dance. A likely candidate would be Deb (Tina Majorino), a fellow student, a door-to-door boondoggle saleswoman, and the operator of a glamour shots photo studio.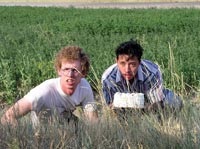 At first, the film seems void of any overtly redeeming factors. In a world where Napoleon's defensive phrase is "freakin' idiot," and where most of the characters communicate in a heavily sarcastic manner, it would be easy to fall into the habit of laughing at Napoleon and elbowing your movie buddy whenever a character inserts a good "burn." What shouldn't be overlooked, though, is Napoleon's willingness to persevere through his teen experience and his efforts to be a good friend to both Pedro and Deb. Certainly, Napoleon pushes the authority limits with Uncle Rico, even going so far as to say things such as, "She [Grandma] said you should leave because you're ruining everyone's life and eating all our steak," and "Get off my property!" But Napoleon is also a frustrated and different teenager, and, while that doesn't excuse his behavior, it gives Hess some fertile ground with which to grow Napoleon as a person.
This film isn't for everyone. But if you have an indie film sense of humor—and those of you who have it know what I mean—you'll probably enjoy this flick. Young children probably wouldn't appreciate the film's style and would get bored with the longer stretches. But teens and young adults will memorize the film's lines and look forward to Hess' next project.
Talk About It
Discussion starters
Napoleon has a unique personality and doesn't fit in with the crowd. Is that good or bad? What does this film say about individuality and the different gifts that people have to offer?


Most of the film's dialogue is superficial; many characters don't know how to relate. What role does miscommunication play in this film? How could the characters better communicate with one another?


Pedro and Napoleon become good friends. In what ways do they nurture their friendship? How do they help each other?


Related Elsewhere:
A ready-to-download, Bible-based discussion guide is available for this movie at ChristianBibleStudies.com. Use this guide after the movie to help you and your small group better connect your faith to pop culture.
The Family Corner
For parents to consider
Napoleon Dynamite is, for the most part, a clean movie. Some viewers may be offended by the sarcastic tone of the dialogue—like Napoleon's scattered responses of "freakin' idiot." There's also one scene in which a farmer shoots a cow (though we don't see footage).
What Other Critics Are Saying
Seattle Weekly described Napoleon Dynamite, a comedy about a high school geek in Preston, Idaho, as "supernaturally lethargic." Jon Heder plays the quirky hero who must deal with a family that redefines dysfunction. The film has been in theatres for a few weeks now, and many mainstream critics are praising it as one of the summer's funniest films, but few religious press critics have seen it.
Michael Elliott (Movie Parables) says, "The film is riding a ground swell of enthusiastic support as it begins to open in more and more theaters nationwide. There are two reasons why. The first is a brilliant and memorable characterization by newcomer Jon Heder. The second is a solid screenplay co written by director Jared Hess that absolutely nails its depiction of the 'uncool' members of high school life. Heder is a laugh riot as Napoleon. By underplaying all of the character's quirks and absurdities he brings an aura of familiarity to the role. It's as if we kind of remember someone like him in high school. Of course, we never got to know him real well because, back then, it wouldn't have been cool to be seen with him."
Catching up with Napoleon Dynamite, Andrew Coffin (World) offers moderate praise for the story of a unique high school outsider who learns to roll with the punches. Coffin writes, "There are plenty of opportunities for the film to turn dark and disturbing … yet it never does. Instead, the film remains fixated on Napoleon and the supremely odd cast of characters who surround him with unpretentious glee. In that sense, despite the lack of much in the way of a story arc, Napoleon is always surprising. It also remains grounded in a (heightened) reality to which we all can relate."
Article continues below
Napoleon Dynamite earned a good review from Adam R. Holz (Plugged In), who says the title character is "an everyman whom we can all relate to. We laugh at his idiosyncrasies even as we realize that we may be blind to some of our own. What could be a mean-spirited film picking on hopelessly unaware nerds is actually very aware of who these characters are—and we root for them. Napoleon Dynamite is hip precisely because its makers are aware of how unhip it is."
Josh Hurst (Reveal) objects to the reviews that compare the film to Rushmore. "I'm inclined to think that it would be far more apropos for critics to compare this film to the likes of Anchorman or Airplane! rather than Rushmore. Like those flicks, Napoleon Dynamite offers plenty of belly laughs for those who can overlook a lack of any kind of strong storyline. It's not exactly explosive, but it's certainly not a bomb."
Related Elsewhere:
A ready-to-download, Bible-based discussion guide is available for this movie at ChristianBibleStudies.com. Use this guide after the movie to help you and your small group better connect your faith to pop culture.
Copyright © 2004 Christianity Today. Click for reprint information.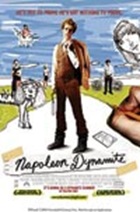 Browse All Movie Reviews By: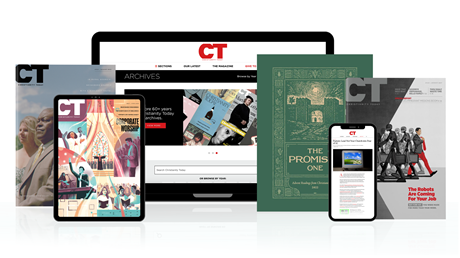 Subscribe to Christianity Today and get access to this article plus 65+ years of archives.
Home delivery of CT magazine
Complete access to articles on ChristianityToday.com
Over 120 years of magazine archives plus full access to all of CT's online archives
Subscribe Now
Napoleon Dynamite
Napoleon Dynamite