Just after the United States invaded Afghanistan, a series of amusing cartoon panels made the rounds of the internet. Under the heading "What if the Taliban Wins?" were drawings depicting the Statue of Liberty, her face covered with a veil; a giant mosque rising where the World Trade Center stood; and an out-of-work President Bush selling fruit on the street.
While the panels were funny—after all, we knew we would easily rout the Taliban—the question of which culture will ultimately prevail is a deadly serious one. Six years ago, Harvard professor Samuel Huntington, in The Clash of Civilizations, argued that the world is divided not so much by geographic boundaries as by religious differences. Huntington predicted that in the 21st century, the great clash would occur between Islam and the West—and that Islam will ultimately prevail.
Of course he's wrong about Islam winning. Or is he?
For the answer, we must examine two things: the motivations of those waging a terror war on the West and the lessons of history. As Charles Krauthammer writes in Townhall the obvious reasons Islam is fighting "the great jihad" against the United States are religion, ideology, political power, and territory. But "this is also about—deeply about—sex." The jihadists claim that wherever freedom travels—"especially in America and Europe—it brings sexual license and corruption, decadence and depravity."
CT managing editor Mark Galli made the same point in these pages soon after 9/11. Islamic militants are angry at the West, he said, for exporting "hedonism and materialism into their very homes through television, enticing Muslims to become religiously lazy and morally corrupt." Galli quoted a 1985 communiqué from the terrorist group Hezbollah: "Our way is one of radical combat against depravity, and America is the original root of depravity."
Anger at Western decadence fueled the writings of the radical Sayyid Qutb, which so influenced Osama bin Laden. These people see themselves not as terrorists, but as holy warriors fighting a holy war against decadence.
We must be careful not to blame innocent Americans for murderous attacks against them. At the same time, let's acknowledge that America's increasing decadence is giving aid and comfort to the enemy. When we tolerate trash on television, permit pornography to invade our homes via the internet, and allow babies to be killed at the point of birth, we are inflaming radical Islam.
Radical Islamists were surely watching in July when the Senate voted on procedural grounds to do away with the Federal Marriage Amendment. This is like handing moral weapons of mass destruction to those who use America's decadence to recruit more snipers and hijackers and suicide bombers.
One vital goal of the war in Iraq, and the war against terrorism, is to bring democracy to the heart of the Islamic world. Our hope is to make freedom so attractive that other Muslim countries will follow suit. But when radical Islamists see American women abusing Muslim men, as they did in the Abu Ghraib prison, and when they see news coverage of same-sex couples being "married" in U.S. towns, we make our kind of freedom abhorrent—the kind they see as a blot on Allah's creation.
Preserving traditional marriage in order to protect children is a crucially important goal by itself. But it's also about protecting the United States from those who would use our depravity to destroy us. We must not give up simply because the Senate voted down the FMA. It took William Wilberforce and his allies 20 years to shut down Britain's slave trade; it will take years to win the battle for traditional marriage.
The lessons of history are a warning that the church must not fail to engage these moral battles. Comparing U.S. decadence to the fall of Rome is an old chestnut that culture warriors have used for years. In the past, I dismissed such comparisons because of America's enormous economic and military strength. But the tactics of terrorists changed that equation.
Recall that Rome's destruction came about not only through its decadence, but because the Rhine River froze, allowing barbarians to cross into Roman territory. America is vulnerable not only through its decadence, but because the vast oceans that once protected her from enemies protect her no more.
This makes reversing U.S. decadence an urgent priority, not just for Christians, but for all Americans. If our cultural rot continues unabated, a Talibanized West may no longer be a joke, but grim reality.
Related Elsewhere:
Recent Charles Colson columns for Christianity Today include:
Reclaiming Occupied Territory | The Great Commission and the cultural commission are not in competition. (July 21, 2004)
Societal Suicide | Legalizing gay marriage will lead to more family breakdown and crime. (May 24, 2004)
Evangelical Drift | Outsiders say we're the status quo. Our call is to prove them wrong. (March 29, 2004)
Confronting Moral Horror | It's a witness even the most jaded find impressive. (Feb. 04, 2004)
Article continues below
The Postmodern Crackup | From soccer moms to college campuses, signs of the end. (Dec. 09, 2003)
Sowing Confusion | One small ruling for Texas; one giant leap into a cultural abyss. (Oct. 03, 2003)
Being Here | Why we should sink our roots in the places we call home. (July, 28, 2003)
Beyond Condoms | To alleviate AIDS, we must sharpen our moral vision. (June 10, 2003)
Taming Beasts | Raising the moral status of dogs has created a breed of snarling, dangerous humans. (April 3, 2003)
Faith vs. Statistics | Beware of doing ethics by crunching numbers. (Jan. 28, 2003)
Just War in Iraq | Sometimes going to war is the charitable thing to do. (Dec. 10, 2002)
A Clan of One's Own | Hacking through the jungle of identity politics. (Oct. 9, 2002)
Undaunted | Bioethics challenges are huge. But so is God. (July 31, 2002)
The Wages of Secularism | New laws won't prevent another Enron. (June 4, 2002)
More Doctrine, Not Less | We need to proclaim truth to a truth-impaired generation. (April 15, 2001)
Post-Truth Society | The recent trend of lying is no accident. (March 4, 2002)
Drawing the Battle Lines | We need to be informed and discerning about the Islamic worldview. (Jan. 9, 2002)
Wake-up Call | If September 11 was a divine warning, it's God's people who are being warned. (Nov. 5, 2001)
The New Tyranny | Biotechnology threatens to turn humanity into raw material. (Oct. 5, 2001)
Merchants of Cool | We should be angry that the media hawks violence and that parents allow it. (June 6, 2001)
Slouching into Sloth | The XFL is but the latest sign of the coarsening of our culture. (Apr. 17, 2001)
Checks and (out of) Balance | Moral truth is in jeopardy when the courts enter the business of making law. (Feb. 27, 2001)
Have something to add about this? See something we missed? Share your feedback here.
Charles Colson
Charles Colson was the founder of Prison Fellowship Ministries, an outreach to convicts, victims of crime, and justice officers. Colson, who converted to Christianity before he was indicted on Watergate-related charges, became one of evangelicalism's most influential voices. His books included Born Again and How Now Shall We Live? A Christianity Today columnist since 1985, Colson died in 2012.
Previous Charles Colson Columns:
Our digital archives are a work in progress. Let us know if corrections need to be made.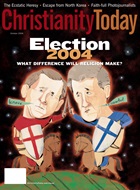 This article is from the October 2004 issue.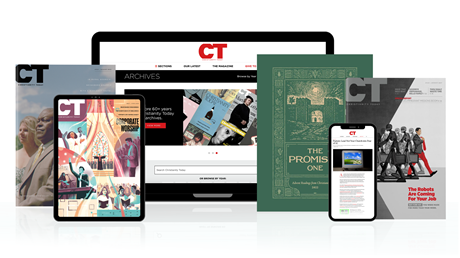 Annual & Monthly subscriptions available.
Print & Digital Issues of CT magazine
Complete access to every article on ChristianityToday.com
Unlimited access to 65+ years of CT's online archives
Member-only special issues
Subscribe
The Moral Home Front
The Moral Home Front