Christianity Today's coverage of this year's election includes profiles of John Kerry and George W. Bush. For the rest of this week, we will highlight other campaigns and issues to be decided this election season.
Scientists and patient groups behind a $3 billion California stem-cell bond initiative are employing deceptive tactics, opponents claim, to cover up the type of experimentation the public's money would fund.
In November, Californians will vote on Proposition 71. The bond measure would amend the state constitution to provide $259 million a year for 10 years for research. It puts a priority on embryonic stem-cell research that the federal government does not currently allow. In 2001, President Bush banned the destruction of additional human embryos for federally funded research. Prop. 71 would establish an institute that would issue research grants.
Prop. 71 backers hope to make California "a world leader in stem-cell research," leading to breakthroughs in many intractable diseases and disabilities. Supporters recently launched the
California Stem Cell Research and Cures Initiative, a coalition of disease and patient advocacy organizations that has already raised $11 million to promote Prop. 71.
Opponents—who include an unlikely crew of bioethics watchdogs, faith-based groups, feminists, and environmentalists—say supporters are misleading voters by not referring to the experimentation as the cloning of human embryos. Prop. 71 research would include somatic cell nuclear transfer (SCNT)—a technical term for the cloning technique that produced Dolly, the sheep. The resulting human clone would be destroyed in order to harvest stem cells that researchers prize for their ability to specialize. (Prop. 71 would, however, prohibit "human reproductive cloning," already banned under California law, where a cloned embryo is implanted into a woman's uterus.)
"It is a huge scam these folks are trying to play," says Wesley J. Smith, a lawyer and bioethics author who serves as a special consultant for the Center for Bioethics and Culture, which opposes human cloning and embryonic stem-cell research. "They are saying it's not about cloning but only allows somatic cell nuclear transfer. But SCNT is the act of cloning. It creates a new human embryo through 'asexual' means." Smith said passage of Prop. 71 would mean the use of more human embryos in research.
Fiona Hutton, Prop. 71 campaign spokeswoman, disputed Smith's comments about cloning. Hutton, speaking about the research method that Prop. 71 allows, told CT, "It is not cloning babies. It is not cloning embryos."
Referring to opponents' arguments as "scare tactics," Hutton said, "What we're talking about is an unfertilized egg that you can coax into multiplying and producing life-saving stem cells. Right now there are excess eggs from fertility trials that will be thrown away anyway. So you can either throw away these days-old cell clusters or help save the life of a child sitting next to you."
Hutton declined to provide information on specific studies that support the use of embryonic stem cells in therapy. Opponents, including a Los Angeles-based molecular biologist who recently launched Scientists Against Prop. 71, say supporters have grossly exaggerated the potential for embryonic stem-cell-derived cures.
Related Elsewhere:
Also posted today is a Christianity Today editorial It's Not About Stem Cells | Why we must clarify the debate over harvesting embryos.
Other Christianity Today articles on stem cells and other life ethics issues includes:
Weblog: Despite Catholic Church Support, Prop. 71 Opponents Still $12 Million Behind in Funding (Sept. 09, 2004)
The Proposition 71 Stem Cell Scam | The biotech lobby is attempting to buy a law in California, Wesley J. Smith says. (Aug. 17, 2004)
Weblog: Britain Starts Cloning | Send in the clones (Aug. 12, 2004)
When Does Personhood Begin? | And what difference does it make? (June 18, 2004)
Cloning Report Breeds Confusion | Does it open the door to 'therapeutic cloning'? (May 13, 2004)
A Law That Shouldn't Be Cloned | New Jersey legalizes human cloning for research (Feb. 10, 2004)
Federal Funds Approved to Study Fetal Stem Cells | Life ethics advocates troubled by the discrepancy that allows days-old embryos more protection than more mature fetuses. (July 10, 2002)
Two Cheers | President Bush's stem-cell decision is better than the fatal cure many sought. (Aug. 10, 2001)
Britain Debates Cloning of Human Embryos | Scientists want steady stream of stem cells for "therapeutic" purposes. (Nov. 22, 2000)
Beyond the Impasse to What? | Stem-cell research may not need human embryos after all. But why are we researching in the first place? (Aug. 18, 2000)
Have something to add about this? See something we missed? Share your feedback here.
Our digital archives are a work in progress. Let us know if corrections need to be made.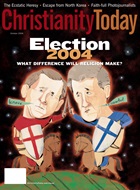 This article is from the October 2004 issue.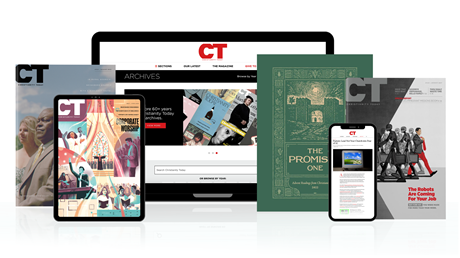 Subscribe to Christianity Today and get access to this article plus 65+ years of archives.
Home delivery of CT magazine
Complete access to articles on ChristianityToday.com
Over 120 years of magazine archives plus full access to all of CT's online archives
Subscribe Now
California's Prop. 71 Stem-Cell 'Scam'
California's Prop. 71 Stem-Cell 'Scam'