China's security officers, in a brazen display of intolerance toward human rights on Wednesday, forcefully disrupted a Beijing press conference that was intended to spotlight the plight of North Korean refugees inside China.
Organizers of the Jan. 12 press conference had hoped to bring fresh attention to the unsolved disappearance of Kim Dong-shik, a South Korean pastor abducted by North Koreans five years ago.
Meeting at a Beijing hotel, South Korean Rep. Kim Moon-soo and three other parliamentarians of the opposition party organized the press conference. They hoped to draw new attention to the fate of about 300,000 North Korean refugees inside China. They are urging China to "show compassion" to those North Koreans who manage to escape the repressive communist regime of Kim Jong-Il.
Witnesses say shortly before the press conference was to begin at the Beijing Great Wall Sheraton Hotel conference room, several plain-clothed Chinese state security agents, who refused to identify themselves, ordered the meeting to be stopped.
When Rep. Kim began to speak, the agents shut off his microphone and the cut the room's electricity. Chaos ensued as some 40 journalists were shoved out of the room in the dark, and a legislative aide to Rep. Kim was dragged out of the room, according to one eyewitness.
"This incident is a very grievous event that seriously threatens the diplomatic relations between the Republic of Korea and the People's Republic of China," Rep. Kim and other parliamentary members said in a statement.
"We urge the [Chinese] government to punish the person or persons in charge of the dozen or so unidentified ruffians who shoved the reporters out of the conference room and threatened us on several occasions with the use of force."
The press conference was going to highlight a four-day fact-finding mission into the disappearance of Rev. Kim Dong-shik, who North Korean agents abducted five years ago for trying to help North Korean refugees in Yanji, a town in China's Jilin Province near the North Korean border.
A visit was also planned with Choi Young-hoon, a Christian Korean businessman currently serving a five-year sentence in Weifang City Prison for his efforts to help North Korean defectors hiding in China.
The South Korean legislators issued a public statement calling for Choi's release: "We request the Chinese government to immediately release Korean Choi Young-hoon, who has been serving two years in prison after being sentenced a five-year prison term for aiding North Korean refugees."
Several years ago, Choi's wife received from her husband a letter that had been smuggled out of prison. Choi, described by supporters as "an ardent Christian," had written the letter by carefully cutting out letters from his Bible and pasting them into the letter.
"I am suffering in prison not for doing evil but for doing good," read the letter, which was sent to his wife, Bong-soon Kim, and two daughters.
"So I hope that you will not be ashamed of your father for being in prison. I am spending time every day thinking of you and your mother and serving God."
China has been actively cooperating with North Korea in its crackdown on defectors and those who try to help them. China routinely rounds up and repatriates defectors in violation of international law that requires legitimate refugees to be given asylum.
U.S. and South-Korea based human rights groups say they want to see the United States put greater pressure on China to provide political asylum for North Korean defectors.
Defectors who are repatriated face severe punishment, torture, and sometimes death upon their return. On December 22, human rights groups joined the International Campaign to Block the Repatriation of North Korean Refugees in protests at Chinese embassies and consulate offices worldwide. They asked China to recognize these defectors as political refugees who are entitled to sanctuary under international law and the U.N. Refugee Convention.
Reporters Without Borders, a press freedom group, has filed a complaint regarding the Wednesday incident. "China should allow Chinese and foreign journalists to report freely on North Korea," the Paris-based group said in a letter to Chinese foreign minister Zhaoxing Li.
Sheryl Henderson Bluntis senior news writer for Christianity Today and based in Washington, D.C.
Related Elsewhere:
The State Department's report on religious freedom in North Korea says, "the regime appears to have cracked down on unauthorized religious groups in recent years."
The North Korean Human Rights Act of 2004 is available from the Library of Congress.
Earlier Christianity Today coverage of North Korea includes:
Deconstructing Gulags | U.S. evangelicals win key legislation for freedom. (Nov. 09, 2004)
A Heartless Homeland | Why more North Koreans than ever are fleeing their country. (Oct. 06, 2004)
The Nightmare of North Korea | One man's story of brutality, courage, love, and freedom. (Oct. 05, 2004)
North Korea Human Rights Act a 'Miracle' | Michael Horowitz credits evangelicals with big role in passage. (Oct. 04, 2004)
Criminal Faith | Going nuclear, North Korea allows worship only of its dictator. (July 08, 2003)
Helping Refugees Run Roadblocks | No nation wants North Koreans, but Christians rally to their cause. (March 17, 2003)
Fleeing North Korea | Christians among the thousands making their way to China. (Oct. 7, 2002)
Persecution Summit Takes Aim at Sudan, North Korea | Christian leaders issue second "Statement of Conscience." (May 2, 2002)
South Koreans Help Neighbors (Aug. 9, 1999)
Famine Toll Exceeds 1 Million (Oct. 5, 1998)
Editorial: North Korea's Hidden Famine | The poor and the weak should not have to starve due to the policies of their government. (May 19, 1997)
Evangelicals Plead for Korean Aid (April 7, 1997)
Bearing the Cross focused on North Korea in 2001.
Earlier Christianity Today coverage of human rights abuses in China includes:
House-Church Leader Arrested | Zhang Rongliang has a high profile in China and internationally. (Jan. 05, 2005)
The Chinese Church's Delicate Dance | A conversation with the head of the Protestant Three-Self Patriotic Movement. (Nov. 11, 2004)
Loose Lips | Christians in Hong Kong worry over remarks by broadcaster. (Aug. 13, 2004)
A Captivating Vision | Why Chinese house churches may just end up fulfilling the Great Commission. (April 14, 2004)
China Arrests Dozens of Prominent Christians | At least 50 detained in fresh crackdown on house churches, reportedly promoted by new video and book releases. (Feb. 18, 2004)
The Red Glowing Cross | A veteran journalist makes vivid the hidden and expanding world of Chinese Christianity (Feb. 18, 2004)
House-Church Christian Dies in Custody | Family saw prisoner injured and bound with heavy chains (Jan, 15, 2004)
Crushing House Churches | Chinese intelligence and security forces attack anew. What you can do to help persecuted Christians in China (Jan. 13, 2004)
'Dangerous' Chinese Bill Is Thwarted | Article 23 would have automatically banned Hong Kong groups now outlawed on the mainland. (Aug. 21, 2003)
Under Suspicion | Hong Kong's Christians fear antisedition measures will curb religious liberty. (Feb. 21, 2003)
Working with the Communists | Some evangelicals minister happily within China's state-supervised Three Self church. (Oct. 18, 2002)
Bush: 'I'm One of Them' | Religious persecution allegations set the stage for George Bush's visit to China. (Feb. 27, 2002)
'New' China: Same Old Tricks | Top communists, despite their denials, endorse arrest and torture of Chinese Christians by the thousands. (Feb. 15, 2002)\
Gong's 'Accusers' Claim Torture Induced False Confessions | Letters from imprisoned Christian women in China describe assaults with electric clubs (Feb. 01, 2002)
Church Leader Gets Reprieve | China's case against Gong Shengliang now on hold. (Jan. 24, 2002)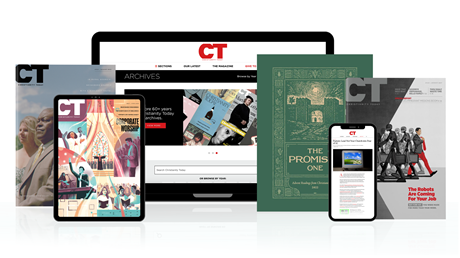 Subscribe to Christianity Today and get access to this article plus 65+ years of archives.
Home delivery of CT magazine
Complete access to articles on ChristianityToday.com
Over 120 years of magazine archives plus full access to all of CT's online archives
Subscribe Now
North Korean Refugee Advocates Roughed Up
North Korean Refugee Advocates Roughed Up