U.S. Marine Cpl. Joel D. Klimkewicz, a Seventh-day Adventist, was sentenced December 14 to seven months in a military prison after being denied status as a conscientious objector.
Klimkewicz, 24, was convicted of refusing to obey an order from a commanding officer.
He had refused to pick up a weapon, claiming that his newfound religious beliefs prevented him from doing so.
The Seventh-day Adventist Church, which has an estimated 13.4 million members worldwide, once required its members to refuse combat duty. Today it continues to support members who are conscientious objectors, but doesn't require that stance of its members. Klimkewicz had asked to be a noncombatant, doing such high-risk jobs as sweeping mines, but was denied.
Klimkewicz, a Michigan native, sits in the brig in Camp Lejeune, North Carolina, where he was a combat engineer for the Second Marine Division. He received a bad conduct discharge, a penalty given typically to thieves, brawlers, and the disobedient.
"It's a sign that he did something wrong and was punished for it," said Capt. Jeff Pool, a spokesman for the Second Marine Division.
Klimkewicz's advisers are protesting what they say is a severe sentence. "I was in the Army for 24 years as a chaplain, including in Vietnam, and never have I seen such a long sentence meted out," said Richard Stenbakken, a Seventh-day Adventist spiritual adviser to Klimkewicz. Klimkewicz, in addition to being kicked out of the Marines, will receive no health benefits, pension, or pay. He is married and has a 3-year-old daughter.
Some religious liberty advocates, however, are optimistic his sentence will be reduced or overturned. "This is different from a guy who says, 'I'm afraid to go,'" said John Whitehead, president of the Rutherford Institute. "I don't think the government can ever override religious conscience."
Capt. Pool disagreed. "For us it's not really a matter of his conscience. It's a matter of his actions. The punishment fits the crime."
Klimkewicz's lawyer, Mitchell Tyner, met on January 6 with two members of Congress and an aide to the Marine Corps. Tyner then sent a formal petition to Maj. Gen. Richard A. Huck, the commanding general of the Second Marine Division. Tyner asked that the conviction be overturned, but, if not, that Klimkewicz be released from prison.
Tyner said Klimkewicz was baptized as a Protestant in Dubai of the United Arab Emirates in July 2002 and became an Adventist in October 2002.
According to Pool, Klimkewicz said that his pacifist convictions crystallized sometime in January 2003 before his unit was notified it would be sent over to Iraq, and that he applied for conscientious objector status. On May 12 Klimkewicz refused to pick up a weapon.
Chuck Fager, director of the Quaker House peace ministry in Fayetteville, North Carolina, visited Klimkewicz on January 9 in the brig cafeteria. "He seemed in very good spirits. He said that this is the will of God."
Related Elsewhere:
News elsewhere on Joel Klimkewicz includes:
Marine couldn't deny his conscience | Klimkewicz's request for conscientious objector status was denied 13 months after he submitted it, Capt Pool said. "The reason given was that (Klimkewicz's) faith and convictions were already established before he re-enlisted in the Marine Corps." (The Daily News, N.C., Jan. 16,2005)
Adventist Imprisoned for Refusing to Bear Arms | Joel Klimkewicz is a U.S. Marine, a Seventh-day Adventist—and a convicted felon, currently serving his sentence in the brig at Camp LeJeune, North Carolina. His crime? Following the requirements of his conscience. (Spectrum Magazine, Jan. 12, 2005)
Marine jailed for refusing to pick up gun | A soldier who re-enlisted with the Marines after becoming a Seventh-Day Adventist has been jailed for refusing to pick up a gun. (Associated Press, Jan. 5, 2005)
Newly found faith lands Marine in jail | U.S. Marine Cpl. Joel D. Klimkewicz says he's willing to clear land mines and risk his life for his country. He's just not willing to pick up a gun. (The Saginaw News, Michigan, Dec. 31, 2004)
United States: Adventist, Non-Combatant, Sentenced to Jail by U.S. Marine Corps Court-Martial | A United States Marine Corps court-martial has sentenced a Marine, who came to a belief in non-combatancy shortly after signing a two-year re-enlistment, to seven months in jail, rather than separating him from the military. Observers say this is a highly unusual outcome for such a case, which is usually handled less drastically. (Adventist News Network, Dec. 16, 2004)
Have something to add about this? See something we missed? Share your feedback here.
Our digital archives are a work in progress. Let us know if corrections need to be made.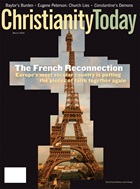 This article is from the March 2005 issue.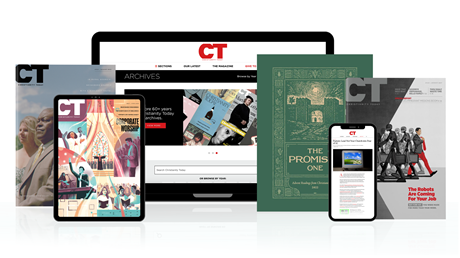 Subscribe to Christianity Today and get access to this article plus 65+ years of archives.
Home delivery of CT magazine
Complete access to articles on ChristianityToday.com
Over 120 years of magazine archives plus full access to all of CT's online archives
Subscribe Now
Adventist Marine Under Fire
Adventist Marine Under Fire