true
Sounds like … shoe-gazing folk/rock in the vein of Elliott Smith, Ron Sexsmith, Over the Rhine, and Derek Webb, plus elements of indie-rock, electronica, and chamber pop.
At a glance … this one-of-a-kind compilation beautifully sets to music Eugene Peterson's popular paraphrase of Scriptures.
The Message paraphrase of the Bible, written by Eugene H. Peterson, has sold more than 20 million copies in various forms since its 1993 debut. The Message is so popular, in fact, that Bono namedrops Peterson in interviews and quoted from the text freely during U2's Elevation Tour.
That rock-star-and-common-folk accessibility inspired Phillip LaRue (formerly of brother-sister duo LaRue) and producer Monroe Jones to serve as project visionaries for The Message: Psalms, a concept album where a number of artists recorded a song based on their favorite Message translation of one of the Psalms. But the producers didn't just call on any artist. Most "special event" albums rely on big players and music hotshots, but The Message draws from a surprising mix of indie artists, newcomers, underground veterans, and big names of varying styles.
The Message: Psalms resembles the classic multi-artist compilations Streams or My Utmost for His Highest, if not in sound, at least in intent and theme. Those two projects took text from those beloved books and transformed them into lovely, prayerful meditations set to music. And with The Message, every song was similarly tailor-made for the album, sticking closely to Peterson's translation, almost verbatim.
"Eyes for You," for example, is a haunting, dreamlike supplication where Sarah McIntosh (of now defunct Chasing Furies) teams up with indie artist Phil Wickham for an almost word-for-word translation of Psalm 141. It's a plaintive, fervent plea to God, accentuated by McIntosh's angelic whispers and Wickham's impressive, vibrato-rich voice. This song sets the tone and theme for the record, which maintains a somber and dark mood for most of it, with very few uptempo numbers or "happy" melodies.
Only the Word of God can bring artists like Over the Rhine and Building 429 under the same roof, and the results are not at all forced. The husband-and-wife duo offer another beautiful piano-based composition that would sound perfectly at home on their Drunkard's Prayer album, drawing a stark image of human failure and divine intervention inspired by Psalms 124 and 129. Elsewhere, Chris Rice, Shawn McDonald, and the trio of Jeremy Casella, Sandra McCracken, and Andrew Osenga (Caedmon's Call) don't mess much with their customary brand of folk-pop, a style well suited for communicating the prayerful feel of the Psalms. Other notable participants include underground fave Kendall Payne, up-and-comer John David Webster, and both Phillip and Natalie LaRue (who never sounded this good on their previous albums).
Rachael Lampa builds on the alternative pop of her self-titled album with "Flag," an atypically structured semi-rocker that almost doesn't have a hook, but still has a strong arrangement to accompany words from Psalms 57 and 108. Building 429 turns in a passionate, melodically vivid ballad that easily surpasses the post-grunge excesses of the band's own material. And Ginny Owens temporarily plays frontwoman to the electronica trio Venus Hum in the tune "To You God on High (Psalm 92)," sounding much like Icelandic innovator Bj?
But strong as these collaborations and contributions are, none matches the weight of the text itself. The artists didn't make up any of the words, but simply adapted Peterson's vibrant prose to the music. Ultimately, it's the barebones humanity of the author that makes the album. The songs are given added intimacy and immediacy with lines like the following: "If God hadn't been for us/When everyone went against us/We would have been swallowed alive" ("Flown Free"), "Be kind to me O God/I'm in deep trouble again/I've cried my eyes out" ("Run to You"), or "Do my words even matter at all?/Do You still hear me when I call?/Are You as deaf as I'm blind?" ("Last Chance").
At the same time, some might find the indie-styled production and the solemn atmosphere somewhat inaccessible. The blame rests not on the execution, but the lyrical context of these Psalms. Perhaps the album would've benefited from portraying not only the darker aspects of human existence, but also the moments of joy, gladness, and praise that are prevalent throughout the Psalms. That's the only qualm with a compilation that otherwise shows that you need not have a blockbuster film or a huge recording budget in order to make a killer concept record. Sometimes God's Word is more than enough.
Browse All Music Reviews By: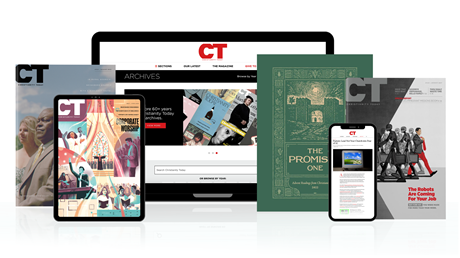 Annual & Monthly subscriptions available.
Print & Digital Issues of CT magazine
Complete access to every article on ChristianityToday.com
Unlimited access to 65+ years of CT's online archives
Member-only special issues
Subscribe
The Message: Psalms
The Message: Psalms