true
Sounds like … several of the biggest names in Christian pop and rock, offering songs inspired by the beloved fantasy novel from C.S. Lewis, soon to become a major motion picture.
At a glance … the artists do not disappoint musically, offering songs in step with their styles and best-known material, but half of the contributors fail to specifically evoke the book/film that supposedly inspired them.
Remember when movies typically generated soundtrack albums, either the original score or a collection of songs featured in the film? Nowadays "inspired by" albums seem more the norm, offering songs thematically related to the film, though not necessarily in it. And since this particular film doesn't even release until December 2005, it generally means the contributing artists wrote and recorded their material several months in advance without having seen the final production. But the Christian music industry is even keener on the concept of albums inspired by best-selling novels, and this particular book is imaginative and beloved enough to inspire any songwriter.
So while Music Inspired by The Lion, The Witch and the Wardrobe certainly looks like a movie soundtrack, it's really a collection of songs inspired by the C.S. Lewis classic, designed to market the much-anticipated film adaptation to Christian audiences. Emphasis on the word "market," but that shouldn't automatically deem an album as "bad." Look at this project as a good excuse to release an album of all-new material from 11 of Christian music's most popular recording artists—and truth be told, there isn't a bad track on it.
However, the project could fall short depending on your definition of "inspired by." If this album was a class assignment in which students were asked to write songs (or poems) inspired by a given book, all 11 would certainly pass. But half the class would lose points for failing to accurately follow the assignment, assuming the expectation is for the work to clearly reflect the themes or imagery of the novel. Though not inappropriate, you wouldn't try to represent Romeo & Juliet with "My Heart Will Go On" or "I Will Always Love You," right?
Similarly, six of the tracks handle the source material a little too broadly. Jars of Clay's "Waiting for the World to Fall" is a fine return to the melodic pop/rock of their Eleventh Hour album, though it's really a song about wonder, discovery, and the pursuit of meaning—it could be about Narnia, but it could also be about a lot of things. The same is true with "Remembering You," another soaring, string-drenched pop anthem from Steven Curtis Chapman that stacks up to similar hits from his most recent albums. Sure, one could generally interpret it as the Pevensie children reminiscing over Narnia, but the song more naturally characterizes itself as a "God manifested in nature" piece.
Two songs were written with the character Edmund's misguided perspective in mind, but neither is specific enough. It's still nice to hear Jeremy Camp write beyond his usual vertical focus in "Open Up Your Eyes," and while Chris Tomlin's "You're the One" is essentially another catchy worship song from him, he delivers it with a more rocking sound than he's known for. Bright and catchy "Hero" is Bethany Dillon's second Narnia song after "New" on her Imagination album, and though applicable to the Christ-like Aslan, the lyrics break character with specific reference to God. And "Stronger" is a wonderful Brit-pop worship ballad from Delirious, on par with their other songs, but what exactly does it have to do with the story?
Hard as it might be to write about Narnia, five artists remain true to the spirit of the book. Rebecca St. James offers a love song to Jesus in the guise of "Lion," yet the dark Euro pop richly plays into the mystery and duality of Aslan/Jesus with more poetic lyricism than expected from this artist: "Feels like I'm living in the lion's mouth, but the lion is an angel." Nichole Nordeman's "I Will Believe" presents alternative pop stronger than most of her Brave album, using the differing qualities of the Pevensie children as examples of hope amidst adversity. "New World" is the rapcore rocker you'd expect from tobyMac, deftly intertwining faith and fantasy with clear references to the book. Kutless does similar with their well-produced rock anthem, "More Than It Seems." But the prize for most inventive offering goes to David Crowder Band's "Turkish Delight," a quirky disco number about sinful temptation that cleverly captures a key scene in the book—exactly what this collection needs more of.
The album is nevertheless enjoyable throughout, and despite the variety of producers, Chris Lord-Alge keeps it consistent with top-notch sound mixing. Fans of any of the contributing artists will not be disappointed by the music—it's all in step with successful past material in every case. But there was a missed opportunity here to explore new musical territory, expressing key themes pertaining to Lewis's book with specific references to the story, or at least simply evoking the fanciful imagery. Some of the artists deliver, but too bad more didn't step up to the challenge of writing outside their comfort zone. In short, the album is safe … but it's also good.
Browse All Music Reviews By: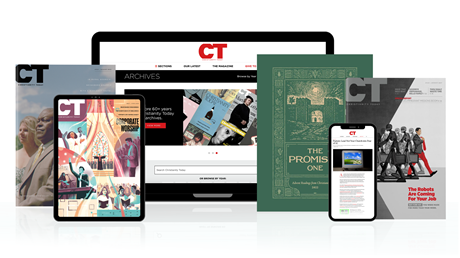 Annual & Monthly subscriptions available.
Print & Digital Issues of CT magazine
Complete access to every article on ChristianityToday.com
Unlimited access to 65+ years of CT's online archives
Member-only special issues
Subscribe
Music Inspired by The Lion, The Witch and The Wardrobe
Music Inspired by The Lion, The Witch and The Wardrobe