Religious opponents of abortion say a Tuesday U.S. Supreme Court decision removes uncertainty about the legality of protesting in front of clinics but others say it could put women in harm's way.
The unanimous ruling ends a long battle in which the National Organization for Women tried to stop anti-abortion protests by citing racketeering and extortion laws designed to fight organized crime.
"Decisions of this court have assumed that Congress did not intend the Hobbs Act to have so broad a reach," wrote Justice Stephen Breyer, referring to an extortion law.
He added that Congress enacted the Freedom of Access to Clinic Entrances Act in 1994, "suggesting it did not believe that the Hobbs Act already addressed that activity."
The American Center for Law and Justice, which represented Operation Rescue, a defendant in the case, hailed the decision.
"This is a major victory for the pro-life community and removes a cloud that has been hanging over pro-life demonstrations for years," said Jay Sekulow, chief counsel of the Washington-based legal group.
He and others were pleased that the "nearly two-decade-old litigation marathon" concluded with a decision that those demonstrating against abortion are not affected by laws typically used to address drug dealing.
But the Rev. Carlton Veazey, president of the Washington-based Religious Coalition for Reproductive Choice, was disappointed by the court's action and worried about its broader influence. "This case is not only about the safety of women's clinics," he said. "It is also about the safety of churches that have pro-choice positions and pro-choice clergy and the safety of homes of clergy who are pro-choice. … The court's decision in this case leaves these individuals without protection."
The case marks the second action within a week by the nation's high court that abortion opponents view as favoring their side of the debate. Justices decided Feb. 21 to consider the constitutionality of a federal law banning a controversial type of late-term abortion. Anti-abortion actvitists say they are encouraged by the presence of two new conservative justices, though one of them—Justice Samuel Alito—didn't participate in Tuesday's 8-0 decision.
"The U.S. Supreme Court got it right today in ruling that federal racketeering laws can't be used against nonviolent, pro-life protesters," said Andrea Lafferty, executive director of the Washington-based Traditional Values Coalition.
Joseph M. Scheidler, national director of the Chicago-based Pro-Life Action League and the petitioner in the case, said: "Naturally, I am gratified to be vindicated once again by the United States Supreme Court."
In 2003, the court ruled 8-1 that a federal racketeering law was wrongly used to halt abortion protesters. Scheidler's case was first filed in 1986.
Wendy Wright, president of Concerned Women for America, said protesters have been instrumental in efforts to oppose abortion.
"Thousands of women changed their minds and chose life rather than abortion because of what they learned from pro-life protesters at abortion clinics," said Wright, whose public policy women's organization is based in Washington. "For these women … this ruling has greater meaning: The court will not unjustly punish those who helped save their children's lives."
Mathew D. Staver, president of the Florida-based Liberty Counsel, said the decision has consequences beyond the abortion issue.
He said the ruling "is a victory not just for pro-lifers, but for all Americans who value their right to protest and speak out on issues important to them."
But the National Organization for Women, the respondent in two cases that were consolidated for the court's consideration, criticized the outcome of the legal fight, saying it will undermine abortion rights legalized by the 1973 Roe vs. Wade decision.
"If women are too terrified to walk into clinics and health-care providers are too terrified to keep their doors open, then we will have lost the fight for reproductive freedom even with Roe vs. Wade still on the books," NOW President Kim Gandy said in a statement.
Related Elsewhere:
The Scheidler v. National Organization for Women, Inc. decision is available from the Supreme Court's website.
SCOTUSBlog and Legal Times have analysis of the decision. News coverage, from The New York Times, USA Today, Los Angeles Times, and other media outlets, will be rounded up in the Christianity Today Weblog.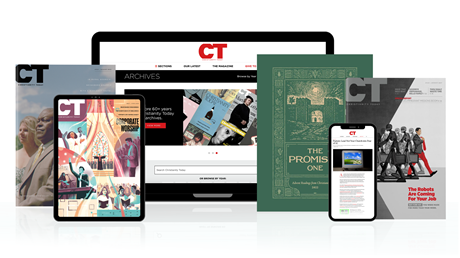 Subscribe to Christianity Today and get access to this article plus 65+ years of archives.
Home delivery of CT magazine
Complete access to articles on ChristianityToday.com
Over 120 years of magazine archives plus full access to all of CT's online archives
Subscribe Now
Abortion Foes Say Ruling Removes 'Cloud' From Protests
Abortion Foes Say Ruling Removes 'Cloud' From Protests