true
"I'm reaching for heaven/Down on my knees/Down on my knees/I'm finally getting nearer to heaven/Nearer to thee" —from "I'm Not the Only One Asking"
Mindy Smith's sophomore release, Long Island Shores, contains some elements of her 2004 debut, One Moment More. The soothing soprano vocals are there and the blending of Appalachian, folk, country, blues, jazz, gospel and pop music is evident.
Yet, her second disc is less hard-hitting spiritually than her first. Gone is the assured faith the minister's daughter and former seminary student displayed when wrapped in the arms of her Savior in "Come to Jesus." In its place is a more tentative display of faith.
In "Out of Control," Smith speaks of her struggles with spiritual issues and the need to give up power. She writes, "What it means, what it really means/It's time I let everything go/That's killing me and turning me/Spinning me so out of control/I don't want to let go."
Finding a Christian who doesn't have the same struggles would be difficult. At times, though, Smith's battles seem to reach deeper. In an interview with Teen Ink, she said, "I'm not your typical churchgoing girl like I should be. I feel bad about that, but I can't do it. I'm committed to my spirituality and my faith, but sometimes I stink at it."
The introspective songwriter's words show that she not only recognizes her own flaws, but also works on improving herself. In "Peace of Mind," she sings, "I need peace of mind and a gentle hand/As I try to change the way I am/And hope God forgives me when I can't/I need peace of mind and a gentle hand."
Smith also seems to wrestle with some orthodox beliefs taught in Christianity. In the song notes for her tune, "Little Devil," she states that she believes the Devil "can be whatever demon you're fighting at the time—and he's the most beautiful creature God ever made." (Indeed, Scripture says Satan sometimes appears as an angel of light.) In this song, the Devil takes the form of a blue-eyed man, a theme reminiscent of former country-gospel singer Terri Gibbs' 1981 crossover hit song, "Somebody's Knockin.'"
Smith's lyrics and interviews reveal a woman whose deep thinking leaves her with many questions. Her best songs come from her searching, though. It's easy to identify with her when she's asking God to whisper the answers to life's puzzles into her ear on "I'm Not the Only One Asking." When she's praying for forgiveness, asking for a miracle and confessing her brokenness in "Peace of Mind," most of us would sing along and pray the same thing. Her hope that God will hold onto her while she whirls through life in "Out of Control" would ring true with many.
Smith openly shares her yearnings for human and divine love for all to hear, sometimes obscuring the lines between God's love and human love, as in her first CD. In "Out Loud," when she says, "love is trying to save us," it's hard to tell if she's singing about another person's love or about God's love. It's the same in "Edge of Love," when she says, "Maybe I'm your leap of faith/I know it's right/'cause you're my amazing grace."
People can relate to Smith because of her frankness. Mindy Smith doesn't try to be anyone but Mindy Smith—and that's the most disarming thing about her music. Smith doesn't hide her spiritual, moral or personal inadequacies from God or her listeners. She calls out to God to make sense of her life and doesn't care if that's the popular thing for a singer to do.
Although this isn't a Christian album, and "Little Devil" contains a mild swear word, the spiritual component of Smith's life and music is undeniable. Sometimes confused, sometimes unsure, sometimes dissatisfied, yet never hopeless and always candid, Smith's second release indicates that she still leans on God to help her get through the maze of life on earth.
Unless specified clearly, we are not implying whether this artist is or is not a Christian. The views expressed are simply the author's. For a more complete description of our Glimpses of God articles, click here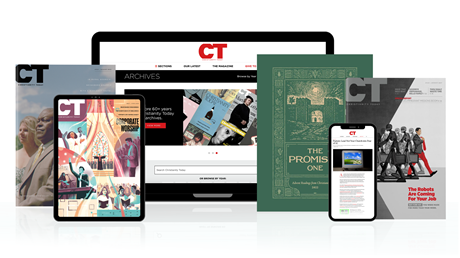 Annual & Monthly subscriptions available.
Print & Digital Issues of CT magazine
Complete access to every article on ChristianityToday.com
Unlimited access to 65+ years of CT's online archives
Member-only special issues
Subscribe
Long Island Shores
Long Island Shores