Reviews

|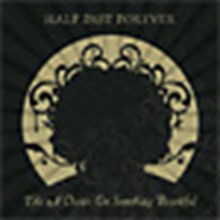 Sounds like … pop/rock in the vein of U2, Switchfoot, Daily Planet, dc talk, and at times, The Strokes.
At a glance … while the formula isn't exactly new or complex, many of the catchy songs stand out, as do the vocals of American Idol finalist Chris Sligh.
If you've been watching American Idol this season—c'mon, you know you have—then you're already somewhat familiar with Half Past Forever.
Still not ringing a bell? Well, the mastermind behind the band is none other than Chris Sligh (though he's currently not a member due to the rigors of Idol). You know, the guy who's a dead ringer for Jack Osbourne, with a quick sense of humor and a devoted fan club known as the Fro Patrol?
Before earning reserved praise from testy ol' Simon Cowell and singing covers of Mute Math and dc Talk in recent weeks, the South Carolina-based worship leader and his cohorts—including guitarist Adam Fisher and bassist Cole Edmonson—recorded a stellar debut, Take a Chance on Something Beautiful. Citing the likes of Switchfoot, Mute Math, Bebo Norman, Downhere, The Afters, NeedToBreathe, and a slew of mainstream artists as influences, the band's debut shines with plenty of frenetic energy, catchy songs, and Sligh's diverse vocals, which handle rock as well as worship.
While the project is a little long by today's standards, there's actually not a throwaway in the bunch—from the decidedly optimistic strains of "Waiting" to the clever commentary on modern society in "Hero." Keeping things varied, "In a Moment" slows things down and wouldn't be out of place on Christian radio with its straightforward message of making the most of our lives.
The biggest surprise lies in the varied production, which is especially ...
1