Suzanne Brownlow shivers on the Oregon highway overpass as a cutting wind whips her sign: "Honk to End the War." Her weekly demonstration is the latest turn in a fractious journey that has taken the evangelical Christian mother from protesting abortion clinics to protesting the war in Iraq.
"I feel like at least we are doing something," Suzanne Brownlow says, waving with her husband, Dave, and two youngest children just outside Portland.
No polling data conclusively demonstrate that opinion has shifted among conservative evangelicals. But some prominent national evangelical leaders say that debate about — and, in some cases, outright opposition to — the war is breaking out among Christian conservatives.
For those evangelicals, they say, frustration with Republicans' failure to overturn abortion rights has fueled their skepticism. Others decry the war's human toll and financial cost, and they're concerned about any use of torture.
"This war has challenged their confidence in the party," says Tony Campolo, an evangelical Baptist minister who lectures across the country on social issues.
"Add to that that they feel the Republicans have betrayed them on the abortion issue," says the author and frequent talk-show guest, "and you are beginning to see signs of a rebellion."
The National Association of Evangelicals, which says it represents 45,000 evangelical churches, recently endorsed an anti-torture statement saying the United States has crossed "boundaries of what is legally and morally permissible" in its treatment of detainees and war prisoners in the fight against terror.
The Brownlows voted for Bush in 2000 because of his more conservative views. But a month before the 2003 invasion, the Damascus, Ore., couple began campaigning against his Iraq policies. Dave Brownlow ran for Congress three times, twice on an anti-war ticket for the Constitution Party. Since November, the couple have lobbied lawmakers to bring the troops home.
Last month, they founded Believers Against the War to influence other evangelical Christians.
On a recent Saturday, a motorcyclist, sleek in black leather, spotted the Brownlows' banners, raised his gloved fist and flipped an obscene gesture. The Brownlows smiled, because many others were honking their support. Then a woman driver slowed and screamed, "Get over it."
Suzanne Brownlow's serenity finally broke.
"How can I get over it?" she said. "My son is in Iraq."
To be sure, many mainline Christian churches and several dozen prominent evangelicals opposed the war from the beginning. Others were ambivalent.
But since 2003, polls have shown that a higher rate of conservative Christians than other Americans favored military action. The National Association of Evangelicals, the same group that condemned torture tactics, even linked evangelical "prayer warriors" to the successful killing of Saddam Hussein's sons.
Daniel Heimbach, professor of Christian ethics at Southeastern Baptist Theological Seminary in Wake Forest, N.C., supported the war and Bush's recent troop surge. Heimbach said that while pacifists believe war is never moral, and crusaders believe it is the ultimate means to bring about God's kingdom on Earth, the dominant view among some Christians for centuries has been that war can be justified under certain conditions.
Now the debate has shifted to whether the United States should stay. Heimbach says he is not convinced the situation is hopeless or that the cost of remaining is too high.
Daniel R. Lockwood, president of Multnomah Bible College and Biblical Seminary in Portland, Ore., says he has seen a "sea change" among his students, who are looking beyond traditional conservative issues such as abortion and homosexuality to the environment, children with HIV/AIDS and the poor.
"More and more, students are very interested in social justice and issues often associated with the middle and the left," Lockwood says, "and the war is a piece of that."
Before the war in Iraq, the Brownlows shared the concerns of the religious right.
Suzanne and Dave Brownlow met at a church singles group in Houston 26 years ago. As born-again Christians, they vowed their marriage, like their faith, would be politically active. He picketed Planned Parenthood clinics; she organized for the Concerned Women for America, eventually becoming the director of the organization's state chapter.
They had Jared, now 20; Desi, 19; Jace, 15; and Sierra, 12, and moved to Oregon in 1990 for Dave's job. They home-schooled their children, were foster parents for three medically fragile youths for Heal the Children and housed eight foreign-exchange students. They say those experiences "made the world smaller for them."
They campaigned on behalf of Republican candidates. In 2001, Suzanne Brownlow won the Concerned Women for America's National "Diligence" award.
But by 2002, troubled by the lack of progress on the anti-abortion front and the legality of the president's war powers, they joined the Constitution Party. Soon after the invasion, Dave Brownlow began writing articles opposing the war.
Meanwhile, Jared Brownlow — long fascinated by military histories, movies and photos of his grandfather, a World War II tail gunner — joined the Army.
The Brownlows say their eldest son has not objected to their anti-war efforts. He's serving in the Army near Baghdad.
Suzanne Brownlow says she had no choice. Increasingly overcome with worry, she has trouble eating and dreams of helicopters landing in her yard. Her husband starts every day clicking onto casualty Web sites. The couple keep two clocks in their living room, one for Oregon and one for Iraq.
Although many churchgoers are active against the war, the Brownlows say they still feel self-conscious sharing their views with their Christian friends, or even praying at their church for their son's platoon. People have told them that freedom isn't free or that they must support the troops.
"As if to say that by allowing our sons and daughters to languish in a vast Iraqi shooting gallery," Dave Brownlow says, "we are somehow supporting them."
"We really don't fit anywhere," Suzanne Brownlow says. "All our friends are pro-war and think we are heretics for talking against the president."
Julie Sullivan writes for The Oregonian in Portland, Ore., where this story first appeared.
Related Elsewhere:
Christianity Today's coverage of Iraq is available on our site.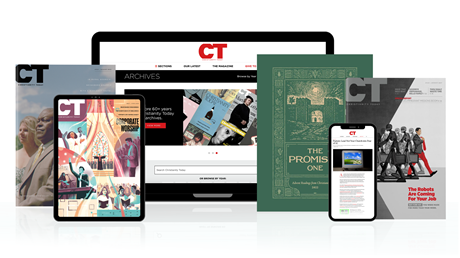 Annual & Monthly subscriptions available.
Print & Digital Issues of CT magazine
Complete access to every article on ChristianityToday.com
Unlimited access to 65+ years of CT's online archives
Member-only special issues
Subscribe
From Protesting Abortion Clinics to Protesting the War
From Protesting Abortion Clinics to Protesting the War