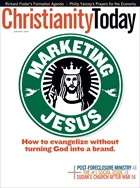 This article is from the January 2009 issue. Subscribers can read all of CT's digital archives.
"Within hours, CIA officers began to characterize the shootdown as a one-time mistake in an otherwise well-run program. In fact, this was not the case."
CIA Inspector General John Helgerson, in a report saying the agency lied about the 2001 downing of a missionary plane over Peru that killed Baptist missionary Veronica Bowers and her daughter.
(Source: hoekstra.house.gov)
* * *
"For far too long, we allowed institutional policies regarding race to be shaped more directly by that [segregationist] ethos than by the principles and precepts of the Scriptures."
Bob Jones University, in a statement issued on its website November 20. The school lifted its policy against interracial dating in 2000.
(Source: bju.edu)
* * *
"The going price to kill a pastor is $250."
Faiz Rahman, chairman of Good News India, on rewards offered by extremist Hindu groups for the killing of Christian leaders and destruction of churches in Orissa.
(Source: The Times in London)
* * *
"We ultimately decided it was best to settle this case … since litigation outcomes can be unpredictable."
Theodore B. Olson, lawyer for eHarmony.com, on a discrimination lawsuit settlement with New Jersey that requires the company to offer a same-sex matching service.
(Source: eHarmony.com)
* * *
"To maintain financial viability of a small Christian college is a challenge beyond understanding of folks who have not tried to accomplish it daily."
Wayne Baker, president of York College of Nebraska, on the closing of Cascade College in Portland, Oregon.
(Source: The Christian Chronicle)
Related Elsewhere:
See Christianity Today's news section and liveblog for more news updates.
1
Our digital archives are a work in progress. Let us know if corrections need to be made.
Quotation Marks