true
Does it sock you in the gut? Does it buckle your knees? Does it take your breath away?" These are the questions Marc Byrd asks himself when he writes music for his band, Hammock.
Chances are that you've sung "God of Wonders," a song Byrd cowrote, at church. But you may not know his labor of love, Hammock, which has released three full-length albums of blissfully atmospheric melodies and almost entirely no lyrics. Composed of Byrd and Andrew Thompson, Hammock writes spacious songs full of echoes and spacey keyboards, and sometimes features ethereal vocals from Byrd's wife, Christine Glass, and lush cello accompaniment from Matt Slocum of Sixpence None the Richer.
Hammock belongs to the genre loosely known as post-rock. With deep roots in independent rock music (some trace it to the 1960s), post-rock has emerged in the last 10 years as a phenomenon typified by bands like Sigur Rós, Mogwai, Godspeed You! Black Emperor, and Explosions in the Sky (whose music is the opening theme for NBC's Friday Night Lights). While these bands use rock instruments and the occasional horn or string section, they have more in common with classical music, building long, symphonic compositions with swelling emotional climaxes.
Post-rock is increasingly being made and used by people of faith both inside and outside church contexts. The aesthetic might be called post-worship—a stylistic and ideological move away from praise choruses and toward instrumental music as a vehicle for praise and reflecting God's glory.
"I do think the current move in many Christian circles toward post-rock is a trend that seems to mimic the influx of postmodernism," said Brent Thomas, teaching pastor at Grace Community Church in Glen Rose, Texas, who sometimes discusses post-rock bands on his blog (ColossiansThreeSixteen.com). "The open, expansive nature of the music reflects the more open, expansive nature of God that many are trying to regain after so many years of systematic theology."
The Icelandic band Sigur Rós, whose blend of neoclassical composition, soaring guitars, and often wordless vocals (one of their albums is sung entirely in the made-up language of Hopelandic) has in no small way influenced the current move toward post-rock in Christian circles.
"I went to a Sigur Rós concert in LA once that changed my life," said Eric Owyoung of the band Future of Forestry. "I felt the depths of God's beauty in those songs." Formerly in the worship band Something Like Silas, Owyoung now makes music with an ear for epic soundscapes and mystery: "An environment of beautiful music simply awakens the innermost part of us and brings us to places of awakening and communion with God."
Claes Strängberg, founder of Swedish post-rock band Immanu El, describes his own music as "atmospheric, beautiful, and unsettled," which goes a long way in articulating the genre that's beginning to capture a generation's spiritual longing.
"This music is what I do, and that is also me," Strängberg said. "To me it is the ultimate expression for my faith."
'I Can Get Lost In It'
Dissatisfied both with Seattle's independent music scene and contemporary worship music, Zadok Wartes had a vision for something grander. That vision became Urban Hymnal, a quarterly worship service held at rotating locations whose music relies on the tropes of the post-rock genre.
"Our culture has become so fastpaced that it's exhausting, and along comes music that's restful and slow and doesn't give you your fix in four minutes," Wartes said. "When we are doing Urban Hymnal stuff, we unabashedly want things to be beautiful, making the music longer and slower. And we talk about patience and waiting and slowly arriving somewhere. To really draw someone into an emotional arc, we feel like it takes six, seven, eight minutes, not four."
The group takes an approach to worship music that goes beyond using instruments as mere accompaniment for praise lyrics; they instead create moods, an atmosphere of reverence. The Urban Hymnal song "Love Is Fear" features several minutes of vocalist Tara Ward "singing in tongues," says Wartes. "Tara's part comes in and it's just ethereal. I can get lost in it."
The bands aim to offer an opportunity for the co-creation of a worship experience shared by listener, performer, and Holy Spirit alike, whether it's due to the wide-open feel of the instrumental music or vocals in Hopelandic, Latin (Future of Forestry's "Sanctitatis"), or glossolalia.
"There's nothing wrong with praising God in word form," said Justin Shepherd of the instrumental band Foxhole. "It's a major part of our Christian heritage. But there's more to give to God than praise. There's also something valuable in reflecting on him, and not on him only, but on his Creation and his children and his Enemy and all that comes with that."
Foxhole's Push/Pull EP, inspired by a real-life tragedy, follows an arc of "the dying, death, and rising up of our friend," said Shepherd. On the potential for spiritual expression through instrumental rock, Shepherd said: "I think it falls into that realm Paul talks about, the 'groans too deep for words,' where you are struggling to stay upright without clear discernment of where you're headed or what you're to be doing."
These groans—whether in the form of wordless vocals, the squall of trumpets, or the endless feedback loop of an electric guitar—can invite listeners to long for communion with God.
But the freedom afforded by post-rock is that it's often made without a particular agenda. It's not made to persuade nonbelievers or instruct the faithful. It's simply music that aims to usher listeners into the presence of beauty, mystery, and ultimately God.
"When this music is playing, it does something to make people sit back and soak in things that are around them that they might take for granted," Hammock's Byrd said. "I want to put some beauty out there in the world."
Joel Hartse, a music writer living in China, blogs at unscene.blogspot.com.
Have something to add about this? See something we missed? Share your feedback here.
Our digital archives are a work in progress. Let us know if corrections need to be made.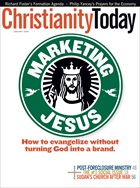 This article is from the January 2009 issue.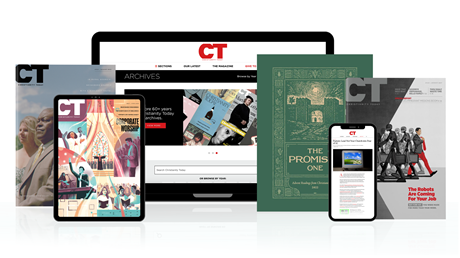 Annual & Monthly subscriptions available.
Print & Digital Issues of CT magazine
Complete access to every article on ChristianityToday.com
Unlimited access to 65+ years of CT's online archives
Member-only special issues
Subscribe
Groans Too Deep for Words
Groans Too Deep for Words