I love a good story. That's why I've been captivated in recent days by stories concerning the Catholic Church abuse scandal. Not the newspaper spreads with timelines showing who knew what, when they knew it, and what they did or didn't do about it. I've read some of those stories, but they do not captivate me.
I'm captivated, rather, by the complex, inspiring stories of lay Catholics and, in particular, the stories of three Catholic women who explain why they remain Catholic. NPR featured two essays, the first by writer Elizabeth Scalia, whose essay is a poetic meditation on the dark and light that coexist in creation. Scalia understands that "everything, from our institutions to our innermost beings, are seen through a glass, darkly," yet she holds on to her faith's "bright hope."
In the second NPR essay, novelist and poet Julianna Baggott writes of leaving the church but retaining her Catholic identity. She honors the nuns and priests who welcomed and educated her mother during a troubled childhood and who schooled Baggott in a radical, inclusive faith. Baggott credits the church for shaping her as a writer, for "the basic rule of storytelling is show, don't tell. Christianity shares this idea—the word made flesh. Of all the Christian denominations, no one does more bloody, impassioned showing than Catholicism."
Finally, religion scholar Donna Freitas, who has published a guest essay on Her.meneutics, debuted her new Washington Post column called "Stubborn Catholic" this week. Her first post revealed her own experience with priestly sexual impropriety. That experience left a scar, but that scar is only one piece of her Catholic identity. Catholicism "is my family, my friends, my professional life as a theologian and scholar of religion. It's the way I mark time during the week and the year and the food I cook depending on the holiday. It is a childhood and a lifetime of experience."
These women are so brave. To understand why, just read the comments following their essays (although really, I want to say don't, because the vitriol is discouraging, sometimes sickening). There is so much scorn, from those who accuse the writers of delusion for believing in any kind of religion, of sheep-like stupidity for their allegiance to such a damaged old institution, or of traitorous malice for speaking publicly of their church's faults.
I am not Catholic, but I am writing a book about reproductive ethics. Because the Catholic Church, in general, has more to say about such matters than Protestant churches, I read a lot of Catholic resources. While I don't agree with every Catholic position, I respect their thoughtfulness and integrity. I believe that, when people of faith are discussing difficult, emotion-laden topics (sexuality, childbearing, vocation, identity), we owe it to other people of faith to understand the context and community out of which their beliefs arise.
When I was part of an evangelical fellowship in college, I was perplexed to come across a book titled something like Catholics Are Christians Too. Having grown up in a New England town where most of my friends were either Catholic or Jewish, I was already pretty clear that Catholics were Christians. I didn't understand why someone had to write a whole book about it.
That was one of many lessons in how Christians like to label other Christians to make clear who is serious about this Jesus stuff and who is just a poser. In my college days, people called themselves "strong Christians" or "disciples" to differentiate themselves from those who (in their perception) liked to get dressed up and sing hymns on Sunday but didn't really love the Lord. In my 20s, I attended a nontraditional urban church where people who had painful histories with mainline churches were unable to believe that anything good could come out of Methodism (or Lutheranism or Episcopalianism). I have spent the past 10 years in Episcopal churches where evangelicals and Roman Catholics are, on occasion, perceived less as brothers and sisters in Christ and more as anachronistic cultures by turns quaint and threatening.
I too am prone to pigeonholing other believers based on what kind of church they attend, how comfortable they are uttering the "J" word in casual conversation, and whether hand-clapping, guitar-strumming praise music makes them ecstatic or uncomfortable.
When I listen to people's stories, though, my preconceptions fade in the light of the wondrous mix of grit and grace that resides within each of God's children. When I read news stories about the Catholic Church, I want to throw my hands up in exasperation at all the lies, cover-ups, and hypocrisy. But reading stories by Catholic writers reminds me that all churches are, below the institutional trappings, leadership styles, and music preferences, groups of sorry, sinful, grateful, grace-filled, beautiful, blessed people. When we hear and welcome people's stories, in all their complexity, we discover that we hold much more in common than not.
Telling one's story publicly, especially given the poison spewed freely on Internet comment boards, is courageous, plain and simple. I am grateful to these three women whose stories offer more insight and hope than any breaking news story ever could.
Ellen Painter Dollar is a writer who focuses on Christian reproductive ethics and disability theology. She is writing a book for Westminster John Knox Press (forthcoming in 2011) about the ethics and theology of assisted reproduction and genetic screening. She blogs at ChoicesThatMatter.blogspot.com and Five Dollars and Some Common Sense. She has written for Christianity Today about disability and genetic testing. She also wrote on adoption and in vitro fertilization for Her.meneutics.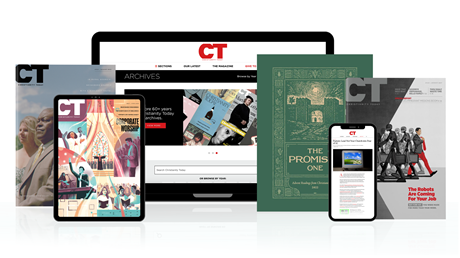 Annual & Monthly subscriptions available.
Print & Digital Issues of CT magazine
Complete access to every article on ChristianityToday.com
Unlimited access to 65+ years of CT's online archives
Member-only special issues
Subscribe
The Brave Women of the Catholic Church
The Brave Women of the Catholic Church