true
There's a fun scene early on in The Expendables where director and action movie legend Sylvester Stallone has a conversation with fellow superstars Bruce Willis and Arnold Schwarzenegger. Given that these three action icons were also once in business together as co-founders of the Planet Hollywood restaurant chain, it's a treat to see the trio trading macho barbs together on screen for the first time; the funniest line of the movie comes in response to Schwarzenegger's exit.
The scene is short-lived though, and Stallone's two buddies never appear onscreen again after that three-minute cameo. Of course, The Expendables boasts plenty of other action stars: Jason Statham, Jet Li, Dolph Lundgren, Mickey Rourke, football star Terry Crews, and pro wrestlers "Stone Cold" Steve Austin and Randy Couture. With the notable exceptions of Jean-Claude Van Damme, Steven Segal, and Chuck Norris, the movie is a veritable Who's Who of top action heroes from the past 30 years.
Unfortunately, there's not much to The Expendables beyond its gimmicky casting. The story is little more than an R-rated version of The A-Team and The Dirty Dozen, and the overall quality is closer to a direct-to-DVD release than a summer movie blockbuster.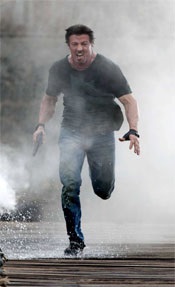 The film features a specialized team of mercenaries sent to do covert missions that the U.S. government is afraid to touch. At the start of the movie, they're rescuing the crew of a cargo freighter held hostage by terrorist-pirates at sea. But with Barney Ross (Stallone), Lee Christmas (Statham), and company armed to the teeth, the baddies don't stand a chance.
Soon after, a CIA agent (Willis) offers Stallone another job: Infiltrate the (fictional) South American island of Vilena and interrupt the country's drug trade by overthrowing the country's evil dictator and his army. Ross and Christmas arrive undercover and meet their contact Sandra (Giselle Itié), the dictator's daughter (and eventually the damsel in distress). Our heroes decide they're in over their heads with this assignment, but soon change their minds once they learn of Sandra's capture and are attacked at home by James Monroe (Eric Roberts, born to play bad guys), an ex-CIA mercenary and the one pulling the puppet dictator's strings.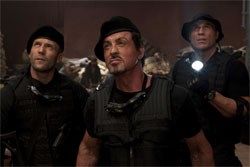 There's not much else to the plot (aside from a hackneyed side-story involving Christmas' girlfriend and her abusive new beau), but no one's expecting Shakespeare here, right? The Expendables is overflowing with testosterone and machismo, from the classic rock soundtrack and the corny one-liners to the bulging biceps and extensive tattoos. And it's obvious from the character names—Lee Christmas, Ying Yang (Li), Hale Caesar (Crews), Tool (Mickey Rourke), and heck, James Monroe for that matter—that we're not meant to take any of this seriously.
Admittedly, it's fun to see this aging cast together on screen. Stallone, Statham, and Li all do their usual shtick, as does Lundgren in his portrayal of the drug-addicted, slightly psychopathic team member Gunnar Jensen. Roberts channels every smarmy bad guy cliché from the '80s in a performance that's part George Clooney and part Gordon Gekko. And Rourke actually stands out in a role that Robert Duvall typically plays—the sagely retired shop owner who once fought alongside the main character.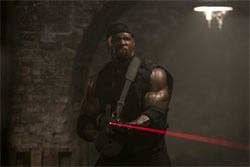 Nevertheless, the movie is junk. The one-liners just aren't that funny (with few exceptions) and the dialogue is tedious, particularly the exchanges between Barney and Lee about their inability to have serious relationships. More unforgivable is the action itself, which is rather prosaic and repetitive. I love a good action movie like any other guy, but the endless shots of gunfire and knife throwing ultimately become numbing and shockingly boring.
There's also no disguising that The Expendables relies on very cheaply executed action. Example: see Sly run and jump off screen toward a moving plane. Cut to a shot of hands grabbing the plane, then cut to a shot of Sly holding on to the plane. C'mon, Stallone, there are TV shows nowadays that have more exciting stunts than this.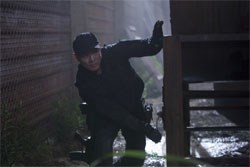 The movie also follows in the footsteps of Stallone's recent Rambo sequel by relying on computer-generated flames and blood. When one of the bad guys gets covered in flames, it looks completely ridiculous instead of shocking. And the bloodletting similarly loses its visceral impact since they're such quickly edited digital effects.
Once we build-up to the inevitable action finale, we never get much of an explanation of why these guys decide to do the right thing and save the day. But that's beside the point since there really isn't much to the mission. There's no trouble smuggling into the company and sneaking past the army to reach the compound. They simply show up, set some explosives, and start blowing things up easy peasy.
The Expendables is not an unwatchable disaster, but the sad truth is that most all the actors involved have done better movies on their own. One would hope the sum of the parts would amount to an action movie event rather than a lazy B-movie more on part with Tango & Cash or Stallone's 2008 Rambo sequel. No matter how forgiving you are of the action genre, this movie will not meet your expectations. Much as I'd love to recommend it to diehard action movie fans, you're better off watching the classics of the '80s and '90s, because The Expendables is pretty much forgettable.
Talk About It
It's been said that if there's nothing worth dying for, then life isn't worth living. What keeps Sandra on the island despite her chances to leave it? What are the things you believe are worth dying for?
Why do The Expendables walk away from their mission after infiltrating the island? Why do you think they decide to return to their assignment? Explain how Barney's choice relates to Tool's regrets from his time in Bosnia.
Yang complains how life is harder for him because he's smaller than everyone else. How does he turn his disadvantage into an advantage? Is this reminiscent of any stories in the Bible? Discuss how we are able to find strength in weakness with God's help.
The Family Corner
The Expendables is rated R for strong action and bloody violence throughout, and for some language. Expect lots of explosions, gunfire, and knife throwing. Though most of the blood and gore is computer-generated (i.e. fake looking) and quickly edited, there are some action scenes of stabbings, decapitation, dismemberment, and a bad guy blown away so that only his lower half remains standing. The movie also includes a disturbing scene of water-board torture involving the lead female character. Though there isn't an endless stream of profanity, there's still plenty to justify the R rating, including the f-word and misuse of God's name.
Copyright © 2010 Christianity Today. Click for reprint information.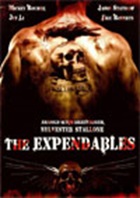 Browse All Movie Reviews By: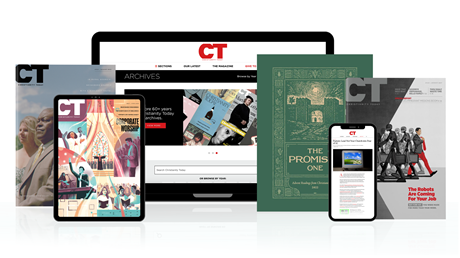 Subscribe to Christianity Today and get access to this article plus 65+ years of archives.
Home delivery of CT magazine
Complete access to articles on ChristianityToday.com
Over 120 years of magazine archives plus full access to all of CT's online archives
Subscribe Now
The Expendables
The Expendables