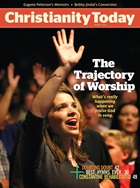 This article is from the March 2011 issue. Subscribers can read all of CT's digital archives.
"I also read the Bible for the first time. It was deep! I liked the parts where some character was once this, but he ended up being that. Like he'd be dissing Jesus, and then he ends up being a saint. That was cool."
Hip-hop artist Lil Wayne, on what he did during his prison sentence on a weapons charge.
Source: Rolling Stone
"To me, this one thing — physical culture and nutrition — is the salvation of America."
Jack LaLanne, the fitness guru who died in January at age 96. "Billy Graham is for the hereafter, I'm for the here and now!" he said in 2007.
Source: The New York Times
"Success is always dangerous, and we need to be alert and avoid becoming the victims of our own success. Will we influence the world for Christ, or will the world influence us?"
Billy Graham, on the evangelical resurgence over the last half-century.
Source: Christianity Today Online
"That degree of cruelty, there's no way to recount it. For 48 hours my life hung by a thread."
Gao Zhisheng, in a 2010 interview with the Associated Press, published after the Chinese human rights lawyer disappeared again, presumably into government custody.
Source: Associated Press
"While many Southern Baptists share my deep commitment to religious freedom and the right of Muslims to have places of worship, they also feel that a Southern Baptist denominational leader filing suit to allow individual mosques to be built is 'a bridge too far.'"
Richard Land, withdrawing as a member of the Interfaith Coalition on Mosques, of which he was a charter member.
Source: Christianity Today Online
Related Elsewhere:
Earlier Quotation Marks columns are available from February 2011, January 2011, December 2010, November 2010, October 2010, September 2010, August 2010, July 2010,June ...
1
Quotation Marks