true
There remains a misconception in America that animated movies are made for children and thus completely wholesome. Perhaps that comes from nearly 75 years of family-friendly animated features from Disney, including 15 years of Pixar excellence. But generations of people raised on Looney Toons, The Simpsons, and Family Guy ought to know better: sometimes animation has an older, broader audience in mind.
Case in point: Rango, the first fully-animated feature from the special effects wizards at Industrial Light & Magic (ILM). The film is heavily influenced by the spaghetti westerns of Sergio Leone, with cinematic references to Chinatown and Fear & Loathing in Las Vegas. Its sense of humor owes less to Disney or Nickelodeon (who helped produce Rango) and more to Mel Brooks and Monty Python. Sure, most kid-friendly features include inside jokes for the parents, but there's a big difference between a kid-oriented movie for families to enjoy together and a PG feature that could be appropriate for older kids.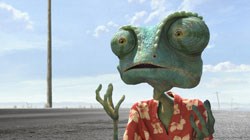 Johnny Depp voices the title character, a pet lizard obsessed with acting—he's a chameleon, after all—who literally finds his world shattered after his aquarium falls out of his owner's car traveling across the Mojave Desert. Unsure where to go, he's encouraged by an armadillo appropriately named Roadkill (Alfred Molina) to take a spiritual quest of self-discovery to the "other side" (of the road, that is). A series of misadventures leads our protagonist to a small Old West-styled town called Dirt, where the residents include all manner of desert critters and water is the valued currency.
Trying to impress the dangerous-looking locals at the saloon, Rango begins to spin some tall tales of his life as a gunslinger (improvising his name from the Mexican state of Durango). A lucky encounter with a hawk wins enough approval from the locals to back up his story, so Rango is appointed sheriff by the Mayor (Ned Beatty), a tortoise. Of course, Rango has no experience enforcing law, and he soon finds himself in over his head trying to solve the mystery of the town's dwindling water supply and helping Beans (Isla Fisher), the local lady lizard, protect her ranch from villains. Only by learning to live the part of a hero will Rango be able to save the citizens of Dirt.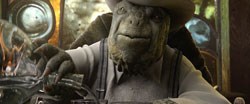 It's a very silly film that occasionally strays into the strange and surreal. A key battle involves a horde of assorted rodents riding bats while playing Wagner's "Ride of the Valkyries" on their banjos. Even weirder is the scene where the citizens of Dirt line up for their weekly water ration and begin some jerky choreography to Bob Nolan's country classic "Cool Water," followed by some hallelujah-smattered liturgy with the Mayor that borders on sacrilege. (In contrast, I found one critter's heartfelt prayer of thankfulness to the "Spirit of the West" strangely touching, reminiscent of characters in the fiction of C. S. Lewis praying to their own god.)
Lots of craziness, though most of it is fun, and it's also refreshing that Rango runs on such dramatically different fuel. The dialogue (screenplay by John Logan of The Aviator and Gladiator) has zip and brains, packed with big words and heady references more befitting of a Coen brothers film; indeed, Depp's delivery as Rango is occasionally reminiscent of George Clooney in O Brother, Where Art Thou? As funny and entertaining as it all is, it won't appeal to all tastes—too mature for many kids, too immature for many adults.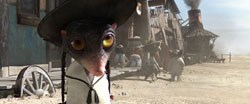 The animation is spectacular. The visuals of Rango's misadventures on the highway are astounding in detail. Later, he returns to the same highway at night, his face beautifully lit by flashes of white and red as the cars pass. I also love the imagination in design, using the Mayor's tortoise shell as a motorized wheelchair or an old Pepto-Bismol bottle as the town outhouse. Even the sound design is impressive with the acoustics changing when characters find themselves stuck in a glass bottle or a plastic water tank.
It's a solid first animated feature from director Gore Verbinski. Most of Rango moves at a brisk pace, always offering something interesting to look at. As evidenced by his Pirates of the Caribbean trilogy, Verbinski knows how to stage insane action sequences (and his previous work should give some indication of the humor as well). Expect some great chases and twists in this one as well.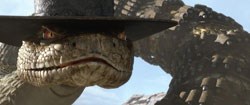 The pacing meanders in the middle act and the film feels about 15 minutes too long. I also wish that the story touched the heart as much as it tickled the funnybone. There are some good bits about the nature of heroism, but not enough to elevate Rango to the ranks of Pixar. Still, when viewed as a silly comedy-adventure, it works in enjoyably unexpected ways.
Talk About It
Discussion starters
Why is it important to the story that Rango is a chameleon and not just any lizard? How does his "lack of character" help him discover who he is and embrace his destiny?
Is Rango born to be a hero or do circumstances cause him to become one? Does Rango's inexperience or reluctance to become a hero make him any less heroic? How is this similar to "following a calling" in our lives and what does it say about opportunities and challenges that we may face?
What does "The Spirit of the West" mean when he says that no man can walk out on his story? Do you agree with this notion?
In what ways does a single hero galvanize others and restore hope that things can get better? How does this relate to The Spirit's words about "It's not about you, it's about them"?
The Family Corner
For parents to consider
Rango is rated PG for rude humor, language, action, and smoking. There are some burp and fart gags, as well as scraps of quickly delivered adult innuendo (prostate exams, references to private parts, etc.) sprinkled throughout, thought they don't necessarily set the tone of the film. Characters occasionally use mild profanity like "damn" and "hell." The action is plentiful, accentuated by widespread use of firearms and a lot of scary images, including some hallucinations and a fearsome rattlesnake, and some characters do die. The film isn't overly crude or offensive, and is appropriately rated PG, but it's nevertheless clear that the content wasn't written with younger kids in mind as the target audience.
Copyright © 2011 Christianity Today. Click for reprint information.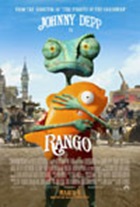 Browse All Movie Reviews By: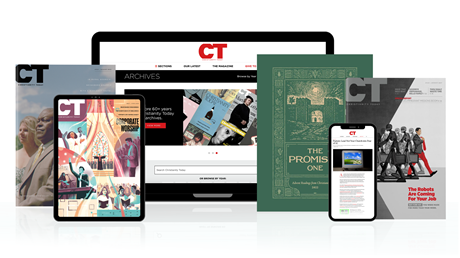 Subscribe to Christianity Today and get access to this article plus 65+ years of archives.
Home delivery of CT magazine
Complete access to articles on ChristianityToday.com
Over 120 years of magazine archives plus full access to all of CT's online archives
Subscribe Now
Rango
Rango