Donations to large evangelical foundations increased dramatically in 2010 and were poised for growth in 2011, as wealthy Christians shift away from traditional family foundations. The trend means more grants will be available to fuel ministry at small nonprofits that have struggled to sustain themselves via traditional donations.
The Evangelical Council for Financial Accountability (ECFA) reported that giving to its member foundations surged 68.8 percent in 2010, compared to 6.8 percent growth for its high-revenue members overall.
President Dan Busby said the growth is largely due to the rise of donor-advised funds, which provide a tax-efficient and cheaper alternative to setting up a private foundation. In such arrangements, donors transfer management of their assets to a public foundation while retaining an advisory role over how the money is donated.
Such funds are popular outside the Christian ministry world as well. The Chronicle of Philanthropy reported that giving to donor-advised funds rose sharply in 2010, including Schwab Charitable (92 percent) and Fidelity Charitable Gift (38 percent). Donations to the Philanthropy 400 charities more broadly rose 3.5 percent in 2010.
"Donor-advised funds have had really strong years," said Busby. "They simplify the process of transitioning large gifts to charity."
Rusty Leonard, founder of Stewardship Partners, agrees that the relatively recent availability of such funds, first approved by the Internal Revenue Service in 2006, is also a factor in the record-setting surge.
"People are realizing these are a tool that we didn't have a decade ago, and are moving forward with large gifts they may have been holding on to for years," he said. "Often it's baby boomers who have collected stocks, bonds, and property and are getting ready to donate them at retirement."
The National Christian Foundation (NCF), an ECFA member, saw a 61 percent increase in donations during 2010, jumping 15 places to become America's 19th largest charity, according to the Chronicle. NCF grants reached the $3 billion mark over the last decade, 12 times the $250 million in grants it distributed during its first 20 years of operation.
David Wills, president of the NCF, said the growth is partly driven by moderate recovery in the financial markets and partly by fears that capital-gains taxes may be reinstated on such funds. But the economic climate is only part of the picture, he said.
"It's a groundswell of engaged giving," said Wills. "People are sharing stories of their giving journeys—something that before was almost a private matter—and mobilizing peers to give and create communities of generous believers.
"It's a paradigm shift. For many, it's the first time the spiritual gift of giving is being seen as going beyond the offering plate," he said. "People used to think that giving meant selling property for cash so it could be used by the church or a charity. But now they're seeing that they can give property without selling it first, and actually give more that way [by avoiding taxes]."
Since the U.S. recession first took hold in 2008, large foundations administering donor-advised funds have posted annual gains in donations, while smaller charities have faced sharp declines. But Leonard said this trend many not be as one-sided as it appears.
"We'll likely see, as these large foundations grant money they've received over the past few years, that a lot of it ends up back at smaller foundations and public charities," he said.
Wills said that in 2011, his foundation distributed $500 million through 7,200 grants to 12,000 organizations, almost all of which were small or church-based charities.
"We don't sit on donations for very long," he said. "There is nearly a complete turnover of funds at the NCF every two years."
And not all small charities are facing shrinking donations. While drug rehabilitation and prison ministry saw decreases, ECFA noted significant increases in giving to child sponsorship (up 24.3 percent), orphan care (up 20.5 percent), and adoption (up 14.7 percent) in 2010. Busby believes the changes are due to the varying levels of promotion such causes received among churches and nonprofits.
Giving to specific causes usually parallels awareness, he said. "If you look at the ministries, conferences, and conventions centered on adoption [today], they're drawing in huge crowds and rallying [evangelicals] around change in that one area."
As to the sustainability of increases in donor-advised giving, Leonard said that remains to be seen.
"After baby boomers transition to old age and leave the workplace, there will inevitably be less money going through the foundation pipeline, but their wealth will be passed on in various ways," he said. "They will pass it on to the younger generation, which historically has given less but is likely to give more as time passes and their income increases."
Wills believes giving to donor-advised funds will remain strong despite economic woes.
"While giving is pretty standard among the younger generation, they are more spiritually engaged than ever," he said. "This is a generation of people that, once they begin to accumulate wealth, in 10 years will be giving significantly and will want to be highly connected with where and how they are giving."
Related Elsewhere:
Previous Christianity Today articles about money and business include:
Pink Stink: Komen Drops Planned Parenthood Support | Move comes after Bible spat, debate on breast-cancer activism. (January 31, 2012)
Pastors Double-Dare the IRS | Observers suggest that punishing church endorsements will be unlikely. (December 12, 2011)
Missionary Money: Easier to Give, Worth Less than Ever | The new challenges of missions donations. (October 25, 2011)
See CT's news section and liveblog for more news updates.
Have something to add about this? See something we missed? Share your feedback here.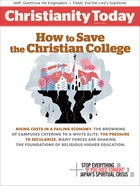 This article is from the March 2012 issue.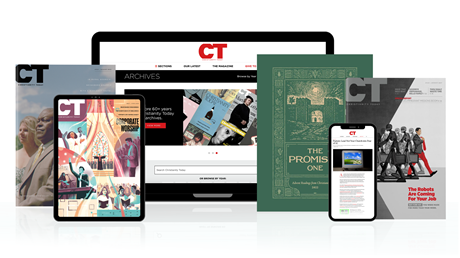 Annual & Monthly subscriptions available.
Print & Digital Issues of CT magazine
Complete access to every article on ChristianityToday.com
Unlimited access to 65+ years of CT's online archives
Member-only special issues
Subscribe
Evangelical Foundations See Surge in Donations
Evangelical Foundations See Surge in Donations