John Piper was one of the first and the few white evangelical pastors to make a public statement on the controversial shooting death of Florida teen Trayvon Martin. Not only is his passion for racial reconciliation informed by his self-proclaimed history as a Southern racist; it also fueled by his experience as the father of an adopted African American teen daughter. Piper is the author of Bloodlines: Race, Cross, and the Christian, a book that inspired a public discussion about Race and the Christian at the New York Society for Ethical Culture in New York City Wednesday night. The Minneapolis, Minnesota, pastor of Bethlehem Baptist Church was joined onstage by New York's Redeemer Presbyterian Church pastor Tim Keller and Anthony Bradley, a theology professor from the King's College in New York City. Christianity Today spoke with Piper on Thursday about various kinds of reconciliation, including what it would mean to reconcile with someone like author Rob Bell. The interview has been edited for length and clarity.
You were one of the first and one of the few prominent white evangelical pastors to make a public statement about the Trayvon Martin case. You said George Zimmerman wasn't tested by police to see if he was intoxicated. Does it matter if Martin was not as wholesome as initially portrayed?
It matters for some I'm sure. As I've read those things and I've read what he was saying on his Twitter, when he called himself a certain kind of nigga', I thought: Would that alter what I've written? I read it carefully and I don't think I'd change anything. I knew as I was writing that I didn't have a lot of data. I didn't have a lot of data on George Zimmerman. I didn't have a lot of data on Trayvon. I didn't know what really happened there. Given what I do know, I think what I've said was valid. If the kid was a total jerk, it wouldn't change the fact that a man with a gun doesn't track down and put himself in a position of likely having to use it if the kid turns out to be violent, unless his mindset is: That wouldn't be so bad after all. What I tried to ask was: What would the cross, what would the gospel do here? I think the gospel would disincline a person from wanting a person to be hurt, or disincline a person from being disrespected, or from putting the worst possible face on the kid's walking here. Maybe he has a friend or whatever. So, I think the gospel has a lot of relevance to whether that could have been avoided or not.
You ground your thoughts on racial reconciliation in Reformed theology. Is it possible to ground racial reconciliation in other types of theology?
That was [Evangelical Covenant Church Pastor] Efrem Smith's critique. He spent the next two weeks after reading my book defending the fact that Pietism would be a better foundation than Reformed theology. I would say it's not better because Pietism and Reformed theology are like cars and bananas. They're not in the same category; they're not apples and oranges. Reformed theology is a group of convictions around how God saves and keeps sinners, he chooses them, he dies for them, he converts them, keeps them, and he glorifies them. And, he's sovereign in all of that. That's the Reformed soteriology or theology from which I built my arguments. Pietism was a movement in the Lutheran church in Germany and then farther with Jakob Spener, in which there was a renewal of vitality with prayer, Bible reading, and personal devotion that gave life to a moribund church. Those are not alternative views of reality. I think I'm a pietistic Calvinist or a pietistic Reformed theologian, which means I take all the truth of Reformed theology. I incorporate all the renewal aspects and vitality, inner subjective aspects of Pietism and embrace them. So, yes, you can take all that and make that serve racial harmony.
The wider question is: could a Wesleyan develop arguments? Yes, he could. He absolutely could. I'm just saying, for those who wonder where the Calvinists have been or what the Calvinists believe, I want to say that in addition to what Wesleyans could do or what wider, more general evangelicals might do, if you go to the five points of Calvinism, every one of them serves racial harmony.
Bloodlines is a deeply theological book, and someone at the Race and the Christian event tweeted that Tim Keller immediately got into specifics about race, while you spent 20 minutes on the gospel. Is your more theoretical approach disconnected from the pursuit of solutions, or is it important to build that strong framework in order for them to work?
C. J. Mahaney would probably say one of my weaknesses is that I'm short on application. I'll embrace that. But I keep preaching sermon after sermon with tiny bits of application. Here's the reason: I'm wired to think through foundations and I'm less wired to tell you what to do with that. In fact, I'm a little skittish about telling you exactly how theological truth works out in your life, but I feel really confident about what I see in the Bible.
Secondly, when I think of the long-term impact of my life and I look at what God has done with the books and with the church, and the people who come up to me not with theoretical questions—they come up with tears regularly, thanking me for a life change. Why is that if I'm so useless on the application side? If I'm so theoretical, if I'm so distant from reality, why are people getting changed by these things? I don't know what the answer is, but I'm happy to just keep doing it.
You said Wednesday night that the diversity of leadership in your church isn't going to get any better under your tenure as pastor. It was just announced that the Rev. Jason Meyer will replace you in about a year at Bethlehem Bible Church. Is racial reconciliation part of his value system and was it a consideration in the choice to call him?
Was it ever talked about! This is a huge issue for our church. The way we've put it is that in looking for staff, we haven't made it an absolute criterion that X number or percentage has to be ethnically diverse. We just said we will try the ten-fold very hard in looking for people who are racially diverse, or really get it, or are really committed. Jason has two black children for starters. He's committed. He pastored a church in Louisiana that was racist to the core. When they called him, he said, "We will not maintain this." He led that church through some really remarkable [change]. He was a chaplain at a southern Louisiana college. He has had Southern racial experience and has proved himself committed there. So, even though he's white and even though he's taking up a church that's mainly white, I have a lot of confidence that Jason's commitment is as high as mine and that he'll be more fruitful than I am because he's more relational than I am. That's the big plus for Jason. When I think of Jason, I think he's more of a man of prayer than I am, I think he's more discipleship oriented, I think he's more relational. He's going to have more lunches with people. Bethlehem is going to love this guy for all the reasons they have problems with me.
You famously tweeted, "Farewell Rob Bell" in response to his promotional video for his book Love Wins. Is there a place for theological reconciliation in the body of Christ?
To say yes to that—and you should say yes—would require serious definition. When you say theological reconciliation, you can mean two people with two different theologies working their way through to a common theology. That is their way of being reconciled. That's what I give most of my energies to. I want to persuade people of what I see in the Bible, and work towards unity in truth. Probably what would be thought when [people] ask that question is: Can two people who maintain their differences in theology then be more reconciled? So, you wouldn't say farewell; you would say hello. The answer is that it depends on the issues.
I don't mind addressing the Rob Bell issue. When I watched the video of Rob Bell that was put up on Justin Taylor's website, which was, I think, a link to his book on hell, my issue there was not primarily his view of hell. It was his cynicism concerning the Cross of Jesus Christ as a place where the Father atoned for the sins of his children and dealt with his own wrath by punishing me in his son. Rob Bell does not admire that. He doesn't view the Cross that way, as a penal substitution. I consider that the essence of the Cross and my salvation, and the heart of God for me, and that ticked me off royally. I didn't say all that, so probably everybody thought "Farewell Rob Bell" was kind of like "I don't like his view of hell, so there." Well, I don't like John Stott's view of hell either, and I never said anything about John Stott. I kept learning from John Stott. I would have sat at John Stott's feet until the day he died.
There are some views that push people away farther and there are other views that don't push them away farther. I want to learn from everybody. Francis Schaeffer said our differences in the church are a golden opportunity to show love, and instead of throwing hate bombs over the walls that we've got between ourselves, we throw love bombs over. In other words, differences can be an occasion for courtesy, kindness, gentleness, listening, and respect—all of which, the world would then look at and say, "They don't have theological unity, but they do talk to each other in a certain way." Now, Paul was pretty hard on certain theological differences and Jesus was really hard on certain differences. And so, there's a point for "Thus far, no further, farewell." There are other points where we ought to be cultivating all those courtesies.
Another outlet recently published an old sermon excerpt in which you preached about your 19-year-old son being excommunicated from your church. In a situation like that, what does reconciliation look like?
We never lost the relationship in that. The night after that excommunication, I called him at 10:00 and said, "Abraham, you knew what was coming." He said, "That's what I expected you to do. That has integrity. I respect you for doing it." From then on, for the next four years, he was walking away from the Lord, trying to make a name for himself in disco bars as a guitarist and singer, and just doing anything but destroying himself. We were praying like crazy that he wouldn't get somebody pregnant, or marry the wrong person, or whatever. He came back to the Lord four years later and the church had a beautiful, beautiful restoration service. He wept his eyes out in front of the church and was restored. This is church discipline at its best. He wrote an article about it for Decision magazine. I was pursuing him constantly through those four years, emailing him every day almost, taking him out to lunch every time he came back to town, trying not to preach at him. Everything in me wanted this kid back.
Christine A. Scheller is a Christianity Today advisory editor, news and religion editor at UrbanFaith.com, and leadership editor at TheHighCalling.org.
Related Elsewhere:
Scheller separately interviewed Piper for Urban Faith.
Previous Christianity Today coverage on cultural and racial reconciliation includes:
A Savvy Peacemaker Building across Missouri's Race Lines | From city council meetings to street corners, Lorenzo Lawson is shaping a more just Columbia, Missouri. (February 23, 2012)
Sherwood Baptist Partners with a Black Church to Bring Racial Healing | The church behind 'Facing the Giants,' 'Fireproof,' and 'Courageous' partners with an African American congregation to bring reconciliation to a Georgia town. (September 30, 2011)
More Free, At Least | Racial Reconciliation is making some unexpected demands on me. (November 12, 2007)
Previous articles on John Piper include:
John Piper: I Was Racist | How the pastor of Bethlehem Baptist Church went from a self-described racist to an adoptive father of an African American. An excerpt from 'Bloodlines.' (September 21, 2011)
Q&A: John Piper on 'Think' | Also, why the high-profile pastor and author invited Rick Warren to Desiring God's national conference and how he has been spending his 8-month leave of absence. (October 4, 2010)
John Piper v. Rick Warren Postponed | Despite controversial invitation, Rick Warren missed the Desiring God conference due to family health incidents. (October 4, 2010)
CT also wrote about how John Piper announced Bethlehem College and Seminary, when he went on a leave of absence, and when he invited Rick Warren to speak at Desiring God.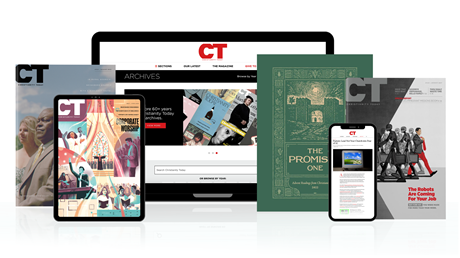 Annual & Monthly subscriptions available.
Print & Digital Issues of CT magazine
Complete access to every article on ChristianityToday.com
Unlimited access to 65+ years of CT's online archives
Member-only special issues
Subscribe
Q & A: John Piper on Racism, Reconciliation, and Theology after Trayvon Martin's Death
Q & A: John Piper on Racism, Reconciliation, and ...