true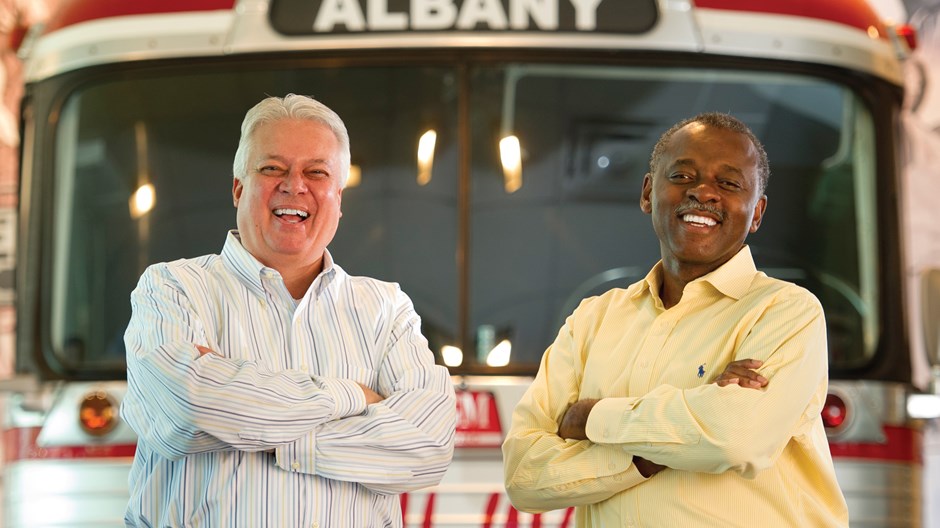 Image: Gary Chapman
When Martin Luther King Jr. led a civil rights march into Albany, Georgia, in December 1961, racial tensions were boiling. Jim Crow laws were still in effect, the Ku Klux Klan was a threat, and most whites were serious about keeping blacks in their place.
As one of the original Freedom Singers, Rutha Harris marched alongside King, singing songs like "Ain't Gonna Let Nobody Turn Me Around," while whites lined the streets, harassing the passing activists. "Those songs gave us hope," says Harris, 70, who still lives in Albany. "They filled the voids that segregation brought into our lives."
Segregation remains on the tip of the tongue for many residents of Albany, where old attitudes persist—sometimes openly and certainly behind closed doors. Blacks and whites attend the same schools, visit the same movie theaters, and drink from the same fountains, but prejudices are palpable.
"There are a lot of tensions around here that just won't die," says a member of the local news media who asked to remain anonymous. "There's a black-white divide, a lot of good-old-boy cronyism. The whites won't let it go, but the blacks won't either."
One local pastor who has lived in several southern cities—including Montgomery, Alabama, where Rosa Parks refused to give up her bus seat to a white man—says Albany is "easily the most racially divided city I've ever been in." In 2010 alone, charges of racism dogged the selection process for a school-board superintendent, Albany's human resources director resigned after accusing her boss of racist comments, and a local firefighter sued the city and its fire chief, alleging racial discrimination after being passed over for a promotion. As the year ended, conflict erupted after a black man killed a white cop in the wake of an armed robbery.
2011 hasn't been much better. When Albany's African American city manager resigned in March to take another job, two whites and one black emerged as replacement candidates. When Mayor Willie Adams, an African American, hired the black applicant, some locals played the race card. "Imagine that," one reader commented in the Albany Herald. "The only black finalist is the recipient of the top city guvment job." "Bad just got worse," wrote another.
When the Herald ran an evenhanded report about the community's history of segregation and civil rights, readers let loose with comments like these:
• "The black community needs to get over being black and move forward …. I see more black people trying to get something for nothing. I see more white people working and paying for black people who do nothing but commit crime and sit around."
• "All black people are racists and have proven they can't be trusted."
• "If you really want to help race relations in Albany, just fire all the Albany officials and start over. Talk about a racist bunch. And excuse me, but 90 percent are black. And being in office gives them power they do not need."
• "If hate could fuel an engine, Albany would power the world!"
Lee Formwalt, executive director of the Albany Civil Rights Institute, told Christianity Today about an older white doctor who welcomed a new physician, also white, to town a few years ago. While riding down one street, they saw a black boy with an older man. The old doctor chuckled, "Kind of makes you wish we could still buy 'em."
All this in a town whose motto is "The Good Life City."
Into this uneasy quagmire have stepped two local Baptist churches—one mostly white, one mostly black—and their pastors, working together to heal divisions.
Marching to Zion … and Sherwood
Founded in 1865, Mt. Zion Baptist Church made national news when King marched through town and spoke to its packed congregation before being arrested. Mt. Zion has relocated twice since, moving in 2010 to a new $13 million facility with ample room for its 3,000-plus members.
Five miles away, the mostly white, 3,000-member Sherwood Baptist Church, founded in 1956, is well known for its full-length feature movies. Facing the Giants (2006) and Fireproof (2008) were major hits with Christian audiences. Sherwood's latest, Courageous, released September 30 and will also likely be a faith-based favorite. It focuses on five men wrestling with faith and fatherhood, with a subtext of racial unity; the main characters include three whites, a black, and a Latino (see our review below).
Several people from Mt. Zion were involved in the production, including senior pastor Daniel Simmons, who plays a pastor in the film. It's fitting that Courageous would involve both churches working together. It's something they've been doing for a while, always with an eye toward unity and reconciliation.
For Albany's 75,000 residents (about 69 percent black, 28 percent white), Mt. Zion's civil rights history and Sherwood's moviemaking hold little relevance. The locals know them rather as congregations that serve their community, often together. "It would be sad if the only thing we were known for is making movies," says Sherwood senior pastor Michael Catt. "That doesn't matter to the people of Albany. We have people across the street struggling to make the rent. We don't want to save the world but lose Jerusalem."
Sherwood and Mt. Zion consider themselves sister churches—Catt and Simmons call each other co-pastors—on a mission to transform their city. They do so in a variety of ways, and many of their programs bring blacks and whites together, still a rare sight in Albany.
It was even rarer in 1995, when local churches planned an integrated citywide evangelistic crusade. The integration didn't happen. Catt, Sherwood's pastor since 1989, says the event was planned by white pastors who didn't consult local black clergy. Catt says Sherwood opted out of the event "because of the way the African American churches were being treated. I felt like I was back in the '50s."
Sherwood received hate mail over its decision not to participate.
"One white pastor asked me, 'How do we straighten this out?' " recalls Catt. "I said, 'You need to talk to [Simmons], you need to eat crow, and you need to ask for forgiveness.' "
Simmons, at Mt. Zion since 1991, says the incident cemented his then-budding friendship with Catt. "When our relationship first started," says Simmons, "I was not convinced it was real, and my people were suspicious, saying, 'They've got an agenda. They want to steal your members. They're just using you.' But when Michael and Sherwood took that public stance, that was the defining moment. I realized I had to deal with my own personal issues when it came to race relations—and they were real."
A Joint Effort
Mt. Zion and Sherwood each has dozens of ministries geared toward community outreach, but members from both congregations volunteer in each other's ministries, many of which serve the poor.
In 2009, Forbes listed Albany as the fourth poorest metro area in the nation. Twenty-seven percent of the city's residents live below the poverty line, including 35 percent of all blacks; 22 percent have a household income of less than $15,000; 24 percent of Albany's families receive food stamps. Racism clearly isn't Albany's only problem. Poverty and homelessness are rampant. That's where Sherwood and Mt. Zion step in.
For years, Margaret Fillmore, homeless and uninsured, could not afford treatment for a tumor growing inside her stomach. She was finally referred to the Samaritan Clinic, founded by Mt. Zion in 2008. Her tumor had grown to 25 pounds. Samaritan staff connected her with surgeon and Sherwood member Troy Kimsey, who removed the tumor at no cost. "I don't know what would have happened without Samaritan Clinic," Fillmore said at the time. "If not for them, I would not have had the surgery I needed."
"We help people who don't have anywhere else to go," says clinic director Nedra Fortson, a Mt. Zion member, registered nurse, and one of the clinic's two paid staff. The other medical personnel—including Mt. Zion and Sherwood members—are all volunteers. The clinic, a one-story brick building in which many rooms do double duty, operates on an annual budget of about $100,000, about half of which is paid by Mt. Zion. (The rest comes through grants and private donations.)
Three miles down the road on Slater King Drive—named for a civil rights activist and real-estate broker who helped local African Americans grow financially—the Mt. Zion Garden Apartments, a low-income housing complex, welcome hundreds of residents who might otherwise be homeless or live in substandard housing.
It's mostly subsidized by the Department of Housing and Urban Development, but part of its budget also comes from Mt. Zion. Residents have found a "sense of stability, a sense of place for their families," says manager Ramona Nealy.
'Made Me A Better Person'
At Mt. Zion's old campus—fittingly located on Martin Luther King Jr. Drive—the Youth Academy, a summer program for boys ages 9 to 16, addresses academic, social, and spiritual needs. Albert Simmons, one of its leaders, says many of the boys might have otherwise ended up in gangs. He says only one of hundreds of graduates has ended up in jail, and that young man has since straightened out his life.
'People used to say that racial reconciliation won't happen in Albany. But they don't say that anymore. Now you hear, "It can work, because Mt. Zion and Sherwood are doing it."'—Daniel Simmons, Mt. Zion pastor
Another recent grad, Khalil Winchester, 16, comes from a single-parent home. With his dad out of the picture for years, Khalil wanted a father figure. He doesn't think he'd have joined a gang, but he might have remained aimless if his grandmother hadn't signed him up for the academy at age 9.
Khalil says his teachers served as male role models for him, and that the program "made me a better person and taught me a lot about leadership." Khalil returned to the academy this summer as a volunteer leader.
A few miles to the south, surrounded by old pecan groves and tree-lined streets, is Sherwood's Legacy Park, an 82-acre sports complex funded mostly by profits from Facing the Giants and Fireproof. The park—shimmering with rich green grass on a hot summer day—includes a small football stadium, two baseball fields, two softball fields, ten soccer fields, eight tennis courts, an 18-hole disc golf course, two volleyball courts, two horse arenas, a fishing pond, and a 110-foot-tall cross in the middle of it all.
The park is used by Sherwood Christian Academy's sports teams for home games (a stirring scene from Facing the Giants was filmed at the football field), but it's also used by the wider community for youth and adult sports leagues.
"We're trying to get people from all walks of life at the sports park," says Jay Flynt, Sherwood's minister of sports and recreation, who oversees the park. "Our leagues look a whole lot like Albany now, with a mix of blacks and whites." Scholarships are offered to low-income children.
Third graders Gavin, white, and Jalen, black, are from different sides of town; their lives might have never intersected if it weren't for baseball. At Legacy Park, they've played together for three years, starting in T-ball, and are now "fast friends," says Flynt. "When new teams are formed every year, they ask to be put on the same team. The first few days of practice, the black kids and white kids tend to hang out separately, but Gavin and Jalen set an example for others by hanging out together. The other kids quickly get it and follow suit."
Sherwood also serves the community with a ministry to homeless men; a crisis pregnancy center; a food-and-clothing pantry for the poor; and a financial assistance program. Coca-Cola recently donated its 60,000-square-foot bottling plant to Sherwood to be used for serving the community.
'A Beacon of Light'
Mayor Willie Adams appreciates the efforts of Sherwood and Mt. Zion. "They've been working together for a number of years now, and they serve as a beacon of light to the rest of the community," he says.
Catherine Glover, president of the Albany Area Chamber of Commerce, says the two churches are "setting an example by the sharing of their resources, talents, and assets. They are putting race aside and truly focusing on the reason we are all on this earth—to serve mankind, any race, any denomination, any belief system."
Catt, Sherwood's pastor, sees improvements, partly the result of his relationship with Mt. Zion's Simmons. "There used to be too many lines drawn in the sand and not enough people talking," he says. "But Daniel and I said, 'Let's do this because we're brothers in Christ who have two significant churches in this community.' What we do will impact what other churches do and how they think. If Sherwood's healthy and Mt. Zion's healthy, the community will be healthier."
Simmons agrees. "Race relations are getting better," he says. "People used to say, 'It won't happen in Albany!' But they don't say that anymore. Now you hear, 'It can work, because Mt. Zion and Sherwood are doing it.'"
As Catt and Simmons talked, Freedom Singer Rutha Harris sat nearby, nodding in agreement. Later that day, her famous voice could be heard in the distance, carrying one of the old standards:
Ain't gonna let nobody
Turn me 'round,
Turn me 'round,
Turn me 'round.
Ain't gonna let nobody
Turn me 'round,
Keep on a walkin',
Keep on a talkin',
Marchin' up to Freedom Land.
Mark Moring is senior associate editor for Christianity Today.
Related Elsewhere:
Read our accompanying review of Courageous.
Find out more about Sherwood Baptist and Mt. Zion Baptist at their respective websites.
Previous Christianity Today coverage on cultural and racial reconciliation includes:
More Free, At Least | Racial Reconciliation is making some unexpected demands on me. (November 12, 2007)
Behold, the Global Church | It's time we figured out how to talk--and listen--to one another. (November 17, 2006)
Our Transnational Anthem | 'O say can you see … ' a church where many cultures work together in Christ? (August 1, 2006)
All Churches Should Be Multiracial | The biblical case. (April 1, 2005)
Racial Reconciliation: After the Hugs, What? | The next step for racial reconciliation will be harder. (February 3, 1997)
Have something to add about this? See something we missed? Share your feedback here.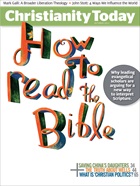 This article is from the October 2011 issue.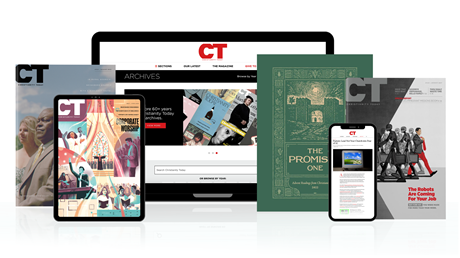 Subscribe to Christianity Today and get access to this article plus 65+ years of archives.
Home delivery of CT magazine
Complete access to articles on ChristianityToday.com
Over 120 years of magazine archives plus full access to all of CT's online archives
Subscribe Now
Sherwood Baptist Partners with a Black Church to Bring Racial Healing
Sherwood Baptist Partners with a Black Church to ...