Beyond Culture
Gene Daniels's excellent interview with a Muslim follower of Isa ["Where's Christian?" January/February] gives us useful insight into what a Muslim goes through in accepting Christ within his own culture. Much of our worship is cultural, and we need not force it upon others. Jesus did not require choir robes, stained glass, or pipe organs to follow him. We need to keep clear about practices that are central to the faith, and practices that are just cultural.
Name Withheld by Request
C-1 to C-6 Challenge
Recognizing the myriad questions that arise when we present the gospel to people with different cultural and religious suppositions, I am still uncomfortable with the C-1 to C-6 rating system ["The Hidden History of Insider Movements," January/February]. It seems to measure other believers against our own Western understanding of the faith. Such categorizing may lead our thinking in wrong directions. Who are we to judge someone else's servant? To their own master servants stand or fall.
Nancy Runhaar
Flossmoor, Illinois
Team Jesus
To add to January/February's Under Discussion, which asked, "Should Christian colleges build top-ranked football teams?": College football players witnessed to me during my freshman year and helped when I was floundering in my faith at a public university. A Christian institution's athletes can be role models. There is something about students, staff, and alumni gathering to watch their team that unites them like nothing else—not to mention the income and donations teams can bring in, which help maintain the mission of a Christian college.
Our nation is hungry for moral, upstanding athletic heroes for whom they can cheer. If any Christian university wants to establish a football team or upgrade their existing team, I say go for it.
E. Marshall Buckles
Montpelier, Virginia
More Than Gay
I appreciated "Hope for the Gay Undergrad" [January/February]. Evangelical colleges admitting the reality of same-sex attraction among their student bodies and providing a safe place to express these struggles is laudable. But using self-identifying terms like gay or homosexual is unfortunate. The issue in any person's struggle with sin is identity: Who am I in Christ? Unless the believer's identity in Christ is understood as the primary and formative identity, then the culture's obsession with sexuality will prevail in fragmenting the minds and behaviors of Christians.
Steve Saxe
Greenville, South Carolina
A New Day in Detroit
Katelyn Beaty did a spectacular job in "Faith in a Fallen Empire" [January/February]. As a resident of Detroit in the 1970s-1980s, I watched as city leaders were unable to move the divisive discussion beyond race. It is refreshing to see that the basic themes of rebuilding and development are now at the forefront. Visionary thinking, discipleship-making, and building community are all part of Christianity at its finest moments in history.
David Coffin
Ada, Ohio
The Way to Election
In "Election Is for Everyone" [January/February], Roger Olson describes Martin Luther as being one of the "early reformers" whose understanding of election closely resembled the one commonly associated with Calvin. I find this a serious mischaracterization. Luther acknowledged God's receiving sole credit for salvation, but rejected the idea of God's electing to condemnation. His view much more closely (although not quite identically) resembled the "third way" Olson identifies as evangelical Calvinism. In truth, confessional Lutherans were the "third way" between Arminianism and Calvinism before either of them was even formulated.
Jason P. Peterson
Burt, Iowa
Ham or Turkey?
Thank you for blowing my mind with "Imprisoned By Choice" [January/February]. As a college sophomore bombarded by seemingly limitless options, I often flee to lack of commitment and decision. We are embedded in a culture of choices, and need to be challenged to actually make some. God chose us, so why do we find it so hard to choose between ham and turkey for lunch?
Montana Rindahl
Belmont, North Carolina
Producing Excellence
As a CT subscriber for many years, I'd say the January/February issue was the best and most interesting in memory.
My typical issue is max 30 minutes. You held me for 90 between "Hope for the Gay Undergrad" (insightful), "Election Is for Everyone" (theology understandable to us lay), "My Train Wreck Conversion" (riveting!), and other informative news and feature stories.
For 17 years a magazine editor, then a publisher for 19, I recognize the hard work it takes to produce excellence. Kudos to the CT staff.
Ray Smith
Carol Stream, Illinois
Clarification
Abu Jaz asked to clarify something that some people seemed to misunderstand from his interview ["Where's Christian?" January/February]. In his own words:
"The People of the Gospel are not Muslims theologically. They are not worshiping Jesus in the mosque. They have no right to practice worship in the mosque in our legal and theological context. The People of the Gospel are an assembly which has their own identity. They are cultural insiders, but theological outsiders. When we use Muslim religious terminology such as the words Allah, Isa al Masih, and others, it makes us insiders. However, we give biblical meaning to words, such as, 'Allah so loved the world that he gave his one and only Son' (John 3:16), 'Isa al Masih is Lord' (1 Cor. 12:3), and 'Isa died for our sins according to the Scriptures' (1 Cor. 15:3). This makes us outsiders because we are not interpreting these words any more as Muslims define them. Old names [with] new biblical meanings."
What got the most comments in January/February's CT
24% Where's Christian? Gene Daniels
17% Election Is for Everyone Roger Olson
12% Hope for the Gay Undergrad Allison J. Althoff
Readers' Pick
The most praised piece in January/February's CT
Imprisoned By Choice Barry Cooper
Worth Repeating
Compiled by Elissa Cooper
"We are shocked by the killing, the immoral behavior, the nasty talk, and the greed. Why? Without Christ's blood washing us clean, we are the worst of sinners."
Philip Rowley, on the need to refocus our teaching on the Cross.
"The Troubled State of Christian Preaching," by Mark Galli
"Jesus stated the world would know that God sent Jesus to earth by how we displayed our love for one another. I don't see the love."
Dorinda Jones, concerned over the divisions and in-house fights at Cedarville University.
"Administrators' Resignations Fuel Fears at Cedarville University," by Melissa Steffan
"God looks at the heart of people and knows their motives; humans look at the exterior."
Kathi, on how tattoos of Scripture can honor God, after Colin Kaepernick, the 49ers quarterback, was criticized for his.
CT Liveblog: "Tattooed 49ers QB Not the Only Controversial Christian in 2013 Super Bowl," by Melissa Steffan
"I rarely tip. That doesn't mean I love God or others less."
jenn jenn, arguing that tipping, or not tipping, is a cultural debate rather than a theological one. Another reader commented, "Everything Christians do reflects their theology."
Her.meneutics: "Why Are Christians Such Bad Tippers?" by Karen Swallow Prior
Have something to add about this? See something we missed? Share your feedback here.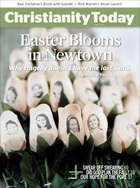 This article is from the April 2013 issue.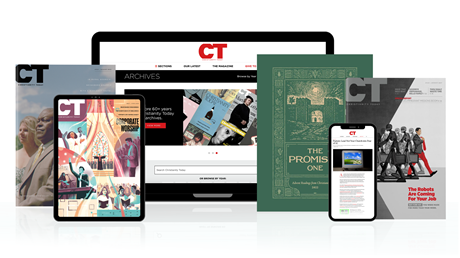 Subscribe to Christianity Today and get access to this article plus 65+ years of archives.
Home delivery of CT magazine
Complete access to articles on ChristianityToday.com
Over 120 years of magazine archives plus full access to all of CT's online archives
Subscribe Now
Letters to the Editor
Letters to the Editor