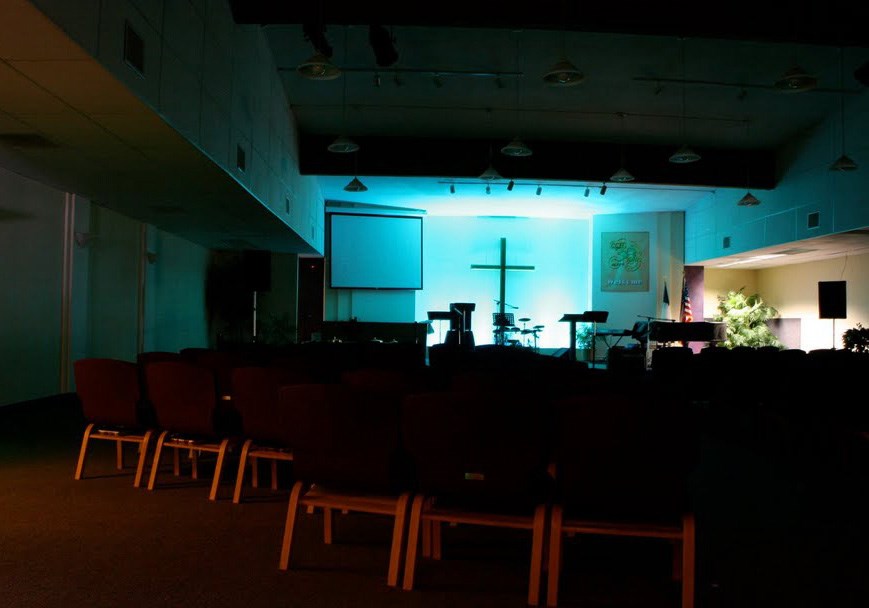 Image: Chris Miuccio / Flickr
I was raised in a tiny country church on liturgy and hymns. White, steeple, pews, potluck dinners—my church had the stereotype covered. I loved it. Though I was excited to explore other churches when I went off to college in the city, I found myself in auditorium-style sanctuaries with rows of cushy seats and screens flashing lyrics over pictures of running creeks or ambiguous twisting rainbows. When we sang, the worship band brashly added choruses or enhanced the hymn-turned-pop hit with appropriately choreographed lighting. The windows were clear glass, not stained.
I suffered a sort of church culture shock.
And I don't think I'm the only one. In a post yesterday on "The Exchange," Ed Stetzer noted that churches' pursuit of a space to serve as a permanent symbol of their vision creates very real problems when the communities around them grow and change. Trendy buildings—or even staid, traditional structures—demand resources, yet too easily fall prey to the progress of urban sprawl. Stetzer writes:
When we glorify trendiness, we unite the message of Christ with faddish architecture, giving the impression that the unchanging gospel will one day become irrelevant.

When we view our building as our legacy—as the thing that will last—we tie the church, which Jesus founded and against which the gates of hell will not prevail, to a building, which will crumble and collapse in a matter of time.
And small churches buy into the importance of space, as well.
We've all heard the stories of churches experimenting with new worship settings, or perhaps we've attended them ourselves. A Baptist congregation in Springfield, Nebraska, tired of not owning a building of their own, opted to move into a former bar, saying that the building "really kind of fits us." News of the former Crystal Cathedral's building swap with a local Catholic congregation made headlines.
Lists of the top ugly churches (and even more ugly churches) make us laugh and fascinate us—what were they thinking?—while photo features such as the one published by Wired last month draw attention to the elaborate stage setup of today's megachurches.
For years, American churches have been moving into these kinds of new spaces—shopping centers, warehouses, and shiny, new buildings—and devoting them to God. But it took my own halting adoption of contemporary worship to make me more aware of the significance of where we gather before God.
Our worship spaces matter. The music, preaching, and community obviously influence our church experience, but building styles also communicate something to the congregation about what is proper in worship. A central stage outfitted with a drumset probably means the music will be emotional and modern. Feel free to wave your hands, dance, however the Spirit leads you. Kneelers will probably be dedicated to congregational, possibly liturgical, prayer. Space for a mosh pit signifies...you're probably not at, say, a small intimate gathering based primarily on discussion of a text. How often do you walk into a space that feels like a cross between a trendy concert hall and a mall expecting to experience organ-led hymns? Cathedrals, on the other hand, aren't considered prime ground for a rousing chorus of Chris Tomlin's "Our God."
Our surroundings, the physical experience of our worship, impacts our very human capabilities. In C.S. Lewis's The Screwtape Letters, Screwtape, an elite devil in the bureaucracy of Hell, advises another on how images and objects around us can distract: "Keep him praying to it—to the thing that he has made, not to the Person who has made him." He goes on to say:
(Humans) can be persuaded that the bodily position makes no difference to their prayers; for they constantly forget, what you must always remember, that they are animals and that whatever their bodies do affects their souls. It is funny how mortals always picture us as putting things into their minds: in reality our best work is done by keeping things out.
We probably know the feeling of becoming distracted by the experience of worship, especially since more and more Christians find themselves—like me—in different styles of churches and different church traditions. According to the Hartford Institute for Religion Research (cited earlier by Ed Stetzer), 72 percent of new members at megachurches have come from…well, other churches. Pew Research found that the most common change in religious affiliation in the U.S. is switching from one Protestant tradition to another.
With switching comes layer upon layer of a sort of cultural whiplash. We're distracted by the very space of worship—attaching too much importance to our position within the Father's house—without reflecting that, after all, maybe it's less about the externals of these devoted spaces and more about what we bring into them. In focusing our attention on where we are, we lose out on what the space can tell about who we are in the Body of Christ.
Someone not used to using kneelers in worship, for instance, can feel awkward to be on their knees, chanting responses at prescribed moments. But kneeling reflects an attitude of penitence; it's a physical posture recognizing the greatness of the God above us. Similarly, coming from a traditional church, I initially felt out-of-place amid the expressive hand-raising and dancing that often accompanies praise music and theater seats. But this form of worship can show the spirit moving among us, reminding us that God is alive and present when we gather.
Different churches reflect the nature of God and the full diversity of the Christian community. These spaces can teach us to be humble. They can force us to authentically recognize our own expectations for church and when those expectations need to be surrendered to an experience beyond—and yet intimately tied to—our perceptions.
I learned to appreciate contemporary style as part of my college's worship community, learning its merits and weaknesses for myself. On my own, I still attend (for the most part) liturgically rooted churches that hearken back to the tradition in which I was raised. But neither wooden pew nor theatre seat holds a trump card when it comes to worship. Maybe the ugly churches, by defying expectations, are on to something.
Abby Stocker is currently interning with Christianity Today, where she regularly writes for Gleanings. She's looking forward to finishing her last year at Bethel University in St. Paul, Minnesota, where she studies English and dabbles in history, environmental science, and philosophy. Abby is new to Twitter at @a_b_stocker.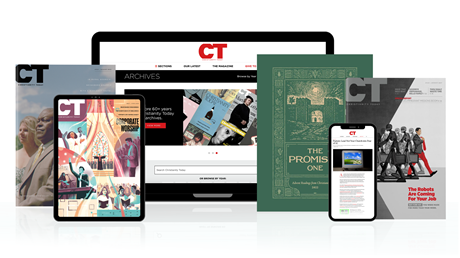 Annual & Monthly subscriptions available.
Print & Digital Issues of CT magazine
Complete access to every article on ChristianityToday.com
Unlimited access to 65+ years of CT's online archives
Member-only special issues
Subscribe
Read These Next
Trending

American Christians Should Stand with Israel under Attack

While we pray for peace, we need moral clarity about this war.

From the Magazine

I Studied Christianity with the Hope of Debunking It

A decade later, I became a Christian.

Editor's Pick

Don't Miss These African Christmas Hits

Jam out this season to highlife, Afrobeats, jazz, a cappella, R & B, rap, dance, and hip-hop artists from Nigeria, South Africa, and more.
Does Where We Worship Matter?
Does Where We Worship Matter?