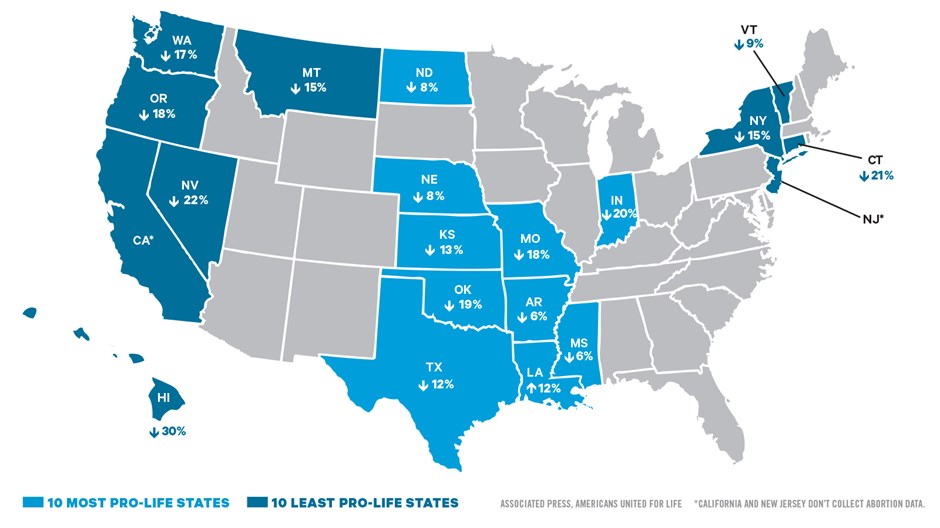 Abortion Above the Law (in a Good Way)
Abortions in America, at near-record lows, have declined almost equally in both the most pro-life and pro-choice states. Does that mean state-level restrictions—230 laws have passed since 2011—are irrelevant? Not quite, said Americans United for Life (AUL): State debates generate public awareness, leading to fewer abortions. (Abortions did increase in pro-life Louisiana, but due to out-of-state patients after new laws in Mississippi and Texas closed clinics.) AUL cited the popularity of ultrasounds for the nationwide decline of 12 percent since 2010. Other factors: the rising popularity of the morning-after pill, and higher teen abstinence rates.
Gordon College Trims Budget
About 15 positions at Gordon College were eliminated this past summer due to a six-percent reduction in the college's budget. A handful of tenured faculty members also accepted a voluntary offer to resign. Those faculty received a year-long sabbatical to assist in their transition.
Fewer than five tenured faculty took the voluntary offer, said university spokesman Rick Sweeney. One untenured faculty member was among the staff cuts. "No tenured faculty members were laid off in this process and some individuals whose positions were eliminated were actually able to find other roles at the College," Sweeney told CT in an email.
Sweeney did not give specifics on the faculty members who left voluntarily, citing college personnel policy. The budget reduction will likely remain in place for the 2017 academic year.
"We are committed to minimizing as much as possible the cost to Gordon families each year," Sweeney said.
Editor's note: A previous print version of this item misstated the number of professors who left Gordon and the terms of their departure, based on a third-party report. CT deeply regrets the error.
The death sentence of Asia Bibi, one of the world's most prominent persecuted Christians, was halted in July after Pakistan's Supreme Court agreed to review her conviction for blasphemy. The 50-year-old mother of five has spent five years on death row for allegedly denigrating the Prophet Muhammad during an argument with a Muslim colleague over a cup of water. Her lawyer argued that lower courts wrongly overlooked the five-day delay between the incident and the police report filed by a local imam, who wasn't present at the argument. In 2002, the Supreme Court reversed the blasphemy conviction of another Christian over a reporting delay of just a few hours. Top judges have asked Pakistani lawmakers to amend the controversial blasphemy law to make convictions more difficult to achieve.
Two words may change the status of two members of the Council for Christian Colleges and Universities (CCCU). After the US Supreme Court legalized same-sex marriage, Goshen College and Eastern Mennonite University (EMU) banned discrimination on the basis of "sexual orientation" when hiring faculty and staff. The schools consulted their denomination, the Mennonite Church USA, which recently affirmed existing membership guidelines that hold homosexual behavior to be a sin, but agreed on "grace, love, and forbearance" for churches with "differing convictions on covenanted same-sex unions." The CCCU, which has been "particularly focused on safeguarding the rights of institutions who hold to an orthodox understanding of marriage," said it will use a "deliberate and consultative process" with the presidents of its 118 US schools to decide whether Goshen and EMU can remain members.
Editor's note: A previous print version of this item misstated the outcome of the forbearance resolution. MC USA says it does not result in congregations having a "green light to conduct same-sex weddings."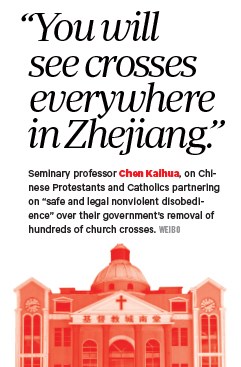 Image: Courtesy of China Aid
Nigeria: Megachurch dodges conviction for deadly collapse
Despite a coroner's recommendation, Nigerian authorities will not prosecute a popular megachurch for "criminal negligence" nearly a year after its six-story guest house collapsed and killed more than 100 visitors. The Synagogue Church of All Nations, led by controversial pastor T. B. Joshua, lacked the necessary permits for the building, the coroner decided. The church's lawyers blasted the findings as biased and blamed the disaster on "sabotage." South African leaders have pushed for prosecution, as a majority of those killed were tourists from their country. The tragedy was South Africa's largest loss of life since 1994.
Religious freedom watchdogs and US officials are pressuring the Mexican government to better protect indigenous former Catholics who have become evangelicals. Earlier this year, the State Department questioned Mexican leaders about reports of "widespread discrimination, violence, and displacement" among indigenous communities in Chiapas and other southern states. While Mexico's constitution guarantees freedom of religion, this right often conflicts with a law granting local autonomy in parts of the country with large indigenous populations. Converts report being denied access to public schools or having their water supply cut off by local officials. "A slow wave of religious persecution has been sweeping across Mexico," said International Christian Concern. "The culture of corruption and lack of accountability . . . needs to end."
Nepal: Hindu nation might ban evangelism
The long-awaited draft of Nepal's new constitution, delayed by devastating earthquakes this spring, has proved disappointing to Christians. The mountainous nation's interim constitution designates the former Hindu kingdom as secular and protects religious liberty, but the new draft is more ambiguous. The document, which has been in the works for nearly 10 years, upholds the freedom of religion in one clause but contradicts it in another; it states that any act to "convert another person from one religion to another" or to "undermine or jeopardize the religion of each other" is illegal. The draft also removes the country's secular designation. Nepal's Christians (about 3% of its 28 million people) are protesting the changes.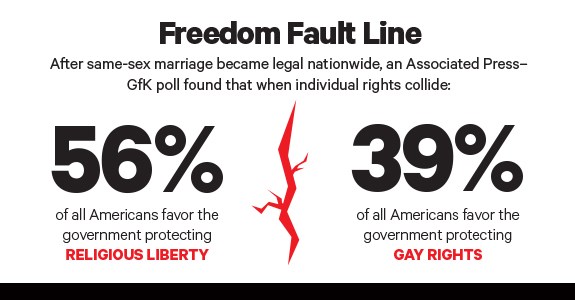 Pope Francis apologized this summer to "the oldest evangelical church" for the Roman Catholic Church's persecution of it during the Middle Ages. The Waldensians, a Bible-focused movement founded in 12th-century Italy by Peter Waldo, who preached radical poverty, were excommunicated and massacred. Thousands immigrated to Germany, where they became Lutherans, and to the United States, where they became Presbyterians. The apology came as Francis' approval rating among US Protestants tumbled from 73 percent in 2014 to 52 percent in 2015, according to Gallup.
The Philippines: Chris Brown detained by influential church
A Filipino Christian sect barred a popular hip-hop star from leaving the country for three days after accusing him of fraud. Iglesia ni Cristo filed a complaint against Chris Brown after the singer did not show up for a New Year's Eve concert at an arena owned by the denomination. Brown and his promoter were paid more than $1 million for the show and never issued a refund, the complaint alleged. About two million Filipinos belong to the church, which has built a reputation as an influential political player due to its bloc voting. Meanwhile, Iglesia ni Cristo faces its own charges: The Filipino government recently investigated allegations that the church improperly used funds and kidnapped ministers critical of it.
Have something to add about this? See something we missed? Share your feedback here.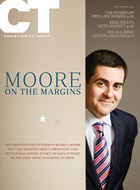 This article is from the September 2015 issue.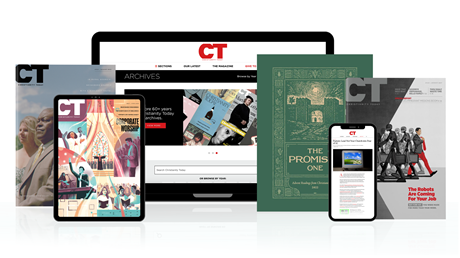 Subscribe to Christianity Today and get access to this article plus 65+ years of archives.
Home delivery of CT magazine
Complete access to articles on ChristianityToday.com
Over 120 years of magazine archives plus full access to all of CT's online archives
Subscribe Now
Gleanings: September 2015
Gleanings: September 2015